Magento Odoo Integration For Dynamic Ecommerce
June 29, 2023
Posted by:

tony

Categories:

Blog, Magento, Odoo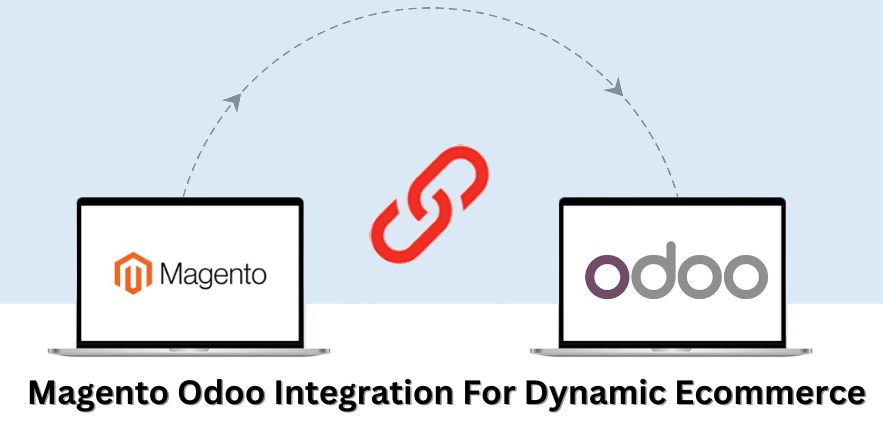 Have you always wanted an ecommerce store that is a hit with your customers? Whether you have an existing marketplace or desire to make your ecommerce dream come true, we have the key to awesomeness. In this article, let's walk you through the benefits of two power-packed platforms and their high impact when they come together. This integrated commerce complements each other so beautifully, that functionality, product management, and customer experience are on top of their game. Why choose one platform when two together are better?
Wouldn't you love it when your favorite customers frequently visit your online store? Businesses grow when your customers enjoy a pleasurable time and market your brand through word of mouth. What keeps them engaged and happy in your store? Think about it. Is it the usability factor? The time-saving purchase or simply the easy features, so they maneuver through the shop uninterrupted?
Isn't it all worth the hype? Yes. It establishes your brand's credibility. And with such a race of pace around, it all boils down to customers' quality shopping in your store.
Why Is Magento Odoo Integration Crucial Today?
Consider this – There is a magic wand in your hand to transform your ecommerce marketplace to its best capability. Wouldn't you just love that? Now reimagining a beautiful ecommerce is possible. Bring in two high-performing software together, and you become the game changer in the market.
One popular trend that's caught on in the tech world is integrations. Why do you need the integration of two platforms for your store? Your online store gets to experience double the effect and efficiency. Integrations provide you with in-built applications across all departments. Sales, marketing, operations, SEO, order management, and more are empowered to their best potential.
Magento is the best ecommerce platform that is designed to create flawless functionality for marketplaces. On the other hand, Odoo ERP is a robust business application suite that comes with CRM, Sales, Inventory Management, Accounting, and more apps.
Odoo ERP for Magento Ecommerce – Odoo integration works best with Magento and understands its workflow process to amplify business productivity and automates business processes. When they are integrated, value to the customer multiplies to a great deal. With the bi-directional data exchange between these two platforms, most gaps are filled, errors fixed, and tech silos eradicated to work towards the ultimate goal – customer satisfaction.
Integrated commerce for B2B is thought-leadership
Do you have clientele that is spread across continents? Then there are huge possibilities to attract a diverse range of customers. This is one of the reasons most B2B store owners opt for an ecommerce than a physical store. Add to add the cherry on your cake, an integrated ecommerce for B2B landscape is thought leadership at the forefront. You, my friend, are on the right track with Magento Odoo integration for your B2B.
Impact of Magento Odoo integration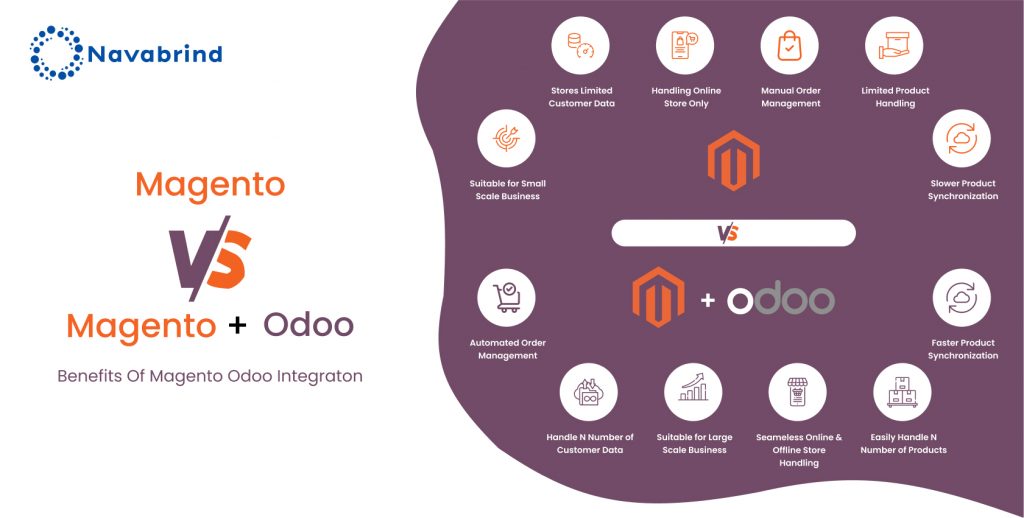 Customer is King
When the customer is king, customization for the king becomes a rule. Hasn't your mission always been a targeted marketing campaign? This is another benefit of the Magento Odoo integration. Customer contact details, browsing patterns, and behavioral data are in your hands. Now you know which customer would come back for what? Entice, personalize, and deliver.
Automated process
Who would like to manually enter data each time? NONE. Automation is now a boon to your ecommerce. Simplify the process of managing invoices, and delivery details from Odoo to Magento and update data from Magento to Odoo seamlessly. The Magento Odoo bridge transfers data from one platform to the other and automates it proficiently.
Independent functionalities
Didn't we tell you that Magento and Odoo ERP can both operate integrated, but never influence each other? They complement each other well but never disrupt the other platform. So, if a disconnect happens between any of the two, processes don't get intertwined at all.
You can also read our blog post,9 Top Magento Trends to Lookout for in 2023>>
Improved order management
Now tracking orders is a breeze once you place an order on Magento. The order summary is transferred from Magento to Odoo. There is no room for wrong entry details, manual typing, or chaos around. It paves the way to hassle-free tracking, processing, shipping, and delivery.
Reliable
If you are concerned about how reliable integrated software can be, then we have got you covered. Here, it's all secure and safe under one common umbrella after integration. The information given by Odoo ERP is taken from the website and it's the opposite too. Now, if there is an error then a warning email is sent. Also, the data from Odoo ERP to Magento is stored safely, so your data is highly secure.
Inventory Management
Wouldn't you want to be in complete control of stocks, knowing when to order or reorder? That's another feather on your cap, now. With the enhanced Inventory Management from the Magento integration with Odoo ERP, you are in complete ownership of dismissing any stock loss or sale loss.
Magento ecommerce will not be able to identify the stock bin location online. Knowing the location of the product can become a manual task and a waste of time. But when you integrate Magento and Odoo, the stock bin locations are easily identifiable. What Odoo does is, identifies it quickly and makes it faster and simpler to dispatch the stocks.
Synchronization
Magento and Odoo ecommerce technologies are trailblazers in the tech world today. If you haven't done this integration, you are missing out. The fear of not having data well synchronized is a heartbreaker. But with Magento Odoo coming together, features are rightly merged between them. Start importing and exporting between these two platforms with images as well.
Let's dive a little deeper and list out the data that gets merged:
Orders – Import orders from Magento to Odoo ERP. Order status is then updated back from Odoo to Magento. Seamless fetching of orders, invoices, and credit memos from Magento.

Imagery – Check and update new images from a folder where Odoo is running. Supports SKU filenames and multiple images.

Products – Add a new product on the Odoo ERP and it is transferred to Magento. Product SKU, name, price, and other details are taken from Odoo and edited in the backend.

Stocks – Send stock summary from Odoo to Magento to keep website data updated.

Supply Chain – Integrate business processes with your supplier. Streamline order details and reduce costs.
Efficient payments and accounting
Another benefit is the smooth and clear transactional processing. Experience hassle-free Odoo's accounting functionality and Magento's payment capabilities, which are well-merged and beneficial to the end user.
Navabrind is the expert you want!
There are top technologies in the market that will upscale your ecommerce platform. Navabrind has modern-day technologies that are unparalleled. Ecommerce development, customer app development, PWA, mobile app development, headless ecommerce, to even experts working round the clock for us.
If integrated solutions like Akeneo-PIM, Magento-Odoo, Shopify-Odoo, Shopify-Akeneo, Woocommerce-Odoo, and Woocommerce-Akeneo are what you are looking for, then you have come to the right experts! The Magento bridge is a must-have for impeccable ecommerce development services.
Industry solutions too range across various sectors. Logistics and supply chain, financing and accounting, manufacturing, and ecommerce solutions are all under one roof.
Are you in the B2B and retail industry? Then contact us for superior solutions and services. We promise we won't let you down.
Update your e-commerce marketplace with the best integrations to win over clients in the B2B ecosystem.
Schedule a conversation with us now!
Planogram In Odoo Will Revolutionize Your Retail Business December 7, 2023 Posted by: tony Categories: Blog, Odoo No Comments It is the era of going digital for almost everything, and you thought the online ecosystem would be crawling behind? The arrangement of products in a store, especially in the retail store, demands a makeover in

Bringing Two Of The World's Most Popular eCommerce Together: Magento eBay Integration! November 9, 2023 Posted by: tony Categories: Blog, Magento No Comments Navabrind's expertise will build a brand experience like no other with unique integrations Out of all the online marketplaces in the world, one that supersedes visibility and shopping is eBay. Not many

Why PIM Is The Future Of Retail Unlocking Its Benefits November 6, 2023 Posted by: saranyababy Category: Uncategorized No Comments PIM centralizes all product data into one single location. With the huge number of SKUs and massive inventory, it is significant to optimize the product information to reach an audience 10X faster. What optimizes and