As the e-commerce industry grows rapidly, ensuring goods are available as and when ordered by the customer and delivering them on time is key to a positive customer experience. On the back of e-commerce, the Logistics and Supply Chain industry has also witnessed significant growth and automation.
Automation has played a big part in managing multiple warehousing, accounting, and fulfillment. With thousands of unique products ordered 24/7, automation has allowed for error-free deliveries. The numerous benefits of deep automation have resulted in a highly optimized, scalable, and flexible logistics and supply chain. The Navabrind Marketplace brings together solutions such as Odoo, Magento, and Akeneo to automate the management of your logistics and supply chain and ensure it is supercharged for the e-commerce industry.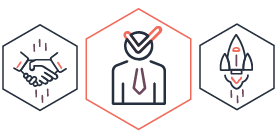 Extensive digitalization of the logistics and supply chain has made way for AI
Improved risk management

Software-as-a-service
Integration of multiple payments and delivery systems
Integration with a host of third-party applications
Navabrind IT Solutions Capability
Navabrind marketplace lets you discover, test, buy, and deploy tailored solution for you business need.
Learn more about Navabrind Marketplace
We're here to help you get started with Navabrind Marketplace.
Get in touch with a solutions consultant that can share best practices and help solve specific challenges.
Navabrind allows you to share ideas, answer questions, and learn about new services and best practices.
Check out the Success Stories of Navabrind, provided by the team of experts. Want to know more?