Bringing Two Of The World's Most Popular eCommerce Together: Magento eBay Integration!
November 9, 2023
Posted by:

tony

Categories:

Blog, Magento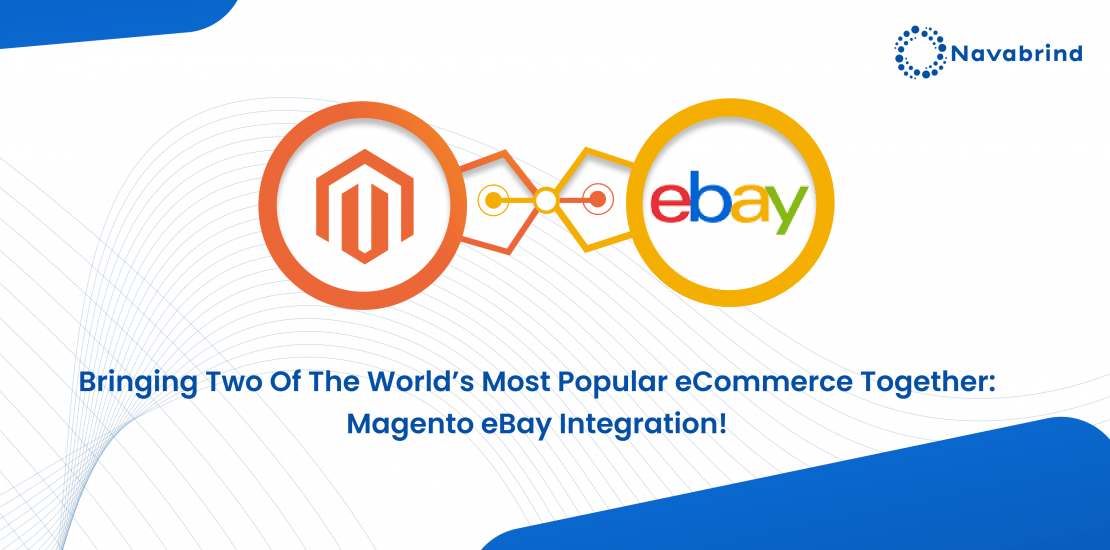 Navabrind's expertise will build a brand experience like no other with unique integrations
Out of all the online marketplaces in the world, one that supersedes visibility and shopping is eBay. Not many have stood the test of time in creating an identity of their own, just as eBay has done. 175 million active buyers and still going strong…! 
eBay has a strong customer base, and its merging with other popular software like Magento will double the impact of robustness and facilitate progressive business operations. 
Revenue generation becomes evident when two world-famous and customer-favorite eCommerce platforms come together as one unified commerce. Magento to eBay transition provides multiple benefits and aims at powerful deliverables with one single central repository. 
Seamless inventory management, product data management across platforms, and multi-selling concepts across the different marketplaces attract more customers and provide them with both online sales channels and offline physical store shopping experiences, enabling an omnichannel strategy.
The Uniqueness Magento Offers
Magento offers an abundance of advantages that allow businesses to leverage their maximum potential. A few key benefits of Magento are the ability to customize, scale, and integrate! 
Customize – Customize Magento to suit your business's unique demands and tailor-meet your expectations
Scale – Adding new products, and services and enabling multi-channel selling with sales channels 
Integrate – Magento can be integrated with third-party plugins, add-ons, and tools to strengthen its capabilities
Magento-Odoo Integration By Navabrind
Magento-Odoo is a powerful integration that will accelerate your business operations, provide highly automated workflows, streamline processes, and facilitate multi-channel selling. Read our case study on how one of our distinguished clients leveraged and maximized potential through our Magento-Odoo integration package. 
eBay started as an auction site for small-sized businesses and consumers but witnessed its massive popularity, and scaled to newer heights ever since. Today it has 1 billion live listings and can be integrated with ecommerce platforms like Shopify, Magento, Bigcommerce, and more.  eBay has a global audience in its B2B and B2C marketplaces and has unlimited possibilities for the ecommerce business.
Experience open-source API for Magento integration with eBay. All it takes is a request from Magento to be approved by the eBay marketplace.
Multi-selling approaches

Tailored selling & shipping procedures 

Customized price listings on different ecommerce platforms

eBay app is a boon with faster order fulfillment 

Advanced seller protection guarantee

Get real-time stock updates in no time. Avoid shipment delays
BENEFITS OF EBAY- MAGENTO INTEGRATION
How about listing your products on multiple channels? Customers love variety and the niche 'ness' that each sales channel provides them with. Each channel is unique, and selling and buying from there brings in new adventures and narrows the gap through selling via the different sales channels. 
A key benefit of the Magento eBay integration is the Notifications via email that the customer gets every time the product is purchased via the eBay marketplace. Notifications serve as gentle reminders to stay updated on current purchases and inventory data.  Not a single purchase order data is missed and keeps you aware of the complete stock and inventory.
ENHANCED PRODUCT PROFILES
Craft detailed and improved Product Profiling! Assign products from the Magento store to different profiles with convenience. With insightful product profiling, selling them becomes easier, thanks to an organized structure.
IMPROVED PRODUCT CATALOGS
Listing products with eBay and Magento integration becomes regulated, and the merge enables a larger catalog display. Whether you are an established business owner or a start-up's budding businessman, integrations like this will drive your marketing strategy and accelerate a prominent product display to your audience. 
With the integration, analytics tools enable the monitoring of sales and product data. What's interesting is the tracking of customer behavior, customer sentiments, and analysis of customer browsing patterns that the Magento-eBay merge will make possible.
A remarkable feature this integration brings is the Super Admin flexibility to import and export products with their price rules set. The Super Admin can provide exact shipping, refund, product specifications, and more details at the time of exporting.
A huge volume of product data can be exported and updated in bulk to the eBay marketplace. With this extension, bulk uploading is made easy with a single click. There is now no need to export products individually and manually.
Magento has a Google API Shopping add-on that will directly push product data to Google's feed. Isn't this simply awesome when your business is available on Google Shopping? There will now be more chances to create promotions and offers to attract buyers.
Magento eBay integration is dependent on a central repository to handle order management, inventory, and product listings without any manual intervention which de-clutters the data and dismisses room for errors. 
List your product pricing with flexibility. Your products can now be defined with a pricing strategy that will help run all campaigns and programs with ease, elevating the customer reach. 
Summing up the benefits of Magento-eBay integration
Establish a powerful & well-regulated workflow

Import and export products in bulk 

Manage large product data, targeting a wider audience

Improved traffic channels

Improved branding & marketing strategies

Enable cross-platform integrations, ERP & CRM implementations

Increase brand value & credibility

Faster pay-off advantages. This means transactions are received the moment the customer pays for the product

Sync shipping, packaging, inventory, quantity, category, and more Attributes

Powerful omnichannel experience
If you are looking to automate your workflows, reduce manual intervention, strengthen business operations, increase sales, and improve customer engagement with robust integrations, Navabrind will build a brand experience like no other industry will. 
Get in touch today! Create a roadmap tailored to your industry's unique demands.
Planogram In Odoo Will Revolutionize Your Retail Business December 7, 2023 Posted by: tony Categories: Blog, Odoo No Comments It is the era of going digital for almost everything, and you thought the online ecosystem would be crawling behind? The arrangement of products in a store, especially in the retail store, demands a makeover in

Bringing Two Of The World's Most Popular eCommerce Together: Magento eBay Integration! November 9, 2023 Posted by: tony Categories: Blog, Magento No Comments Navabrind's expertise will build a brand experience like no other with unique integrations Out of all the online marketplaces in the world, one that supersedes visibility and shopping is eBay. Not many

Why PIM Is The Future Of Retail Unlocking Its Benefits November 6, 2023 Posted by: saranyababy Category: Uncategorized No Comments PIM centralizes all product data into one single location. With the huge number of SKUs and massive inventory, it is significant to optimize the product information to reach an audience 10X faster. What optimizes and