Setting up a successful digital e-commerce business is easier said than done. Those with thriving businesses will tell you that it was a few things they did right which propelled them forward. Some of these are
A robust business plan that they tracked closely.
Razor-sharp financials were tracked keenly, often in real-time.
A sharp eye on their products, all the way from conceptualization to post-sales.
A trusted clutch of people who understood the plan and worked in concert.
A great connection with customers.
Bringing all these together was seamless automation and e-commerce technology that let the fledgling business do more with less. As an end-to-end e-commerce solutions provider, Navabrind IT Solutions helps you choose the best e-commerce solution for your B2B or B2C business. We help you adopt, maintain, and upgrade your e-commerce platform and deliver a truly omni-channel e-commerce experience to your clients.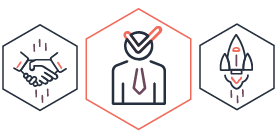 Key Features of E-Commerce Solutions

Small e-commerce businesses can adopt the free version and scale the software as they go.

Free versions from Magento and Odoo do not have license costs and have a huge online community of users for support.

The free versions of Magento and Odoo are used by millions of e-commerce businesses and are secure and robust.

An e-commerce business can be up and running in just a few weeks. Set up a 24/7 sales channel and grow your revenue effortlessly.

Integrate your front-end, PIM, and back-end for maximum automation and minimal dependence on human intervention.

Magento Basic – B2C
Magento Advance -B2C/B2B
Magento Marketplace
Product Information Management System


Magento-Akeneo-Odoo integration
Navabrind IT Solutions Capability
Navabrind marketplace lets you discover, test, buy, and deploy tailored solution for you business need.
Learn more about Navabrind Marketplace
We're here to help you get started with Navabrind Marketplace.
Get in touch with a solutions consultant that can share best practices and help solve specific challenges.
Navabrind allows you to share ideas, answer questions, and learn about new services and best practices.
Check out the Success Stories of Navabrind, provided by the team of experts. Want to know more?