A Magento Marketplace extension turns a store into a thriving online marketplace similar to Amazon.
Sellers have complete control over the vendor Cpanel to manage their products, sales, invoices, shipments, and credit memos.
Each seller receives a customizable storefront within the Magento Marketplace.
The marketplace owner earns a set fee for each order received by a seller.
Customers can leave reviews and ratings for sellers after an order is placed, allowing for a positive shopping experience and reputation building.
Magento offers hundreds of multi-vendor marketplace extensions across Customer Support, Marketing, Accounting & Finance, Payment & Security, Shipping & Fulfillment, Site Optimization, and more.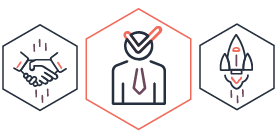 Key Features of Magento Marketplace
Standard Features of a Marketplace Extension

Separate vendor and marketplace administrator login for added security.

Gives sellers a detailed overview of their storefront.

Supports the largest number of Magento products.

Support for multiple languages is available.
Supported Payment Methods

A variety of payment methods are supported, and this keeps growing.

Create seller groups for easy management of large numbers of sellers and create a tiered fee schedule.

Manage all credit transactions from vendors using the transaction manager.

Sellers can customize their storefront using a guided graphical user interface.

3 different extension modes to customize the ordering experience.

A marketplace owner can manage vendors from a single Magento back-end.

Marketplace owners can easily create custom vendor registrations forms.

Enables sellers to receive payments from each order.
Vendor Product Management

Vendors can manage and view their products and inventory.

Vendors can manage and view their storefronts orders, invoices, and credit memos.

Manage your storefront from any device and from anywhere.
Open Source & Customizable

The marketplace extension follows Magento's best practices and code standards.
Additional Plug-ins for the Magento Marketplace Extension
Extend the functionality of a Magento store using a host of Magento Marketplace extensions.

Allows website owners to accept payments from a customer to one or more receivers of the payments.

Facilitates, controls, and tracks the return or exchange of items sold to customers.

Customers can leave reviews for vendors. Other customers can see reviews/ ratings of vendors.

Marketplace owners can manage vendor sub-accounts and set permissions to access only their vendor storefronts.

Assists vendors in managing their respective tax rates for their requirements.

Vendors can have uniquely branded storefronts.
Multiple Flat Rate Shipping

Allows vendors to create and set up multiple freight shipping methods.

This plug-in allows vendors to obtain sales and statistical dates regarding specific storefronts.

A marketplace owner can set limitations and rules for each vendor group.

Marketplace owner can access a seller account using a master password.

Sellers scan, add unlimited static pages, & blocks for privacy policy, T&C, & customer service.

Internal messaging system for vendors to communicate directly with the customer.

This plug-in helps vendors create products very quickly by copy & modify data from existing products.

A valuable tool that helps customers compare prices between vendors selling the same products.

Sellers can add unique categories. Buyers can easily navigate and find products in the seller's storefront.

Allows vendors to feature products on storefront page, category page, or other static pages.

Vendors can communicate with customers in real- time. This is a must- have plug-in for any marketplace owner.

Vendors can control their page by providing calls for working with resources such as categories, products, & sales orders.
Mass Import/ Export Products

A tool for vendors to add large numbers of products to the store quickly & support the mass import/export of product stocks.

Create membership packages with varying fees and benefits. Members are assigned to seller groups, with specific commission structures and permissions.

Vendors can communicate with customers in real- time. This is a must- have plug-in for any marketplace owner.

This plug directs a customer to the vendors' contact page for assistance.

Lets a marketplace owner send updates to vendors. These notifications display on the vendors' Cpanel.

Customers can search for products within a specific vendor's storefront.

Increase conversions by reducing the time to checkout to one step.

This plug-in allows vendors to sell products in an auction similar to eBay.

This plug-in enables customers to request quotes instead of adding them to the cart.

Vendors can create and manage deals for products on the storefront.

Vendors can add static images and banners to their storefronts.

The plug-in allows sellers to display their physical store addresses on the map.

Reduce repeated inquiries. Vendors can create a list of Q&A from within the dashboard.

A tool that allows sellers to add products easily and more efficiently.

Add new option values for dropdowns or multiple select attributes.

After the customer pays the system calculates commission and adds it to the vendor billing account.

Allows vendors to display news on their page. Create categories, add comments to a news item, add pictures to news.

Vendors can display a notice on the store/product page if they are on vacation.
Navabrind IT Solutions Capability
Navabrind marketplace lets you discover, test, buy, and deploy tailored solution for you business need.
Learn more about Navabrind Marketplace
We're here to help you get started with Navabrind Marketplace.
Get in touch with a solutions consultant that can share best practices and help solve specific challenges.
Navabrind allows you to share ideas, answer questions, and learn about new services and best practices.
Check out the Success Stories of Navabrind, provided by the team of experts. Want to know more?