Whether your target is B2B or B2C, the business model in e-commerce is the same with minor variances. So is the objective, which is, to ensure an easy, convenient, and accessible shopping experience for individual customers and resellers.
The difference between a B2B or B2C website is the bulk orders and a few specific activities such as negotiation, bulk shipping, management of warehouses, management of the marketplace, etc. Managing a B2B e-commerce model can be made just as seamless as B2C with software modules such as accounting, warehousing, and manufacturing. These modules can be accessed for real-time information, from anywhere and with minimal human intervention.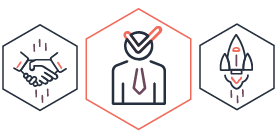 Key Features of B2B and Retail E-Commerce
E-Commerce solutions for a B2C shopping experience

Magento
BigCommerce
Woocommerce
Shopify
Product Information Management System


NetSuite ERP
Sage 300 ERP
MS Dynamics ERP
E-Commerce solutions for a B2B shopping experience

Magento Marketplace
BigCommerce
WooCommerce
Shopify


Odoo Retail package
Odoo B2B Order management
Odoo Inventory
Odoo Warehouse Management
Odoo PoS
Odoo Retail E-commerce Integration
Navabrind IT Solutions Capability
Navabrind marketplace lets you discover, test, buy, and deploy tailored solution for you business need.
Learn more about Navabrind Marketplace
We're here to help you get started with Navabrind Marketplace.
Get in touch with a solutions consultant that can share best practices and help solve specific challenges.
Navabrind allows you to share ideas, answer questions, and learn about new services and best practices.
Check out the Success Stories of Navabrind, provided by the team of experts. Want to know more?