Odoo ERP is helping businesses, from start-ups to giant corporations grow faster and manage efficiently. Odoo streamlines e-commerce operations, boosts sales, builds websites, manages finance, and more. By integrating Odoo software with Magento, merchants can take advantage of a platforms that simplifies and automate the data management process. Odoo integration with Magento helps store owners synchronize their product catalog, customers, sales orders, invoices, and more.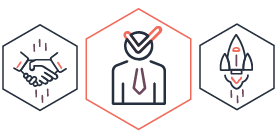 Key Features of a Magento-Odoo Integration
Sync Customer Information from
Magento to Odoo

Easily synchronize contacts and leads.
When customers sign up for new accounts or edit their information from the front-end, the information is updated in the back-end.
Default customer fields in Odoo include address, website, and contact details such as (phone, mobile, and email.
Sync Product Information from
Magento to Odoo

Odoo integration supports simple, virtual, downloadable, configurable, and bundle products.
Product name, price, cost, and product details are synchronized.
Sync Orders, Invoices & Credit
Memos to Odoo

Update and attribute new orders from Magento to the respective customer types in Odoo ERP, including leads, subscribers, opportunities, contacts, and accounts.
Invoices such as customer, address, invoice data, salesperson, product details, total invoice amount are synchronized when processing payments.

Import orders in bulk or choose specific orders to import based on the date range or order ID.
Import product and product variances along with product images.
Import product stock with and without multi-source inventory.

Update Magento order status of completed and cancelled orders.
Export products stock from Odoo to Magento with multi-source inventory (MSI) and without MSI.
Export order shipment carrier and tracking number.
Create invoices in Odoo ERP and export them to Magento.
Navabrind IT Solutions Capability
Navabrind marketplace lets you discover, test, buy, and deploy tailored solution for you business need.
Learn more about Navabrind Marketplace
We're here to help you get started with Navabrind Marketplace.
Get in touch with a solutions consultant that can share best practices and help solve specific challenges.
Navabrind allows you to share ideas, answer questions, and learn about new services and best practices.
Check out the Success Stories of Navabrind, provided by the team of experts. Want to know more?