Integrate your Shopify e-commerce store with Odoo ERP. Combine Shopify's effectiveness with Odoos flexibility to maximize the utilization of your store. Import products, customers, and orders from the Shopify store to Odoo. Synchronize collection from the Shopify store to Odoo to manage them effectively in Odoo. You can also map Shopify's taxes, payment methods, and currency in Odoo.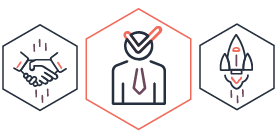 Key Features of a Shopify-Odoo Integration

Synchronize product cost, description, images, inventory, options, price, SKU, title, and weight from Shopify with Odoo.
Import and update products from Shopify in Odoo in real-time.
Map products in Shopify to Odoo products through a CSV file.
Import Shopify collections to Odoo with a click.

Import orders, invoices, and shipment orders placed in Shopify to Odoo.
Map Shopify shipping methods with Odoo shipping methods.
Map taxes are present in Shopify with Odoo taxes.
Map Shopify payment methods and currencies with Odoo payment methods for hassle-free management of the orders.

Map fiscal positions and send to Odoo order while syncing.
Auto-update mapped products and new collections.
Sync product description as website description in Odoo.
Sync Shopify variant price with Odoo.
Auto-sync customer type, new customers, and addresses.
Navabrind IT Solutions Capability
Navabrind marketplace lets you discover, test, buy, and deploy tailored solution for you business need.
Learn more about Navabrind Marketplace
We're here to help you get started with Navabrind Marketplace.
Get in touch with a solutions consultant that can share best practices and help solve specific challenges.
Navabrind allows you to share ideas, answer questions, and learn about new services and best practices.
Check out the Success Stories of Navabrind, provided by the team of experts. Want to know more?