What Are the Benefits of Magento PWA Studio?
August 3, 2022
Posted by:

tony

Categories:

Blog, PWA Services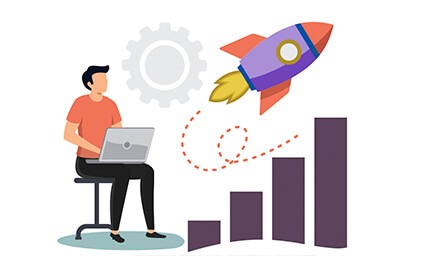 Magento is one of the most widely used e-commerce platforms in the world. They believe in ensuring their customers are always ahead of the curve, and they do this with Magento PWA Studio.
But what is PWA or progressive web application?
Progressive web application is a technology that allows e-commerce website owners to make their site as seamless as an app when accessed from a mobile device. Few if any customers would notice the difference.
With PWA, an e-commerce site
Is responsive and fits in any screen size
Is adaptable enough to be added from the customers' website browser to their mobile home screen
Is linkable via a URL and can be shared on social media
Maximizes the space on a mobile device so that customers enjoy an immersive shopping experience
Instantly loads for a smooth shopping experience
More than a few e-commerce businesses are adopting PWA for the many advantages it offers
Enables your e-commerce website to work offline like a mobile app and lets your customers browse through your products
Customers do not need to download any app or extension from the app store. They just add the app from the browser to the home screen of their mobile device
Easy to maintain as your developers do not have to submit the PWA to a Play store app store for approval
Cost-effective to build compared to a native mobile app, and there is no requirement for different versions like iOS & Android
If you are using Magento version 2.3 or newer, your e-commerce business can easily adopt PWA through Magento PWA Studio.
With Magento PWA Studio, you get to
Deploy a home screen button
Offer your customers push notifications
Provide your customers with faster page load time
Access SEO features
Integrate with third-party apps like CRM, ERP, PIM, PoS, etc
Is your e-commerce company looking for a technology partner to help you adopt PWA? Wondering if Magento PWA is the right option for your e-commerce business? Reach out to Navabrind IT Solutions.
With over a decade of expertise in B2B and B2C e-commerce solutions, we help small and medium e-commerce businesses deploy end-to-end solutions, from Magento, Akeneo PIM, Odoo ERP, and integrate them with your DAM and MDM solution. We have also helped our clients in the US, Europe, and India with mobile apps, cloud solutions, complex customizations, and have software developers you can hire.
A Complete Guide To Magento Integration With Citrus Payment Gateway: What You Need To Know In 2023! September 1, 2023 Posted by: tony Categories: Magento, Payment Gateway No Comments In the digital modernization era, going cashless and diving into online payments is the need of the hour. For the payments to happen online, an online

Amazon Seller Central Account Integration with Odoo is Proven to Grow Business! August 25, 2023 Posted by: tony Categories: ERP Implementation, Odoo No Comments How important is selling on Amazon in the digital modernization era? Have you always had a penchant for keeping your business under the spotlight? Do you wish to expose your business

Odoo vs Zoho: Which Is The Better Software For Your Business? August 18, 2023 Posted by: saranyababy Category: Odoo No Comments Finding the best software to amplify your sales or spearhead business workflow is challenging! Given that there are so many choices one is spoilt for in the market currently, from CRMs to Accounting, to