Omnichannel: The Powerful New Direction of E-Commerce
September 21, 2022
Posted by:

tony

Categories:

Blog, E-Commerce Development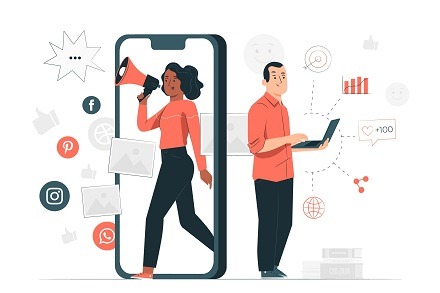 As an e-commerce business owner, you may want to brush past big words like omnichannel commerce or omnichannel retailing. But when it comes to delivering world-class customer experience, it is definitely something you want to do. As an e-commerce business, you aspire to give your customers the same easy browsing and shopping experience across the computer, mobile phone, and brick-and-mortar store. That is omnichannel for retail right there.
What is Omnichannel Commerce?
Omnichannel commerce is about having a single comprehensive view of the customer. And no matter how they search for you or arrive at your sales center you deliver a single wow experience. This uniform experience is delivered via branding, pricing, product quality, and product support.
So for instance, if you sell a niche coffee. It may all begin when the customer sees an ad of your coffee, next they visit your website and place an order or go to a store and buy a packet. Across all these channels, the customer has a seamless experience, visually, economically, and by way of service.
In omnichannel commerce, the 'experience' is everything, and e-commerce businesses invest extensively to leverage data to understand their customer and deliver a highly personalized and wholly curated experience of the store and product.
Benefits of omnichannel retailing
The key reason why omnichannel is gaining so much attention is because of the tremendous business potential it offers. According to the Report Linker, an organization delivering market intelligence, the global market for omnichannel retail platforms is expected to hit $14.5 billion by 2027.
An omnichannel retailing strategy also has a host of other advantages, namely:
Higher customer retention. A study by Havard Business Review found that repeat customers can account for as much as 40% of sales. This implies that an omnichannel strategy can result in higher sales.
Higher customer satisfaction. Studies show that 75% of customers will return to companies if they have a positive buying experience.
Improved word-of-mouth marketing, references, and recommendations.
Improved collection of customer data and an opportunity to collect offline and online customer data, which in turn rolls back to delivering a personalized experience.
How to implement omnichannel in retail?
Here are a few points that go into creating an omnichannel strategy in retail. This strategy could take months to implement. And even once implemented, a strategy is never static. In today's hyper-competitive retail world, consumer loyalty is a moving goalpost. But let not the larger picture overwhelm you, here is how to get started.
Make the customer the center of your omnichannel strategy. Think through and plan for every customer-brand touchpoint.
Curate the customers' experience across digital channels, public physical spaces, and your brick-and-mortar stores.
Invest in strong branding and marketing so that your product stands out audio-visually and in text.
Leverage every type of marketing – digital and traditional, be it social media, web ads, QR codes, billboards, kiosks, etc.
Use an excellent CRM to collect as much data as you can on the customer. Keep your data clean and ensure you are using this data to reach out to your customer.
With omnichannel retailing, the smartest strategy is to create value for the customer. Value equals continued purchase of your product, which equals strong loyalty.
Three prominent companies that have really got omnichannel retailing right are Starbucks, Amazon, and Disney. They chose a marketing channel based on their product. For instance, Starbucks leveraged its Starbucks card, Disney created a mobile responsive website, and the My Disney Experience Tool, Amazon created the most customer-centric website and a whole ecosystem of products around it, such as Amazon Pay and Amazon Prime. The goal of all three companies was to create an array of sub-products so that the customer has a fulfilling experience, be it getting started with a coffee, entertainment, or shopping.
You can also read our blog post, 5 Tips to Select the Right IT Consultant for Your E-Commerce Business>>
Technologies that can help you deliver an omnichannel experience
While e-commerce businesses are deeply focused on offering an omnichannel experience to their customer, the end goal is branding and building that elusive loyalty for continued product purchases.
Powering that omnichannel experience is technology, and in this blog post, you will read about four technologies that can be capitalized on to make your business a truly omnichannel one.
Flexible storefront platform
The promise of a fully controlled customer experience is why some front-end e-commerce platforms like Magento2, Shopify, BigCommerce, WooCommerce, and others are adopted widely. All these front-end platforms offer flexibility so that an e-commerce business can plan its storefront, tweak it as often as they choose in line with customer needs, manage frequent website updates from the backend, and do all they can to attract and retain customers. These e-commerce front-end platforms are secure, have a large community of users and developers, and are constantly upgraded to meet new customer needs.
Progressive Web Applications (PWA)
The desire to make the front-end of an e-commerce site responsive to the customer, easily editable for the developer, and look new every time a customer visits, is why progressive web application or PWA is becoming increasingly popular. If your storefront is built with PWA, you don't have to worry that your laptop, mobile, and retail customers are experiencing your storefront differently, because they aren't. You can also modify features of your storefront whenever you want without having to take the store offline. With PWA, you can be innovative with design and wow your customers every time they visit your website. PWA is the key lever of omnichannel commerce.
AI is transforming the shopping experience by helping predict buying frequency, and behavior patterns, creating shopping lists for customers and offering recommendations. Chatbots and virtual assistants help shoppers identify the products they need faster while personalizing the experience. AI also helps customers shop quicker, save time, and lets the orders flow through to the e-commerce business.
Automation in inventory management
A key aspect of omnichannel e-commerce is fulfillment. An increasing number of e-commerce businesses are automating their inventory management to identify sales trends, prepare for changes in demand, avoid overstocking and work 24/7 with robots.
Is your business ready for omnichannel commerce
With omnichannel pointing in the direction of e-commerce, most companies are looking for a reliable technology partner who understands their industry, can deliver world-class solutions, and knows how to leverage technology to grow their business.
Navabrind IT Solutions is one such technology partner. Here's why you should consider us
10 years of experience delivering e-commerce solutions
Over 100 software engineers specialized in e-commerce technologies – front-end, middleware, and backend
Hundreds of clients have worked with us on simple and complex projects
Certified Odoo and Pimcore partner
Happy customers across North America, Europe, and Asia
Experience across industries such as retail, logistics, hospitality, engineering, and others
Process-driven, and deeply committed to delivering the best solutions to our clients within budget and in the least time possible
Consultation, development, customization, deployment, and maintenance of solutions
Reach out to Navabrind IT Solutions to explore possibilities for any of your e-commerce technology needs.
A Complete Guide To Magento Integration With Citrus Payment Gateway: What You Need To Know In 2023! September 1, 2023 Posted by: tony Categories: Magento, Payment Gateway No Comments In the digital modernization era, going cashless and diving into online payments is the need of the hour. For the payments to happen online, an online

Amazon Seller Central Account Integration with Odoo is Proven to Grow Business! August 25, 2023 Posted by: tony Categories: ERP Implementation, Odoo No Comments How important is selling on Amazon in the digital modernization era? Have you always had a penchant for keeping your business under the spotlight? Do you wish to expose your business

Odoo vs Zoho: Which Is The Better Software For Your Business? August 18, 2023 Posted by: saranyababy Category: Odoo No Comments Finding the best software to amplify your sales or spearhead business workflow is challenging! Given that there are so many choices one is spoilt for in the market currently, from CRMs to Accounting, to