Benefits of PIM for the Manufacturing Industry
January 10, 2023
Posted by:

tony

Categories:

Blog, PIMCore Services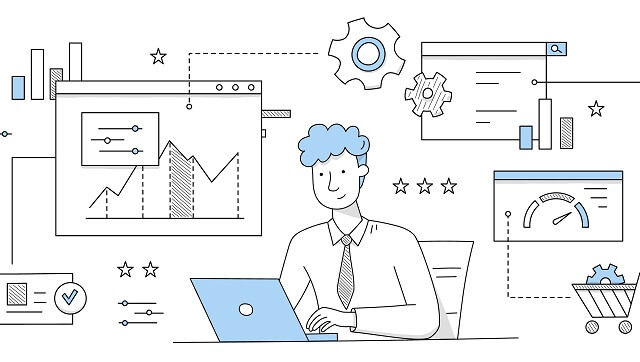 The manufacturing industry is a complex one, and nothing can illustrate it better than this example of a box manufacturer.
Company X manufactures boxes of various sizes, materials, and colors. It manufactures boxes to order and for its suppliers and distributors.
The company needs to store information on the sizes of the boxes it manufactures, and various materials used in the process, such as cardboard, reinforced cardboard, corrugated cardboard, tin, plastic, etc.
It also needs to store information on the quantity and quality of materials used in each type of box, especially if the client wants to order waterproof boxes or biodegradable boxes.
It needs to record details of chemicals used in the manufacturing processes and ensure it meets the compliance regulations of the countries it exports to.
The company also needs to record the precise net weight of each box and the net weight each box can carry, its durability, and warranty so that logistics can be planned. And this is just a high-level example of a box manufacturer.
Challenges of the Manufacturing Industry
The manufacturing sector is worth trillions of dollars and makes millions of different products often of great complexity.
How does a manufacturer store all the information related to the products it manufactures?
How do they ensure their sales and marketing teams have the latest information about a product or the newest type of product being manufactured?
How can they automate the process of disseminating the most accurate version of their product catalog to their suppliers and distributors?
Here is where the benefits of PIM come in.
PIM for the Manufacturing Industry
A Product Information Management (PIM) system is a single repository to store all product information with accuracy.
It ensures all the teams in the company always access a single source for product information 24/7.
The PIM lets the manufacturer maintain multiple versions of information and audience-specific versions of information.
Here is how a PIM can benefit specific teams in a manufacturing company,
The creative team can use approved images, product specs, and product descriptions in the PIM to create channel-wise creatives for print and online channels.
The marketing team can harness the latest product information to create brochures, write content, launch campaigns, and disseminate product information across online channels.
The sales team can leverage accurate information to share with prospective clients.
Resellers and distributors can tap into the most updated product information for their reselling initiatives.
Benefits of PIM for the Manufacturing Industry
Store all your product information, such as product names, titles, UPCs, and stock-keeping units, in a single, easily accessible repository.
Track all the components of your inventory using a taxonomy, including categories, labels, and variants. This simplifies the search, organization, and storage of product-related data.
Enable sales, marketing, customer support, and distributors to access photos, audio and video files, word documents, brochures, and other content when it is time to advertise and market your merchandise.
Manage product's technical specifications, such as measurements of a product, information about the materials used, ingredients, product warranties, dimensions, length, breadth, and height, as well as parts used in the product's assembly.
Create customer profiles, SEO components, and keywords that can be used in your marketing campaign.
Organize channel-specific data, such as the number of items made accessible on a given online channel, their price, description, discounts provided, etc.
Localize information so that it is readily accessible as brochures and other marketing content in several different languages.
Maintain sales data, including pricing, client references, and client evaluations.
Manage the information on distributors and suppliers, such as their credentials and other details.
Manufacturers who want to do more with their PIM data can further integrate with other applications, such as DAM, MDM, CRM, Odoo ERP, and front-end programs like Magento, Shopify, and Big Commerce.
An increasing number of manufacturers are also reducing their reliance on traditional distributors and opening up their storefronts on e-commerce channels such as Facebook, Amazon, Instagram, Google, and others.
With the advantage of the PIM, your design team can create channel-specific creatives, and monitor consumption and success, with accuracy.
The business benefits of installing a PIM can be seen in increased sales, lesser product returns, faster time to market, increased team productivity and efficiency, and improved customer happiness.
You can also read this blog post, "Top 5 Product Information Management Software in the Market" >>
Some of the PIM options Your Manufacturing Enterprise can Explore
For manufacturers looking to adopt a PIM, there are numerous offerings in the market. However, it is best to go with well-known brands that are recognized for helping millions of e-commerce companies and manufacturers around the world.
Two of the most popular product information management brands in the market are Akeneo and Pimcore.
Akeneo - Helps you turn browsers into buyers
Akeneo promises to help users, including manufacturers, to deliver an exceptional and consistent omnichannel experience to their customers, irrespective of the platform they engage on – your online store, an online marketplace, through retailers, distributors, social media, inside a physical store, or while reviewing a printed catalog.
At the back end, Akeneo promises to help users create content for every step of their customer journey through a platform that is accessible to internal and external stakeholders, stores every type of content format, and meet specific channel regulations.
Five key highlights of Akeneo PIM
Content syndication – so that your manufacturing enterprise can seamlessly market your products across first-party and third-party sites, irrespective of how many channels you market on.
Tailored exports to unowned channels – so that you can structure your content to the flat file requirements of any channel, without changing your product catalog structure or data.
Easily integrate with a host of apps – via the Akeneo App Store and give your customers the very best experience.
Akeneo shared catalog – is a portal that can be shared with the internal customer service team and external retail partners. The online catalog allows users to browse, search, filter, download, and access updated, high-quality product data and assets. These marketing collaterals can be easily managed and enriched within Akeneo PIM.
Akeneo PXM Studio – offers a centralized system of record for all a company's product information. Users can store data, enrich data using rule-based automation, permissions, and workflows, and publish accurate product catalogs.
Pimcore - Enables you to rethink experience management
Pimcore is harnessed by over a hundred thousand businesses and promised to enable users to
manage, aggregate, and distribute their digital and master data through any number of channels.
It also promises to deliver user-centric personalized customer experiences on any device.
Pimcore enables users to create sophisticated, marketing-driven, personalized websites, portals, intranets, and extranets through its powerful API-driven, headless content, and commerce capabilities.
It assures support for digital signage, point-of-sale, and print.
Pimcore also offers other products, such as DAM, MDM, a customer data platform, a digital experience platform, and a digital commerce framework, all within an affordable price range.
This enables users, including manufacturers to do more with their PIM data and stay within the Pimcore ecosystem and scale their PIM with ease.
As an open platform, the Pimcore code is transparent and allows for easy integration with applications of choice.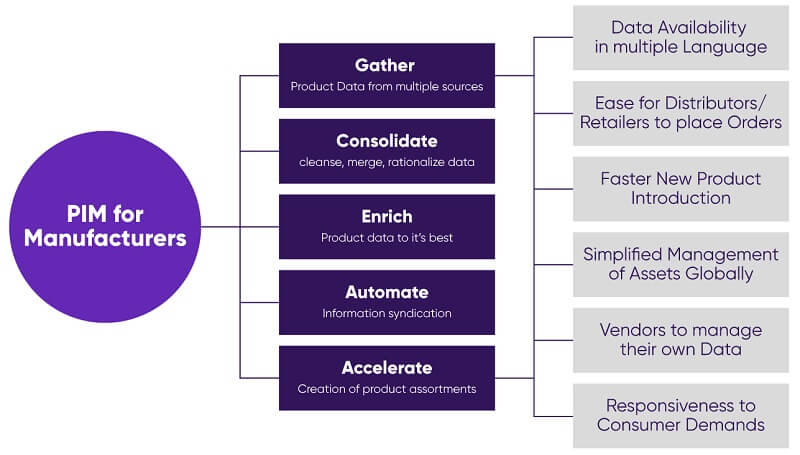 Now that you have learned a fair bit about PIM for the manufacturing industry, the next step is to identify the right technology partner.
Reach out to Navabrind IT Solutions to Adopt a PIM for the Manufacturing Industry
Knowing the right PIM solution for your manufacturing enterprise, deciding on the features, and planning data migration, customization, and support can all be a handful. It also takes you away from your core expertise, manufacturing world-class products.
Navabrind IT Solutions has expertise in implementing PIM for the manufacturing industry and can help.
With over a decade of expertise, we have been a reliable technology partner to clients across retail, logistics, manufacturing, engineering, hospitality, and other industries.
Reach us if you are looking for a PIM implementation partner that stays within time and budget and delivers a cost-effective solution. We have a deeply committed team of software engineers with expertise across several industries, have delivered over 50 successful PIM implementations, and are a Pimcore-certified partner.
Planogram In Odoo Will Revolutionize Your Retail Business December 7, 2023 Posted by: tony Categories: Blog, Odoo No Comments It is the era of going digital for almost everything, and you thought the online ecosystem would be crawling behind? The arrangement of products in a store, especially in the retail store, demands a makeover in

Bringing Two Of The World's Most Popular eCommerce Together: Magento eBay Integration! November 9, 2023 Posted by: tony Categories: Blog, Magento No Comments Navabrind's expertise will build a brand experience like no other with unique integrations Out of all the online marketplaces in the world, one that supersedes visibility and shopping is eBay. Not many

Why PIM Is The Future Of Retail Unlocking Its Benefits November 6, 2023 Posted by: saranyababy Category: Uncategorized No Comments PIM centralizes all product data into one single location. With the huge number of SKUs and massive inventory, it is significant to optimize the product information to reach an audience 10X faster. What optimizes and