How Magento Akeneo Integration Boosts B2B Productivity
June 30, 2023
Posted by:

tony

Category:

Magento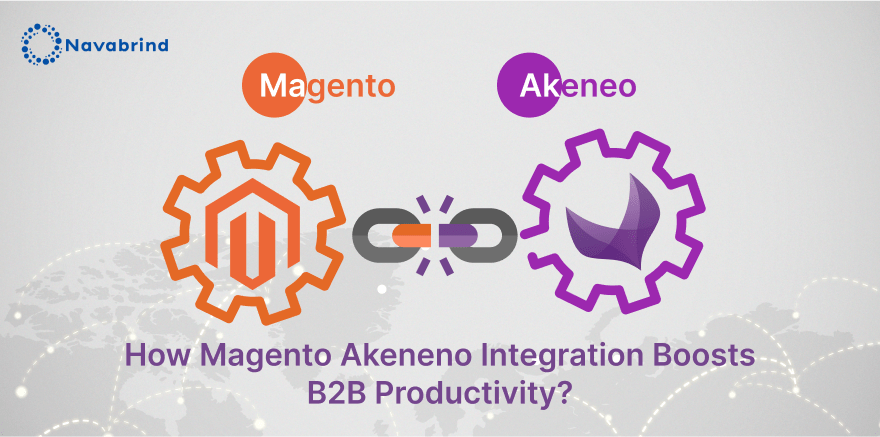 We have come a long way in creating the best online shopping journeys for our customers. Yet it feels like we still have to walk the extra mile to be the trailblazers in the market, differentiate ourselves from our competitors, and build our niche. Ecommerce in the B2B ecosystem is taking giant steps forward today internationally, which is now every merchant's top priority. And if you fear missing out on the trends, then it's time to create a powerful Magento website and better still integrate it with other apps.
But why should we choose integrations? What kind of integration? And for which industry? These are some of the crucial topics we will cover in this article, and also enlighten you on Magento-Akeneo integration that will redefine your online game.
So, walkthrough with us and make informed decisions for your B2B ecommerce.
Why are integrations important?
Business owners today are opting for Magento for their ecommerce. What makes it their popular choice? 
So many reasons…so many specialties… It's a world of magic where you might just get lost and rediscover again…Enchanting, enriching, and empowering.  
Whichever industry you belong to, your products displayed on a Magento website will be worth their buy!
Magento enables businesses to maximize their outreach. Its multi-channel feature provides store owners with a unified approach for stellar performance. As a result, revenue generates and business thrives. With the already improved functionality of Magento, imagine you now integrating it with third-party apps. What happens? Fireworks!
Magento is already a robust data management platform and with integration what you get is increased accessibility, efficiency, browsing, better product management, understanding of customer journeys, efficient marketing, faster checkouts, comprehensive purchase history, and overall an enjoyable shopping time. 
Integrations suited for different industries
Let's break it down for you! There are top few industries that Magento is ideally suited for. The world's best ecommerce sites from big brands have shown their love for Magento. Top industries belonging to different sectors like Beauty and Health, Food and Drinks, Cars, Clothing and Shoes, Home and Garden, Jewelry, and Hardware, are ruling the Magento Ecommerce landscape.
What are the best integrations to consider?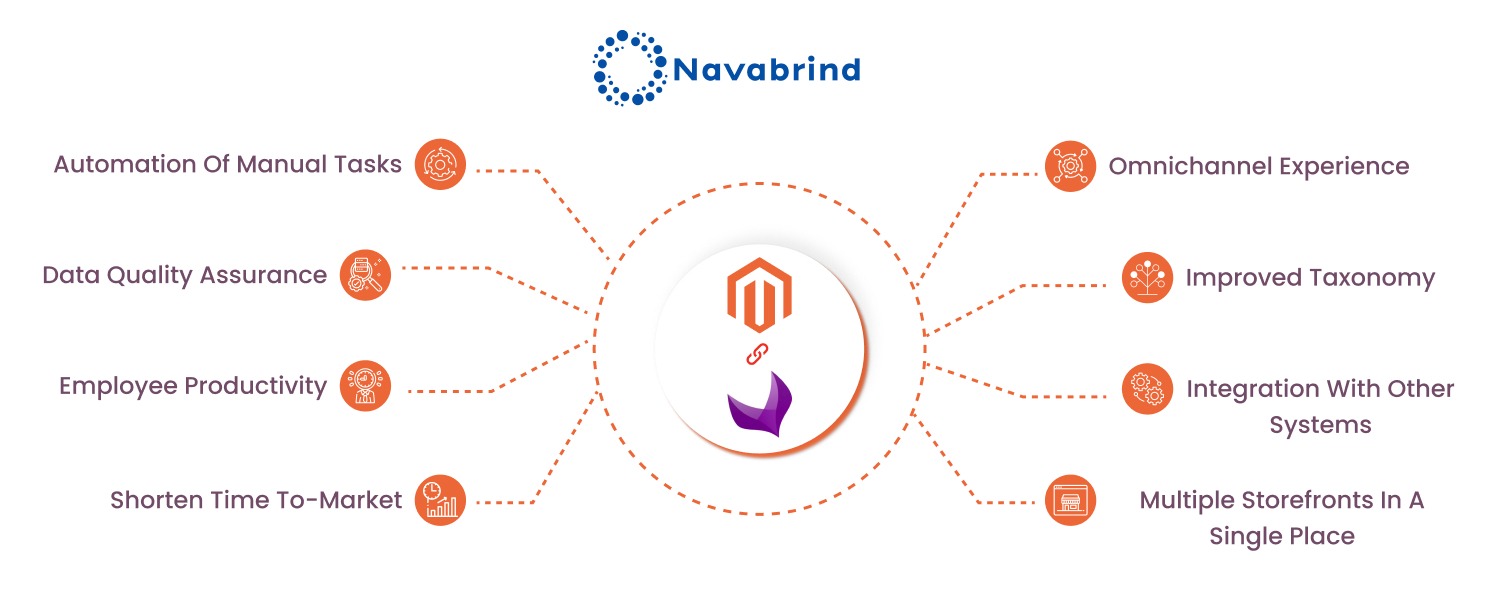 Have you ever been to a market that sells everything you desire? From all your shopping goodies to the must-haves on your bucket list, it's a haven of wholesomeness, isn't it? Then why should your ecommerce which has been your dream for so long be any different? Why can't it be so flawless that it makes you a large business owner from an aspiring entrepreneur? 
Navabrind is one such haven of ecommerce goodies. We mean it. Our marketplace has the best software solutions. Some of our integrations are Magento-Odoo, Shopify-Odoo, Shopify-Akeneo, Woocommerce-Odoo, Woocommerce-Akeneo and so many more…
You may ask why an Akeneo integration after all? It is an accepted fact that Magento's popularity in the ecommerce world remains unparalleled even today. But Magento needed Akeneo to take its capabilities to greater heights. 
Akeneo is a Product Information Management (PIM) system. It is a centralized data management system that extends its capabilities in managing product catalogs and supports the multi-channel strategy in various languages. Akeneo comes with powerful API capabilities, and its integration with Magento only maximizes its potential. 
PIM was first adopted by retailers and B2C brands, but today as the importance of ecommerce websites is on an upsurge, Akeneo PIM is a preferred choice for the B2B ecosystem as well.
Needless to say, an ecommerce like Magento and a Product Information Management (PIM) system like Akeneo is the perfect choice for your B2B online shopping. 
You can also read this blog post, "Magento Odoo Integration For Dynamic Ecommerce" >>
Here is a sneak peek into the advantages of using Akeneo PIM
In an e-commerce environment, it is not just about getting visibility for your inventory but also coordinating the accurate display of information on hundreds of websites sites, online marketplaces, and social media channels. Managing all this information manually is close to impossible and an expensive endeavor.
Ads on content syndication and third-party channels cost the company. Ads are often displayed in local languages and with seasonal or festival-related offers, and every enterprise needs to track ad performance.
Additionally, multiple teams tap into the same data source for product information and use it to create hundreds of different collaterals.
Nothing can work better than a comprehensive PIM that ensures end-to-end storage of product information and automation in dissemination.
Improved product management
Localization
Increase sales conversion rates
Centralized location
User friendly
Enhanced inventory management
Improved product management
Let's put it this way, product management is akin to Akeneo.
Product information is managed for multiple sales channels, it synchronizes all product listings, reduces manual efforts, and handles products comprehensively.
Localization
Generating revenue and driving sales are so crucial to any business. And if your business is spread at different locations then it becomes significant to do both the manual translation and localize the content. Akeneo enables localization and translation that is ideally suited for different regions.
Increase sales conversion rates
A popular opinion goes that businesses that use Akeneo see a 30% decrease in the time spent in product management and a 50% increase in conversion rates. 
Then why shouldn't you choose Akeneo PIM? Managing products efficiently boosts sales conversion rates and reduces returns.
Centralized location
Akeneo drives operations through one single platform that is used across multiple applications, various other platforms, Point of Sales (POS), and other channels. Rightly said, It's a one-stop-shop solution. 
User friendly 
We know it's tough to handle the technicalities of software. Not everyone is accustomed to operating software. But Akeneo is so user-friendly and intuitive that even a non-technical person can handle and use it.
Enhanced inventory management
Another major advantage of using Akeneo PIM is its inventory management capabilities. Now, imagine your online store is built on Magento and you find a load of SKUs to handle. You need a PIM like Akeneo to take up the challenge and handle the product data seamlessly.
What are the top 5 benefits of Magento-Akeneo Integration?
Better customer experience
Improved Time to Market
Increased sales
Single platform
Enriched product data
1. Better customer experience
Create better shopping experiences for your customers with enhanced and improved product information storage. It becomes easier for your customers to validate their purchases, get streamlined product details, browse through with images to make their overall journey non-chaotic, saving time and providing a faster checkout. 
2. Improved Time to Market
There is impeccable streamlining of product data with Akeneo. No more manual data entry and the time to market is faster, thereby when Akeneo is combined with the Magento ecommerce platform, the operations are amplified.
3. Increased sales
When your product management is solid, it's a better journey for the customer enabling sales and triggering revenue. With complete product information accessible to the customer, customer retention becomes easier, and also upsell and cross-sell products can happen efficiently. 
4. Single platform
We told you earlier, that product data enrichment happens from one single source. This way, there is clarity and consistency that is maintained throughout. There are no errors, better collaborations happening, and streamlined functionality.
5. Enriched product data
With Akeneo, it is now easier to import and export data from and to other channels. It has extensive features that add to the robustness of the product data. To create relationships, managing product attributes is crucial and Akeneo has set the bar high.
If you need better streamlining, automation, improved product data management or simply want to make your customer's journey worthwhile, then integration of Magento and Akeneo is the step forward to make your ecommerce store a force to reckon with.
Navabrind is the expert you want!
There are top technologies in the market that will upscale your ecommerce platform. Navabrind has modern-day technologies that are unparalleled. Ecommerce development, customer app development, PWA, mobile app development, headless ecommerce, to even experts working round the clock for us. 
If integrated solutions like Akeneo-PIM, Magento-Odoo, Shopify-Odoo, Shopify-Akeneo, Woocommerce-Odoo, and Woocommerce-Akeneo are what you are looking for, then you have come to the right experts! 
Industry solutions too range across various sectors. Logistics and supply chain, financing and accounting, manufacturing, and ecommerce solutions are all under one roof.
Are you in the B2B and retail industry? Then contact us for superior solutions and services. We promise we won't let you down. 
Win over your clients with the best integrations from Navabrind. 
Schedule a conversation with us now!
A Complete Guide To Magento Integration With Citrus Payment Gateway: What You Need To Know In 2023! September 1, 2023 Posted by: tony Categories: Magento, Payment Gateway No Comments In the digital modernization era, going cashless and diving into online payments is the need of the hour. For the payments to happen online, an online

Amazon Seller Central Account Integration with Odoo is Proven to Grow Business! August 25, 2023 Posted by: tony Categories: ERP Implementation, Odoo No Comments How important is selling on Amazon in the digital modernization era? Have you always had a penchant for keeping your business under the spotlight? Do you wish to expose your business

Odoo vs Zoho: Which Is The Better Software For Your Business? August 18, 2023 Posted by: saranyababy Category: Odoo No Comments Finding the best software to amplify your sales or spearhead business workflow is challenging! Given that there are so many choices one is spoilt for in the market currently, from CRMs to Accounting, to