The Akeneo Connector for Magento 2 automatically synchronizes product data between Akeneo PIM and Magento Commerce. The API-based integration allows for product data generated in Akeneo PIM, such as categories, families, attributes, products, and product models, to be exported to the Magento platform. Akeneo Connector for Magento 2 is regularly enhanced to support the latest features from Akeneo PIM Enterprise Edition and Magento 2, the leading enterprise-class e-commerce platform used by 200,000 online retailers. The Akeneo- Magento integration gives users
An omnichannel strategy, complete with contextual product information for each channel.
Experience-driven e-commerce stores stocked with emotional product information.
Easier global expansion with localized product information.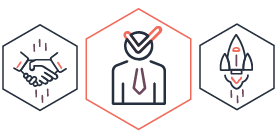 Key Features of Magento Akeneo

Information from Akeneo such as categories, families, attributes, options, products, and product models can be displayed on the Magento websites.
Export multiple images of a product from Akeneo to the Magento store.

Admin can export content (description, labels, etc.) in multiple languages such as English, German, Spanish, etc.
Add association mapping for related, upsell, and cross-sell products for export.

Admin can create a product with multiple options and export/import it as a configurable product.
Using this module, you can filter the product data and product at the time of export.
Export a metric unit with the tags from Akeneo to Magento.
Navabrind IT Solutions Capability
Navabrind marketplace lets you discover, test, buy, and deploy tailored solution for you business need.
Learn more about Navabrind Marketplace
We're here to help you get started with Navabrind Marketplace.
Get in touch with a solutions consultant that can share best practices and help solve specific challenges.
Navabrind allows you to share ideas, answer questions, and learn about new services and best practices.
Check out the Success Stories of Navabrind, provided by the team of experts. Want to know more?