PIM with ERP : 8 signs why you need PIM with your ERP
January 27, 2023
Posted by:

tony

Categories:

Blog, ERP Implementation, PIMCore Services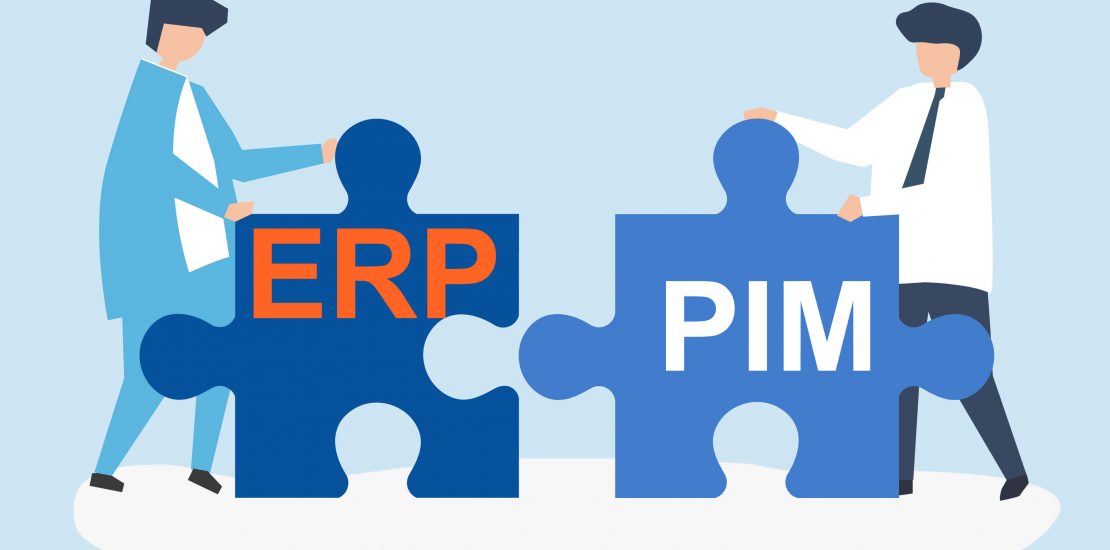 An ERP is the most comprehensive technology-powered system in an enterprise. With a wide range of modules such as Finance, Manufacturing, Warehousing, Inventory and Order Management, Human Resources, and Sales, an ERP help manage virtually every crucial department in an enterprise.
Much thought goes into adopting an ERP, as do time and money. Choosing, implementing, customizing, and migrating data to an ERP can take months and hundreds of thousands of dollars.
Much effort is invested not just by the technology partner but by the enterprise itself by mapping its needs, selecting features, planning customizations, and learning to use the ERP.
Most ERPs are sold as the panacea to all technology problems. So, after an elaborate and often tension-filled process of implementing an ERP, one can well understand the relief management feels on the successful implementation of an ERP.
Once implemented, an ERP is expected to support the organization for years, and therefore
learning that the enterprise also needs a PIM integration may come as a bit of a surprise. Yet, a PIM with ERP makes for a powerful solution.
The full form of PIM stands for product information management. While some may question why use a PIM, the answer is elaborate.
A PIM is a system that enables an enterprise to store all its product information on one single platform. Irrespective of the type of content, be it word documents, video files, audio files, ppts, excel sheets, pdfs, images, and a range of others documents and formats.
The system allows users to create several team-centric versions of a document, so that both internal stakeholders, such as sales, marketing, and customer support, and external stakeholders, such as distributors and resellers, can access a single version of the product information.
The PIM is an irreplaceable tool to deliver a multichannel and omnichannel buying experience.
Now the PIM is an investment, no doubt, and most e-commerce companies want to know when they are likely to require a PIM.
You can also read this blog post, "Top 5 Product Information Management Software in the Market" >>
8 Signs your enterprise needs a PIM with your ERP
If you agree with some or all of the points below, it is a sign that your e-commerce enterprise needs a product information management system.
Your enterprise has over 100 SKUs, and you sell these across a range of third-party channels.
Your team is spend all day ensuring product information is accurate or customizing the product information to different stakeholders, repeatedly.
You maintain product information in multiple excel sheets, pdf, and word docs, and your team spends significant time searching for the most updated/accurate information.
Your product information is with multiple teams/people across the organization, and no one knows who has the correct information.
Sourcing accurate product information takes many hours if not days, and this has become a frustrating experience for your internal and external teams.
Your marketing team has disseminated wrong information on paid and free channels and this impacted your brand.
Because it is unclear who maintains accurate product information, your marketing team must go through a lengthy clearance process before creating new campaigns.
Your sales team has submitted the wrong quotes to potential customers and this has eaten into your margins.
What type of companies could benefit from a PIM
While many may be convinced about the benefits of a PIM, some still want to know about which type of e-commerce company would benefit from a PIM.
Well, any company across retail, hospitality, logistics, engineering, fashion, or others that deal with hundreds of SKUs and varieties of products would benefit from a PIM.
Here are a few pointers on who can benefit from a PIM.
Companies that sell in multiple geographies, launch local offers and disseminate product information in local languages.
Companies that are customer-focused and plan to deliver an omnichannel customer experience. These are also companies that choose to carefully curate their branding to every customer segment.
Companies that want to optimize their manpower, strive for efficiency, and increase automation for accuracy and measurement.
Companies that are numbers-driven, and want to empower their sales, marketing, distributors, and resellers with information at their fingertips.
Companies that have an aggressive growth strategy to seize market share.
For companies that plan to systematize the generation of their product information and standardize content across marketing channels, a PIM
Facilitates collaboration between teams
Ensures accurate information is being disseminated to customers and other stakeholders
Ensures brand-approved collaterals are used in marketing
Ensures product information is available to internal and external stakeholders 24/7
Delivers an omnichannel buying experience to customers across segments and geographies
Reduce product returns and thus increases the bottom line
All these factors increase sales, return on investments, and customer delight.

What is the best PIM solution available in the Market?
It is widely believed that around 73% of customers use multiple channels across their customer journey.
While a single unhappy customer can speak to as many as 13 people about their bad experience.
For an e-commerce company focused on customer delight, this is a big no, no.
There are several PIM solutions in the market, and it is a PIM best practice to map your organization's needs before finding a solution that correlates to those needs.
A couple of PIM solutions that have been widely recognized as being ideal for e-commerce businesses are Akeneo and Pimcore.
Both product information management systems have thousands of users who can vouch for their extensive features and stability.
Akeneo : sell faster, smarter, anywhere
Akeneo guarantees to assist e-commerce businesses in providing a consistent omnichannel experience across channels, whether they are an online store, an online marketplace, through merchants, distributors, social media, inside a physical store, or when perusing a printed catalog.
Key highlights of Akeneo PIM
Content syndication — enables your business to promote your goods across first-party and third-party websites without missing an opportunity, no matter how many channels you use.
Customized exports to unowned channels — allow you to organize your content to meet the flat file specifications of any channel without affecting the organization or content of your product catalog.
Easily integrate with a host of apps — via the Akeneo App Store and give your customers the very best experience.
Akeneo shared catalog — is a portal that can be accessed by the internal customer service team and external retail partners, together. Users can explore, search, filter, download, and access up-to-date, high-quality product data and assets through the online catalog. Within Akeneo PIM, these marketing materials may be simply handled and enhanced.
Akeneo PXM Studio — provides a consolidated system of record for all product information within a company. Users may publish accurate product catalogs, save data, and enrich data using rule-based automation, permissions, and workflows.
Pimcore: your Game-changer for Scale
More than 100,000 companies utilize Pimcore PIM, which aims to let customers manage, gather, and share their digital and master data over a variety of channels.
Additionally, it guarantees a user-centric, tailored customer experience across all devices.
Pimcore's robust API-driven, headless content, and commerce capabilities let users build complex, marketing-focused, customized websites, portals, intranets, and extranets. It guarantees support for print, point-of-sale, and digital signs.
Pimcore's ability to provide additional products at competitive prices, including DAM, MDM, a customer data platform, a digital experience platform, and a framework for digital commerce, is a crucial feature.
This enables users to easily scale their PIM, while remaining within the Pimcore ecosystem.
The Pimcore platform is open, and its clean code makes it simple to integrate with any application.
Reach out to Navabrind IT Solutions when you are ready to Integrate your PIM with ERP
So you have read about all the benefits of the PIM with ERP and are seriously considering taking the plunge to integrate the two. It is time to talk to a technology partner with expertise in such integrations.
Reach out to Navabrind IT Solutions to schedule a free consultation.
Wondering why Navabrind IT Solutions? Well here are a few reasons
Over 10 years of expertise in delivering e-commerce solutions
Happy customers across North America, Europe, and Asia
100+ software developers with experience in front-end and back-end solutions
Pimcore certified partner
Flexible service delivery models
And much more.
Drop us a note to talk to our technology consultants now!

A Complete Guide To Magento Integration With Citrus Payment Gateway: What You Need To Know In 2023! September 1, 2023 Posted by: tony Categories: Magento, Payment Gateway No Comments In the digital modernization era, going cashless and diving into online payments is the need of the hour. For the payments to happen online, an online

Amazon Seller Central Account Integration with Odoo is Proven to Grow Business! August 25, 2023 Posted by: tony Categories: ERP Implementation, Odoo No Comments How important is selling on Amazon in the digital modernization era? Have you always had a penchant for keeping your business under the spotlight? Do you wish to expose your business

Odoo vs Zoho: Which Is The Better Software For Your Business? August 18, 2023 Posted by: saranyababy Category: Odoo No Comments Finding the best software to amplify your sales or spearhead business workflow is challenging! Given that there are so many choices one is spoilt for in the market currently, from CRMs to Accounting, to