10 Magento B2B Benefits – Scale Your Ecommerce Marketplace!
June 8, 2023
Posted by:

tony

Categories:

Blog, E-Commerce Development, Magento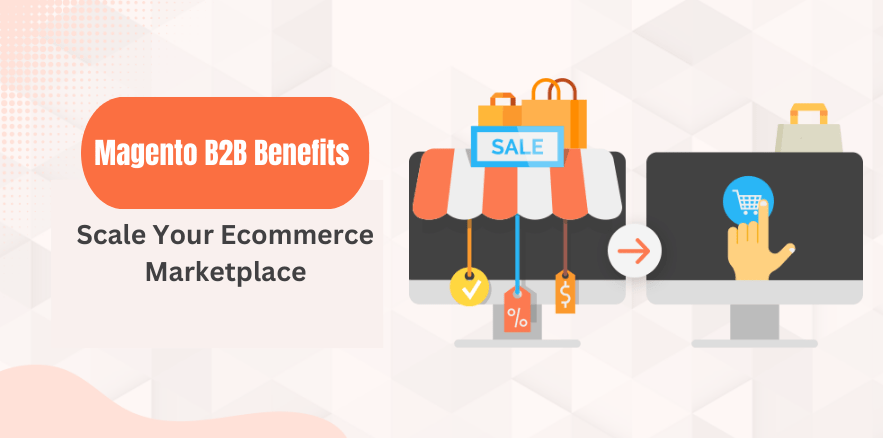 What if we told you, you can add magic to your ecommerce marketplace and watch it grow to tenfold conversions? According to Gartner, 80% of B2B sales will go digital by 2025. This is why today is the right time to be trailblazers in the B2B landscape. Add the Midas touch to your online store to distinguish your business from competitors in the market. What do you think is required to see this change?
Experience end-to-end processes from order to delivery, simplified customer journey, and business automation with Magento!
Think of it like this – what's a cake without some frosting? Tasty but still not the luxurious taste on your palette? That's what Magento does. Adds the exotic to the shopping journey. It's the flair to your shopping and the cherry on top. We take 'taste' quite seriously!
It is like no other platform in the market. With powerful tools and extensions, be ready to delight your customers with an engaging interaction.
Choose from our integration services or ask for complete omnichannel solutions, it's a lot of options on the table.
TALK TO US – https://navabrindsol.com/contact-navabrind/
Imagine your online store sells world-class products and the latest trendsetters, but there are still gaps, that stop it from reaching your target audience. What's missing? How do you fill those gaps and aim at attracting new customers? Have you thought of a robust B2B module that will shoot your sales operations and give a pleasurable customer experience with intuitive features and benefits?
From inventory to sales, orders, and shipping, it is the ideal solution for businesses of all sizes. Look at it from the customer's perspective; when you integrate Magento with your website, your business is now ready to maximize its true potential and create a niche of your own in the market. This is your USP to entice customers and make revenue.
What's more, B2B today is not limited to a great online store but B2B marketing too will be at the forefront of your goals.
Your team needs a tool that empowers them to take your business to witness optimal growth. Customers need a seamless journey throughout their buying process from check-in to check out and Magento will provide them with conveniences and speed up their order process to buy on the fly.
NO Slower processes

NO Problematic ordering & reordering

NO Complicated workflows

NO Limited enhancements
Why Magento for your B2B landscape?
A sales support marketplace with many levels of buyer roles

Hassle-free ordering and reordering help with recurring revenue

Supports quotations and price negotiations with buyers

Easy integration with any CRM, ERP, or backend using APIs and extensions

Ideal for customized catalogs and price listings

Best for businesses of all sizes

Precision-based analytics

Comprehensive understanding of changing markets
Provides:
Agility

Flexibility

Scalability

Creativity

Extensibility
You can also read our blog post,9 Top Magento Trends to Lookout for in 2023>>
Top 10 Magento B2B Benefits
All-in-one B2B platform
Easy payment options
Faster ordering process
Negotiate quotes
Customer review
Mobile-friendly
Content Staging Dashboard
Segregate your customer
Smart Inventory management
Rule-Based Product Relations
All-in-one B2B platform
B2B ecommerce requires agility to perform on a diverse level. Your customers are from different geographies and their businesses are as unique as them. Now, what you need is an all-in-one unified platform to handle different customers and multiple businesses. Magento is expansive and extensive enough to handle the sales, operations, catalogs, purchase history, marketing, and customer behavioral patterns to be your complete integrated module.
Easy payment options
Most of your customers would want to purchase bulk orders on credit, isn't it? if you can allow them to buy with credits and they pay you later, they CAN'T resist you! Out of the many Magento B2B features, this one allows customers to check out with a credit balance. With such a huge hand extended, how can they not come back later to pay you? What's the outcome you ask? A trusted and long-lasting supplier-buyer relationship.
Faster ordering process
With Magento for your B2B e-commerce, customers are kings! You don't want them to wait for long hours on your site especially while ordering a product. Here comes the rescue. The Quick Order feature empowers and makes life convenient. They can simply enter their SKUs, and requisition lists, or copy orders for a quick checkout. This enables faster ordering, recurring revenue, and a swift sale.
Negotiate quotes
Wouldn't your customer love it when they get a desired quote on products? Magento is super customer-centric, and just what you need to attract more of them and keep the sales increasing. A quotation system will allow them to request a quote with a note. You can approve the quote, reject or customize it for them. This way responsiveness and trust are built between you and your customer. On the final understanding of the agreed quote, a satisfied customer will place an order.
Customer review
Engagement and re-engagement with your customer will empower them to trust your business. Buyers can now write a review and provide valuable feedback on your services. Now isn't that GOLD? Customer reviews will leave behind a positive impact on your brand and other prospective customers. A sense of honesty and transparency goes a long way and Magento offers your marketplace with just that!
Mobile-friendly
We are living in the generation of the Alphas. Gen Alpha loves a beautiful shopping experience from smartphones. Upgrading our technology and providing a seamless customer journey from a mobile phone is key to attracting young buyers. Magento Business to Business provides a responsive design even while shopping from a mobile phone.
Content Staging Dashboard
The Content Staging feature allows you to schedule your content for pricing, categories, products, widgets, and more. Once the stage schedule expires, it goes back to its old version hassle-free. How does this feature make your life easy? You are in the hot seat to provide well-segmented service offerings and be in total control of the product catalog right from your Admin page.
Segregate your customer
With such a personalized tool, knowing your customer thoroughly becomes simple. if you wish to know who browsed recently, who purchased with a sale happening or simply track who viewed your products or group the customers who have items in their cart, then segmenting customers is the way to go. This data will help in your marketing plans too, to approach each customer with a tailored solution.
Smart Inventory management
For a B2B landscape, it is crucial for you to know the sales operations across the supply chain. if you are missing out on updates on delivery details, then Magento's Smart Inventory Management feature is a boon. Now, streamline and optimize your sales cycle efficiently.
Rule-Based Product Relations
Another benefit is setting conditions to identify products, through which the products are displayed on the front end. With this Magento functionality, have related products and their information displayed in the tab. This is great for cross and upsells.
We believe you will delight your B2B customers with Magento as your next big game-changer. Magento provides exceptional benefits, and your ecommerce store is going to skyrocket. With extensions that are built to bring in revenue and business, it's a match made in heaven. Cloud-based platform and artificial intelligence provide end-to-end business automation for a superior shopping experience.
WHY NAVABRIND?
Navabrind has top-notch Magento services for your B2B marketplace. Our integrations are one of a kind in the market!
Magento-Odoo, Odoo-PIM, Woocommerce-Odoo, Woocommerce-Akeneo, Shopify-Odoo, and Shopify-Akeneo, are our best solutions that make us disruptors in the ecommerce world.
With over 500 clients and still counting, our vision is to keep 'YOU THE CUSTOMER' AT THE FOREFRONT! With our proven project methodologies, transparent reporting, customer-first perspective, and passionate team, our values come first to us!
Would you like to know about our other services?
Navabrind has use cases that speak loud of the impact it has created for B2B marketplaces. Our integrations are worth every penny.
Know More – https://navabrindsol.com/marketplace/
Schedule a conversation with us now!
A Complete Guide To Magento Integration With Citrus Payment Gateway: What You Need To Know In 2023! September 1, 2023 Posted by: tony Categories: Magento, Payment Gateway No Comments In the digital modernization era, going cashless and diving into online payments is the need of the hour. For the payments to happen online, an online

Amazon Seller Central Account Integration with Odoo is Proven to Grow Business! August 25, 2023 Posted by: tony Categories: ERP Implementation, Odoo No Comments How important is selling on Amazon in the digital modernization era? Have you always had a penchant for keeping your business under the spotlight? Do you wish to expose your business

Odoo vs Zoho: Which Is The Better Software For Your Business? August 18, 2023 Posted by: saranyababy Category: Odoo No Comments Finding the best software to amplify your sales or spearhead business workflow is challenging! Given that there are so many choices one is spoilt for in the market currently, from CRMs to Accounting, to