Amazon Seller Central Account Integration with Odoo is Proven to Grow Business!
August 25, 2023
Posted by:

tony

Categories:

Blog, ERP Implementation, Odoo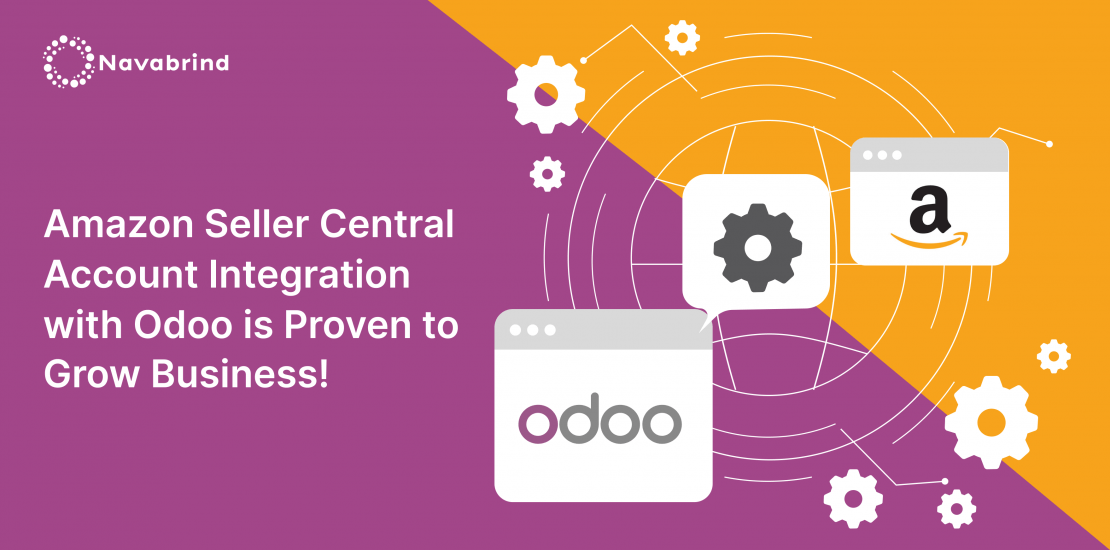 How important is selling on Amazon in the digital modernization era?
Have you always had a penchant for keeping your business under the spotlight? Do you wish to expose your business to the best audience out there? Some like it famous! And if you are wondering what's keeping everyone glued, you can't deny the popularity of Amazon. It's here we land, and here we find the best.
Amazon has so far ruled our lives to get what we desire…, so effortlessly! Even if you already have an established ecommerce business, you still want to sell stuff on Amazon. Not finding yourself on the Amazon marketplace, as a business owner, is missing out on advantages. 
Amazon is that iconic marketplace of crème de la crème of customers!
Advantages of selling on Amazon:
Global exposure

Easy registration process

Extensive reach

Authenticity

Allows integration with other software
Tapping into the Amazon marketplace is a great business move and integrating with an ERP like Odoo is a master stroke. Most of you would ask when selling on Amazon itself is worthy of all the hype, then why integrate it? 
Odoo ERP & the Uniqueness It Offers!
Managing manual data and repetitive tasks is a massive redundancy, that can seriously impact business sales. Odoo ERP eradicates all these inconsistencies and speeds up operations. It extends its uniqueness to Amazon sellers which makes this a much-needed integration. Business owners globally are considering an ERP or Enterprise Resource Planning system like Odoo for their Amazon selling to:
Automate prices

Avoid redundancy

Optimize business workflows

Strengthen collaboration between resources & teams

Make faster progress
What is an Amazon Seller Central Account?
The rise of Amazon has entrusted business merchants with the mandatory responsibility of selling through the Amazon marketplace. Amazon seller central account is simply creating an account for businesses and individuals on Amazon to list and sell their products. There are two approaches to having an Amazon seller account:
FBA – Fulfillment by Amazon – This is where you can select a fulfillment service by Amazon, where you only need to ship to a fulfillment center. Amazon then does the rest of the work and handles all other operations
FBM – Fulfillment by the merchant – This is where you the seller will handle all activities from shipping to returns and customer servicing
With the growing trend of innovative solutions, even Amazon needs to keep pace with the best of business practices. The Amazon Odoo connector that triggers the integration is just one in the vast sea of opportunities. 
Integrate your Amazon store with Odoo and manage your imports/ exports 

Import product categories, shipping methods, customer data, and product attributes from Amazon to Odoo

Enable Auto Update on Odoo, so there is no manual work and everything becomes automated

Complete business management can be done from one location on Amazon
You can also read this blog post, "Odoo ERP vs SAP Business One ERP: Which is best?" >>
Let's give you a detailed insight into the benefits of this powerful integration
Automation & precision
For improved business growth, automation is key! Amazon selling requires manual data processing and when resources spend time on doing this, what good does it do but make it time-consuming, and make way for errors? The integration brings about faster processing, no errors in data, precision in product information, and the entire workflow falls rightly into place. 
Better inventory management
With the integration happening, syncing orders and making changes in various categories are synced well and updated automatically in the other system. These happen vice versa and successfully reflect in the other software. With a complete review of the stocks and the inventory, no details are missed, and no 'out-of-stock' situation will arise. This way, better management of inventory, avoiding chaos and loss of sales is maintained proficiently.
Synchronization
Synchronization is another benefit that we acquire from the integration. Amazon orders are created in the Odoo ERP and when canceled, they are updated here. Odoo ERP is always updated and determines all product management accurately.
Flawless accounting
Here is a sneak-peak of the benefits in accounting:
Improved accounting is seen in cumulative accounting reports with this integration

Automatic statements

Auto reconciles your Amazon settlement invoices

Send automatic Amazon invoices to customers via email

Create reimbursement invoices to Amazon from payment reports
Maximum data visibility
Achieve wider insight into the data. It provides you with an in-depth analysis of the data available, with all its information updated, and informs you on its status and progress. What better way to make a data-based decision that will have a strengthened impact on your business dealings?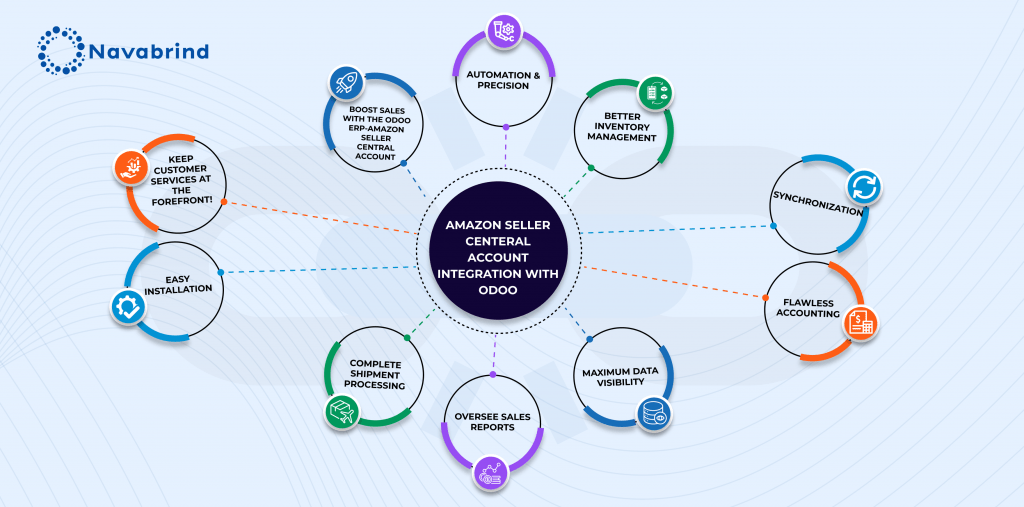 Oversee sales reports
Get sales reports from Odoo on the complete sales orders, purchases, invoices, and pricing details. Odoo generates a sales report from the sales report tool tab that helps sellers get the right figures and statistics.
Complete shipment processing
Ship the orders to your customers without a hitch! Yes, with this integration, Odoo takes care of all the shipment details from the pickup, courier partner selection, mode of transport, and ensures the customer gets the order placed. Odoo conveys to every customer the shipment details as a regular task, to establish transparency!
Easy installation
Integrating Odoo ERP with your Amazon Seller Central Account also calls for no coding expertise. Anyone can set it up, install in no time and see it up and running.
Keep customer services at the forefront!
Establish high customer satisfaction levels with this integrated platform. Managing Amazon and Odoo separately will make end users enter data on two different platforms and this can end in errors. But with the integration, automation and ease of data entry are kept at the forefront which will in turn make processes faster and automated for customers. The Amazon Odoo connector will turn your Amazon marketplace into a customer's delight. 
Boost Sales with the Odoo ERP-Amazon Seller Central Account
Here's what might help you increase sales of your business once you become an Amazon seller. All orders placed on Amazon can be looked into by Odoo, and similarly, all status updates of products too can be taken care of by the ERP. Order status updates like shipped, in progress, or canceled will be updated automatically on both platforms. Sales synchronization happens seamlessly with such a killer integration.
Final Thoughts on the Odoo Amazon Integration
Unleash a world of innovation and tech expertise with the Amazon seller central account with Odoo integration. Your Amazon marketplace will be the next hub of profit when Odoo ERP comes into effect. Push the envelope and raise the bar one more time with much-needed integration solutions. Handling all the orders on the Amazon store directly from one source like Odoo, is the best thing we can thrive on! 
Navabrind will guarantee you the pinnacle of success with Odoo ERP, CRM, PIM, Ecommerce, App Development, and best-integrated packages. Trusted by distinguished clientele across the globe, we will give your business the makeover it requires. Talk To Us.

Planogram In Odoo Will Revolutionize Your Retail Business December 7, 2023 Posted by: tony Categories: Blog, Odoo No Comments It is the era of going digital for almost everything, and you thought the online ecosystem would be crawling behind? The arrangement of products in a store, especially in the retail store, demands a makeover in

Bringing Two Of The World's Most Popular eCommerce Together: Magento eBay Integration! November 9, 2023 Posted by: tony Categories: Blog, Magento No Comments Navabrind's expertise will build a brand experience like no other with unique integrations Out of all the online marketplaces in the world, one that supersedes visibility and shopping is eBay. Not many

Why PIM Is The Future Of Retail Unlocking Its Benefits November 6, 2023 Posted by: saranyababy Category: Uncategorized No Comments PIM centralizes all product data into one single location. With the huge number of SKUs and massive inventory, it is significant to optimize the product information to reach an audience 10X faster. What optimizes and