Odoo ERP vs SAP Business One ERP: Which is best?
July 28, 2023
Posted by:

tony

Categories:

Blog, ERP Implementation, Odoo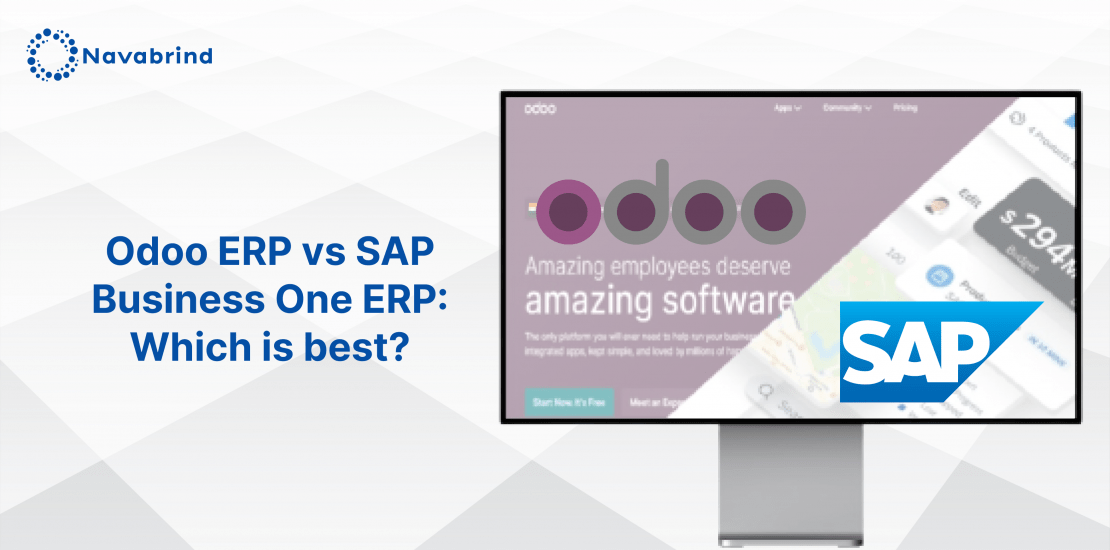 Businesses today are under the radar of technology and ecommerce is not far away too. Your website may be the top gun of the online world but is it maximized to its true potential to beat its competitors? If your online business is backed by a tool that will elevate its performance, would you not consider it? No more plain platforms! ERP management configured with the online business crafts powerful systems and creates customer-rich online journeys. 
While tons of ERP options are available in the market, choosing the right fit for your business needs a skill set in itself. What does your business need? How will the right ERP cater to its key challenges and deliver seamlessly? How big or small is the size of your business? Is it a new entry into the market or an established industry…? So many factors determine choosing an ERP that will blend well with business requirements.  
But some of the crucial factors to consider are the management of data, time-saving operations, efficiency found in the workflows, spotting scattered information between teams and within the organization to align it well, and implementing digital-first features that will result in faster conversion rates. 
In this article, we will walk you through two popular ERPs and provide an insightful analysis of each to help you make an informed decision on which one is the best bet! 
Odoo ERP or SAP ERP?
Odoo ERP was founded in 2005 by Fabien Pinckaers and its full name stands for On-Demand Open Object. It is a collection of modules and apps that covers a huge number of functionalities of a business platform. From Sales, CRM, Marketing, HRMS, Inventory, Ecommerce, Accounting, Manufacturing, and more. All these modules and apps come under the umbrella of a robust ERP.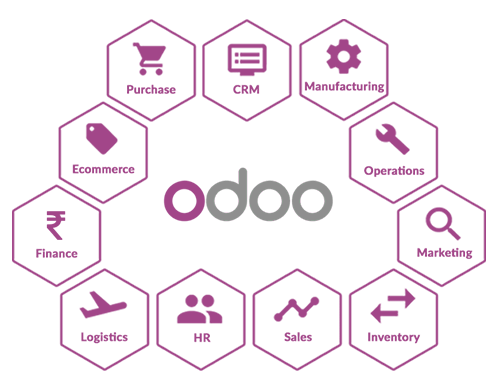 Odoo is an open-source platform and has more than 14,000 third-party plugins  Several factors make it a top-rated ERP, beating many others in the market. But what sets it apart? What makes it a top pick? Let's elucidate some of the best features of Odoo ERP and why the world's leading business owners prefer it over others!
What is SAP Business One ERP?
Regarded as a complete business management software, SAP Business One or SAP B1 is the by-product of the SAP ERP. Suited for small and mid-size businesses, SAP B1 ERP extends its dynamism to all fields of business operations from sales, marketing, finance, and even customer relationship management. It builds a strong customer base with its feature-rich solutions package that meets most industries' demands.
Sap Business One entered the SME market in 2002 and there has been no looking back ever since!
Comparing Odoo ERP & SAP B1 ERP!
What's a business workflow or an ecommerce that does not provide a smooth interface? The accessibility and approachability should be so flawless that someone who does not comprehend software should own it! User Interface is the mother of all criteria for selecting the best ERP…, and the right ERP in turn depends on the genre of the business it belongs to and the functionality it will provide.
Does not come with an iOS Native app
Provides a full web interface
It comes with an iOS Native app
Does not provide a full web interface
Order Processing Management
ODOO ERP – With Odoo, your business can store and customize a huge number of data regularly. If there is data that is piled up and added, this ERP has its knack for adjusting and is flexible enough to handle the added data.
SAP Business One ERP – This works on a different module. No doubt it can handle and store huge amounts of data in no time. Its capability lies in massive data handling but the con is here how slow it processes this data. SAP fails here in comparison to Odoo in the processing time of the stored data.
Odoo ERP – Odoo elevates the whole customization process to the best level. With this ERP, it is easier and cheaper to adjust to the business process. It doesn't require high analytical skills and with every functionality, Odoo is happy to adhere to emerging ideas and features. The prime reason business owners choose Odoo is because of its flawless customization capabilities.
SAP Business One ERP – SAP B1 ranks lower than Odoo for its customization abilities. SAP B1 does not adjust and adapt to new business functions; apps and modules. It would require a mammoth time spent if done so. Moreover, SAP does not come cheap. With the kind of resources needed to make customization with SAP possible, it will be high in costs too. SAP has an overall rigid functionality to adapt to changes and thus customization is not SAP's prime objective for businesses.
Odoo ERP – In terms of cost, Odoo is a lot cheaper and affordable with its pricing.  Its community version is free, but the Odoo Enterprise Version is payable and that is a lot cheaper than its counterpart SAP B1. So, if you are thinking aloud about choosing an ERP for its low cost, Odoo is the clear winner here over SAP B1. 
SAP Business One ERP – Though meant for small and mid-size companies, SAP B1 is beneficial to organizations that hold a lot of resources.  But the cost to deploy is higher, the monthly subscription of SAP B1 is escalated when compared to Odoo and the addition of modules that come along with SAP B1 is also expensive. Now which one would you pick?
Odoo ERP – If you are looking for a customized and adaptable ERP then Odoo wins over any other in the offering. If your business needs changes to stay updated and for any other business improvement, then Odoo as an ERP will get accustomed to it consistently. It provides no hassles in providing maximum flexibility to changes around. If you wish to change the workflow and adapt to new customizations, then choose Odoo to be the best bet!
SAP Business One ERP – Unlike Odoo, SAP B1 does not provide the flexibility businesses require for moving forward. Though it is specialized as being the best ERP for organizations that have a high number of employees, it is however a one-track ERP that is stable but not flexible.
Odoo ERP – Odoo is an open-source platform with lots of modules and is both flexible and adaptable. Another feather on its cap is its implementation and speed which is minimal. Odoo is written in Python and it doesn't require industry-specific developers to do the implementation process.
SAP Business One ERP – SAP B1 is written in C++ and since it specializes in widespread and huge businesses, the implementation of it can be done only by expert developers, so SAP is the prerogative of the learned SAP developers. Clearly, in comparison, Odoo is faster, and easier to implement while SAP B1 requires dedicated and skilled SAP developers to implement. 
Odoo ERP – Data migration is a breeze with Odoo. It comes with scripts for easy data transfer. But handling the code and data has to be done manually. 
SAP Business One ERP – With SAP B1, since it runs on backward compatibility, it is easy to migrate the data without much interference and avoid code handling whenever a new version is deployed.
Odoo ERP – This is an open-source ERP and is accessible for maintenance and support, bug fixing, and more technicalities that can be looked into with ease in no time. 
SAP Business One ERP – With SAP B1, being a closed-source ERP, it is highly dependent on its developers and the technical support team to fix the bugs and maintain and support the technical data.
Why should you choose Odoo ERP Over SAP B1?
If you are thinking of implementing an ERP or adding to the existing one to enrich the ERP, Odoo is preferred by a majority of people all over globally. Its many advantages make it the best choice for industry owners and business functions. In comparison to SAP Business One, Odoo claims tall, winning the title, any day. In a nutshell to sum up what sets it apart, here are the advantages of implementing an Odoo ERP.
| | |
| --- | --- |
| Features | Odoo ERP |
| Faster Order Processing | Yes |
| Low Cost & Affordable | Yes |
| Flexible | Yes |
| Customizable | Yes |
| Enhanced User Interface | Yes |
| Adaptable | Yes |
| Easy Implementation | Yes |
| Easy Data Migration | Yes |
| Community-Based Maintenance & Support | Yes |
| Open-Source ERP | Yes |
While considering an ERP, many factors are taken into consideration including the genre the business belongs to, the size of the organization, the functionality, the workflow, production and procurement, the inventory and stocks, and the growth rate of the business. Depending on these factors, choose an ERP that meets these demands. Odoo ERP adheres to all the KPIs that are usually considered for any business nature. What's more, it is easy to use and doesn't need an intricate analysis of the structure. Being an open-source platform unlike SAP B1, it beats every other ERP in the market scenario. 
Overall Verdict
Odoo ERP has a better user sentiment value

WHY NAVABRIND IT SOLUTIONS?
Navabrind has worked with a global clientele to deliver complete end-to-end Odoo ERP modules. Our clients from Europe, the US, the Middle East, and India have experienced flawless Odoo ERP implementations. We have spanned across diverse industries for over a decade and provided expert ERP solutions.
We are a proud Odoo-certified partner. Explore our Odoo integrations package to make robust ecommerce platforms
Reach us to build seamless Odoo ERP modules for your business and be assured of better market reach and business growth! 
Planogram In Odoo Will Revolutionize Your Retail Business December 7, 2023 Posted by: tony Categories: Blog, Odoo No Comments It is the era of going digital for almost everything, and you thought the online ecosystem would be crawling behind? The arrangement of products in a store, especially in the retail store, demands a makeover in

Bringing Two Of The World's Most Popular eCommerce Together: Magento eBay Integration! November 9, 2023 Posted by: tony Categories: Blog, Magento No Comments Navabrind's expertise will build a brand experience like no other with unique integrations Out of all the online marketplaces in the world, one that supersedes visibility and shopping is eBay. Not many

Why PIM Is The Future Of Retail Unlocking Its Benefits November 6, 2023 Posted by: saranyababy Category: Uncategorized No Comments PIM centralizes all product data into one single location. With the huge number of SKUs and massive inventory, it is significant to optimize the product information to reach an audience 10X faster. What optimizes and