Benefits of Master Data Management (MDM) in Retail Industry
September 21, 2022
Posted by:

tony

Categories:

Blog, Uncategorized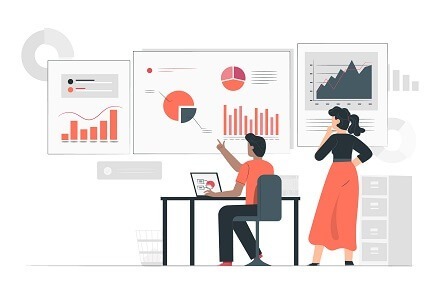 The consumer is king and enjoys being spoiled with choice. To ensure the customers' every whim is met, retail enterprises stock thousands, if not hundreds of thousands of SKUs and varieties of products. Managing this inventory, tracking the cost and sale of this merchandise, ensuring correct pricing, monitoring the pricing of the competition, meeting margins, and coordinating with wholesalers, distributors, and franchises can be as difficult as holding on to sand.
You know your e-commerce business has outgrown its Product Information Management system and other point solutions when it struggles to share information with its partners, customers, and employees. When parts of the owned data are unreliable but the situation cannot be addressed quickly enough.
Data failing to move through the system as fast as required results in several issues for your business. For instance, you may have wrong shipments and deliveries and poor visibility into your inventory. This negatively impacts the satisfaction of suppliers, partners, and employees, and hurts your bottom line.
How does an e-commerce business manage all its stakeholders with efficiency, continue expanding the product line and sales, and maintain a high omnichannel experience?
Master Data Management (MDM) is your answer. MDM is especially valuable for the retail industry, which manages thousands of SKUs and requires tracking millions of data points from customers, partners, suppliers, and others.
Some of the Challenges in the Retail Industry
Though the retail industry is expanding and will continue to grow rapidly, there are several challenges it needs to be mindful of and address.
Staying sustainable and relevant to the discerning shopper – even as an increasing number of shoppers desire to know where the product they are buying is sourced from, whether it is sustainably manufactured, and being ethically sold.
Omnichannel is no longer a buzzword but the norm – and retail shoppers expect to have a seamless unified shopping experience across platforms.
While brands collect customer data in online and physical stores, the challenge is always on how to monetize this data – without intrusion and breaching the privacy of the customer.
Building various customer personas, creating targeted sub-brands, and personalizing marketing and sales to the audience is crucial to increase earnings.
Staying abreast with customer trends, leveraging the increasing number of social media channels, and talking to customers on platforms they interact on requires harnessing of emerging technologies from AI to customer experience management platforms.
Most of these challenges – meeting the needs of a diverse and informed customer, harnessing the proliferating social media apps to increase touchpoints, offering deep personalization, and capitalizing on data to identify new revenue streams – can be addressed with a robust master data management solution.
What is Master Data Management?
Data comes into a retail enterprise from multiple stakeholders and processes. It can come in the form of structured and unstructured data, transactional data, metadata, and hierarchical data. Data can be from enterprise applications, legacy systems, and third-party platforms. It can be internal and external data, or data from customers, products, locations, suppliers, and others.
Master Data Management (MDM) can be briefly explained in the below three points,
It is the amalgamation of technology, tools, and processes so that a single version of the truth exists across the enterprise.
An MDM solution enables the unification of data so that the enterprise can access accurate, consistent, and comprehensive master data on a single platform.
The solution brings together different sets of data related to customers, products, locations, and other parts of the business and leverages analytics, data models, and governance policies to ensure data is up-to-date and accurate for decision-making.
You can also read this blog post,Top 10 Benefits of Product Information Management Software>>
The Benefits of MDM for the Retail Industry
With competition getting tough and customers displaying loyalty only to the next wow experience, the retail industry is increasingly finding MDM their best partner in omnichannel e-commerce.
The retail industry is just as complex as any other industry, and with millions of data points, an MDM solution ensures data integrity in the retail industry,
To accurately publish information across sales channels and deliver a curated omnichannel customer experience
Access accurate visibility into inventory across procurement and sales channels
Easily access information on loyalty/rewards
Ensure a robust and resilient supply chain
Empower management with required insights for forecasting, planning, and decision-making
Advantages of Stibo System as an MDM for the retail industry
With the e-commerce industry turning to a master data management system, finding the right solution for your retail enterprise is crucial.
The cloud-native MDM solution from Stibo System is a SaaS product and is known for fast and easy implementation. Its open platform is easy to customize, integrate, and is used by thousands of businesses across industries. Here are a few advantages of MDM from the Stibo System.
Accurate data to deliver a personalized customer experience and drive loyalty
Upsell and cross-sell, launch targeted promotions, and increase revenue and growth
Access insights that enable creativity, and speed up superior decisions
Make the maintenance of product and supplier data easier and more collaborative
A single source of truth ensures access to error-free data
Data consolidation enables improved control and visibility into the data ecosystem
Thought-through data architecture designed for navigation and accessibility
Integration with third-party apps so that you are doing more with your data
Automation of data governance
Make Navabrind IT Solutions Your MDM Implementation Partner
Needless to say every enterprise turns to technology to address a data gap or to automate processes. The adoption of technology takes time and money, and enterprises in the retail industry want that adoption of technology to be quick and smooth.
An ideal technology partner for your retail company should have experience working with similar enterprises in the industry, know industry best practices, and have experience working in other industries as well. This allows for the cross-pollination of ideas, quick customization, product implementation, and simplified adoption.
With 100+ software engineers specializing in e-commerce technologies, Navabrind IT Solutions has implemented MDM from Stibo Systems for a number of customers. We have experience across industries and consult, develop, customize, deploy, and maintain solutions for customers in the US, Europe, and Asia.
We are a process-driven organization that is deeply committed to putting our customers first. We are strict about delivering the most optimal solution, within the committed time and budget.
Let's begin a conversation and identify how MDM can empower your e-commerce business. Reach out to Navabrind IT Solutions. We have over a decade of experience in fulfilling e-commerce technology needs.
A Complete Guide To Magento Integration With Citrus Payment Gateway: What You Need To Know In 2023! September 1, 2023 Posted by: tony Categories: Magento, Payment Gateway No Comments In the digital modernization era, going cashless and diving into online payments is the need of the hour. For the payments to happen online, an online

Amazon Seller Central Account Integration with Odoo is Proven to Grow Business! August 25, 2023 Posted by: tony Categories: ERP Implementation, Odoo No Comments How important is selling on Amazon in the digital modernization era? Have you always had a penchant for keeping your business under the spotlight? Do you wish to expose your business

Odoo vs Zoho: Which Is The Better Software For Your Business? August 18, 2023 Posted by: saranyababy Category: Odoo No Comments Finding the best software to amplify your sales or spearhead business workflow is challenging! Given that there are so many choices one is spoilt for in the market currently, from CRMs to Accounting, to