PIM Will Build A Successful Grocery Retail Business Across All Touchpoints!
September 29, 2023
Posted by:

tony

Categories:

Blog, PIM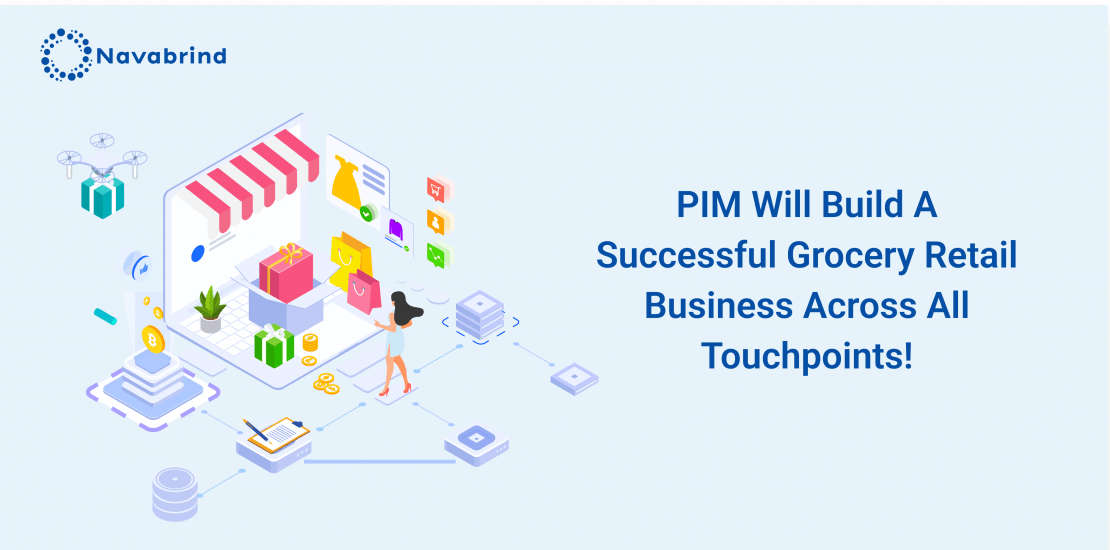 How can a grocery retailer keep up with the emerging trends amidst all the competition? The grocery business out of all others needs its product data more enriched, streamlined, and multi-channel specific, with an advanced inventory management system. 
Why PIM For The New-Age Grocer?
Remember the food and lifestyle ways of a consumer are a subjective matter and hence the grocery retailer has a bigger job at hand to satiate the picky buyer. A grocer needs to incorporate the latest software, redefine in-store shopping through online methods, bring in the best of AI, and make the art of buying groceries more than just consuming food! 
With the changing times of more shoppers inclined towards healthier and sustainable lifestyles, and convenient methods to shop in-store or find elaborative content on products to satisfy their grocery shopping needs, we need Product Information Management PIM to correlate all this and meet the demands of the millennial grocery shopper. 
DOES PIM REALLY BENEFIT THE GROCERY BUSINESS?
The complex data a grocer deals with on a large scale needs an adept strategy to attract the right buyers. Take this for an example – A Keto connoisseur will subconsciously look for keto-specific products, with health and nutrition data, its calorie lists, and some even pick eco-friendly packing. This is the everyday struggle that a grocery retailer deals with!
According to Forrester 39% of customers do not visit a physical store if the product's benefits are not listed on the online app. Once fed with the best data to place orders, customers will access it online and may also visit your physical store. Besides refining the product data online, PIM provides seamless omnichannel selling too!
Benefits – Be it advanced searches, filtered searches, reminders of empty carts, last order reminders, or customer-specific content; PIM integration enables a sustainable lifestyle, encourages eco-friendly packing, facilitates daily stock reminders, and offers more tailored data!
Top Challenges Of Grocery Retailers!
'Out Of Stock' messages often turn customers away and frustrate them when replacements are not done timely to restock the same products

Clumsy workflows are seen on the rise with large inventories. Agile workflows across various touchpoints are the need of the hour to help retailers time to market their business 10X faster

Return products have been an increasingly common practice. This is due to the incorrect, inaccurate information

SEO is the key to quick and relevant online product appearance. Without the right attributes of the products, these will not show up effectively on SERP and customers will not land on your stores
PIM Provides Digital Mapping Of Grocery Store Data: How Does This Help?
Categorizing the product

Appearing on Search results

Providing tailored content

Omnichannel strategy

Faster Time To Market
PIM-integrated software will deliver omnichannel experience, faster market reach, enriched SEO, improved product data with personalized content, increased sales, and boosted customer loyalty.
AI TRENDS FOR GROCERY RETAILERS
AI is going to be the revolution in PIM on a larger scale in the years to come. With an indulgent experience of Augmented Reality AR and Virtual Reality VR, PIM will provide immersive experiences and interactive offerings to customers. Planogram software is an AI-infused concept that can be integrated into PIM, and not just that; customer sentiment analysis, predictive analysis or forecasting, and more AI software will be the future of PIM. 
Did You Know? – Tesco, an international grocery retailer used AI's predictive analytics tool to forecast the demand for weather-dependent products. This enabled being aware of such items' availability, minimizing the 'out of stock' dilemma, and keeping them stored in the inventory. How did this help? No more missed revenue, minimized the out-of-stock list, and increased customer loyalty by offering them their favorite products when your competitors could not in specific weather conditions.
Today's markets are highly competitive due to frequent innovation and the emergence of AI. Utilizing the potential of voice assistance, IoT devices, smartwatches, and many other advanced devices, retailers can drive customer engagement. These devices help brands to boost customer experience significantly.
Benefits of PIM for the Grocery Store Retailer
Product catalogs are digitized

Product data is curated

With enriched products brand credibility increases

Inventory is monitored across all channels

Omnichannel selling and presence in multiple marketplaces with API integrations are made easy
Let's explore in-depth…
Segregating The Niche Shoppers!
Customers wanting a gluten-free cake will not settle for anything less than the gluten-free cake itself! That's how wellness and sustainable eating as ideologies have dominated the trends in the last few years. One of the biggest promising areas of the retail business lies in attracting these niche shoppers and segregating them with a strategy in mind to boost their sales. Once you have PIM, curating accurate data for such a refined audience will make it very simple and witness an increase in sales.
Supply Chain
Global supply chain halts and disrupts the smooth functioning of the grocery retail business. Due to this, customers will be in shortage of products and opt for the abandoning of carts when products are unavailable. The supply chain can be effectively managed when stock inventory is handled with expertise and replaced with enticing reward programs, offers, discounts, coupons, and notifications to keep customers coming back and not lose a potential customer. Once the stock is back, customers can be initiated via notifications.
Personalized Product Catalogs
PIM is a highly interactive module that allows creativity to be incorporated. Imagine this: A buyer who loves specific content on vegan food will want to look at how far the product is personalized to his needs. Once PIM makes vegan food personalized to that specific buyer and accessible via an online app, with digital assets to back it up, there is nothing like it. The customer will find the item impressive, and click to purchase.
Faster Time To Market
PIM automates workflows and sends product data to multiple channels with a consistent branding strategy. Also, product launches are faster on the PIM software which speeds up time to market. This way, market reach is a lot quicker and impactful for brand reputation.
Global Increase In Customer Shopping
Interesting fact – Global online grocery sales skyrocketed to an estimated $553 billion in 2022 and is going to increase in 2023 and onwards. This is one of the key reasons grocers now cannot do without a PIM.
Here are some steps a grocer can take to be proactive!
Actionable steps for a grocery retailer with PIM
Extract customer data through mobile, retail POS, ecommerce

Implement reward programs & marketing campaigns

Become social media savvy and take cues from it to be better guided

'Shop from store' to implement an omnichannel strategy 

Develop a customer-centric app
What's Next – The Roadmap!
PIM has stewardship of retail businesses of any genre, and grocery retail in particular is gaining momentum like never before! Each grocery store needs to be at its best to outdo the competition and live in the AI age. PIM helps leverage the best potential both offline and online providing an omnichannel experience, and with innovations, your business with get the best of product data. There are unlimited possibilities that PIM can unravel for your grocery business.
WHY NAVABRIND? 
Join hundreds of satisfied customers in unleashing the full potential of your business with our cutting-edge PIM solutions. Add the 'wow' factor to your business with the customization and integration solutions from Navabrind.
Planogram In Odoo Will Revolutionize Your Retail Business December 7, 2023 Posted by: tony Categories: Blog, Odoo No Comments It is the era of going digital for almost everything, and you thought the online ecosystem would be crawling behind? The arrangement of products in a store, especially in the retail store, demands a makeover in

Bringing Two Of The World's Most Popular eCommerce Together: Magento eBay Integration! November 9, 2023 Posted by: tony Categories: Blog, Magento No Comments Navabrind's expertise will build a brand experience like no other with unique integrations Out of all the online marketplaces in the world, one that supersedes visibility and shopping is eBay. Not many

Why PIM Is The Future Of Retail Unlocking Its Benefits November 6, 2023 Posted by: saranyababy Category: Uncategorized No Comments PIM centralizes all product data into one single location. With the huge number of SKUs and massive inventory, it is significant to optimize the product information to reach an audience 10X faster. What optimizes and