10X Benefits Of PIM Implementation For The Retail Industry In 2023
July 26, 2023
Posted by:

tony

Categories:

Blog, ERP Implementation, PIM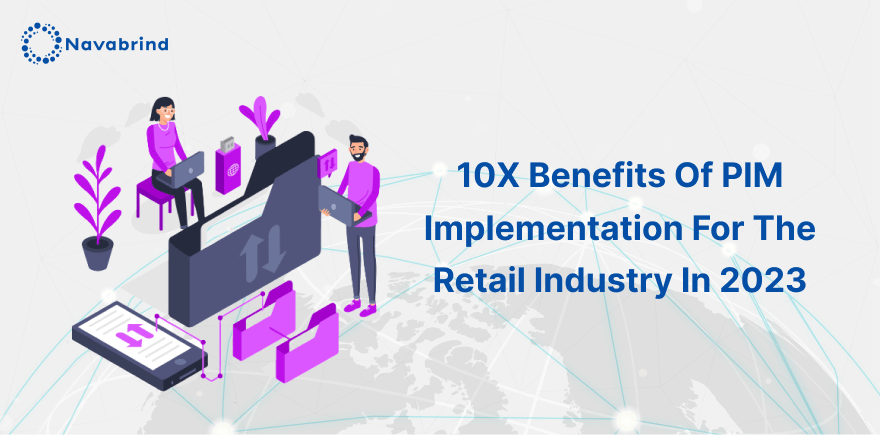 How is PIM for retail business the difference-maker in the market?
With every retailer launching products at breakneck speed, it is tough to stay ahead of the competition. To be on top of your game and create an identity in the market, launching your products with updated and contemporary features is the key differentiator! This is where PIM for retail industries comes to maximize effect for businesses. 
Every retailer is in the queue to know how his online business can flourish. What is the way to a consumer's heart and what extra should he do to market business well and reach the right audience? It is a retailer's dream to see customers get mesmerized by a beautifully crafted website. Isn't that your ultimate motto? Your mission lies in your vision to expand sales and witness leveraged growth.
Retail business = Enriched product data!
Data is the sole connector between the retailer and the customer. It is data punctuated with streamlined navigation, detailed product overview, multi-channel engagement, and faster navigation time, that will provide a satisfactory customer experience. No product returns, no inaccuracy, and faster go-to-market time!
Since the retail business relies heavily on quality product data, it becomes the crux of improved operational efficiency! Product data that includes no cumbersome spreadsheets, inaccuracy, or limited product overview. Extensible and consistent product data makes a mark in retail operations. 
Product Information Management or PIM is a retailer's gateway to elevated performance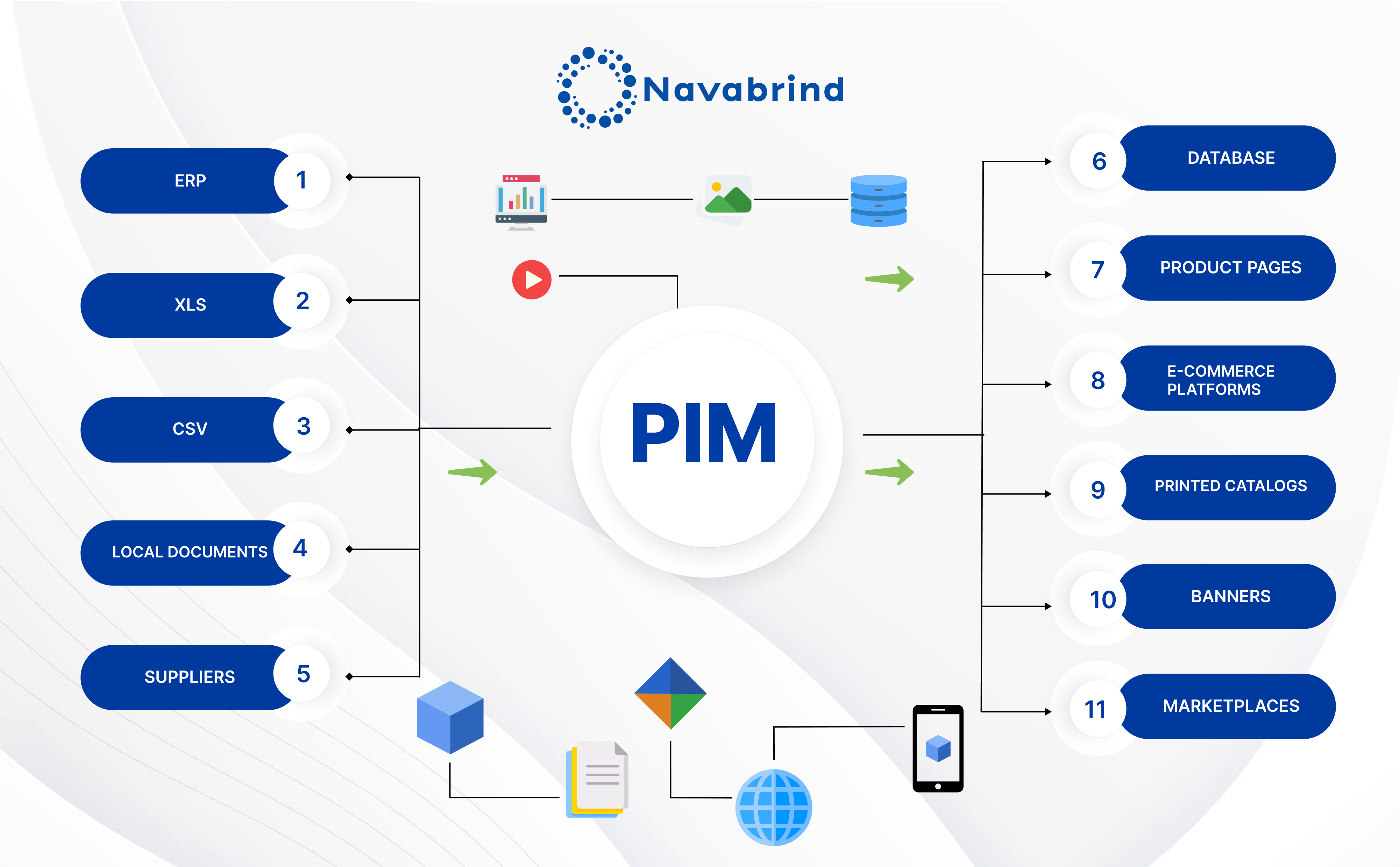 PIM solutions open doors to a buying experience that customers cannot ignore but be delighted to purchase! With a huge amount of product data in retail channels, handling it can be a bottleneck if not done efficiently. But with PIM, it becomes a breeze to correct silos and overcome roadblocks which ultimately boosts sales. 
With PIM, retailers can share updated product data quicker to different sales channels, launch new products faster and gain popularity with promotions. If the retail business is in sync with the latest market strategies, then it scales to greater heights. And PIM is the king!
Simplifies

Digitalizes

Centralizes

Mobilizes

Consolidates & 

Empowers!
What Makes PIM The Best Solution For Retail Businesses?
Retailers need smooth product management, and for them, curated product data helps satisfy customers. It is primarily in the retail space that control over workflow processes and data integration becomes mandatory. There are so many options for PIM in the market, and each one is a boon to the retail industry. For retailers, implementing PIM is guaranteeing high-value customer experience and leveraging profits. 
You can also read this blog post, "Benefits of PIM for the Manufacturing Industry" >>
Top challenges in the retail business
This is an industry that requires a lot of data accumulation and consolidation.
Anyone who aims to see the retail business skyrocket in profits, remember there is a lot that goes into the process.If you think it is impossible to see success as a retailer, then think again. Sales can be your next best friend. What assures progress, in the long run, is implementing a Product Information Management (PIM). There are challenges retailers encounter in their business and then there are roadblocks too…! If you swear by a good Product Information Management PIM, then this is the stuff dreams are made of…! 
What are the challenges we are talking about? If these silos are not eradicated, then your retail business will consequentially die out in the market.
Cumbersome data entry 
When inventory is huge, then data entry has to be well-aligned. Imagine pursuing manual entry of product data into Excel and spreadsheets. It only makes everything so cumbersome. Also, it can be filled with human errors, involve human resources at work, and cost money spent on.
resources. A retailer is only looking for quick and efficient product data entry that makes it look effortless. This is another key challenge that retail businesses are now witnessing.
Global customer demands
With retailers launching new products every day, there is rising competition among them. New businesses are entering the market with competitive prices and an effective brand awareness strategy. If the customer isn't experiencing seamless buying purchases, complete product data, faster navigation, and not getting post-purchase support services, then your sales are dipping right in your face. With a global clientele, the inventory is large and needs streamlining in the retail business.
Multi-channel handling
Product information extends to various marketing channels to reach a global audience. This branching out should mean the consistency and flow of data have to be maintained. Retail businesses are dependent on multichannel selling and marketing, and today their need for a strategy is evolving. These priorities compel a retailer to find a solution for a multichannel approach. 
Product returns
Product returns are a common scenario in a retailer's life when customers are deprived of good service. What culminates in good service is a rich customer buying journey. When this is not provided then product returns are bound to happen.  This is a potential loss of sales for a retailer. Inventory has to provide complete and updated information like SKUs, images, overviews, descriptions, interlinking, factor in the SEO optimization and so much more that contributes to a sale. Product returns are symbolic of poor customer service. 
PIM For Retail Industries – Expanding Sales!
Omnichannel selling 
If a retailer doesn't provide a cohesive customer experience, integrated with multiple channels then it is a loss to the business. PIM implementation provides a comprehensive omnichannel customer experience across different channels for marketing, sales, and customer services. 
This is an ongoing process that happens unhindered and well-coordinated so the customer enjoys a continuous buying journey. Omnichannel buying happens at various touchpoints for the customer to have integrated, coordinated, seamless buying. 
With such a workflow, the result is multiple channels having specifically curated content, and accurate content distributed to various websites, offline and online marketplaces. 
Such a holistic buying journey only tends to rise the conversion rates to a vast level. This makes PIM ideal for omnichannel selling!
Greater profit margins
When your business hype crosses boundaries and reaches continents, your products gain momentum. It all starts with searching your product on search engines and if they appear on the first page of SERPs then chances are buying gets done faster. 
How? Take this as an example, if a customer searches for a sports jacket, and the content is limited to just the normal descriptions, then the customer just skips searching more and leaves the site. And if the data is elaborate and enriched giving a more flamboyant review of the jacket, then it's tempting the customer to hit the buy button.
The size, the colors, the material, customer reviews from customers who purchased this already, and images to boost the visual appeal makes it detailed information. This prompts faster buying and boosts sales.
Connected & controlled data
In the retail business, product data distribution is not a one-way street. Suppliers pass the product information to retailers, and retailers provide the same to customers eventually. Suppliers may provide disorganized, inaccurate data to retailers, and this poses a threat to business productivity. 
With the onboarding of PIM, product data is extensive, accurate, and organized. PIM also provides a centralized view. This makes the life of a retailer easier and the correct data can now be distributed to customers, marketplaces, offline, and online stores.
Multilingual content
Retail businesses can be widespread and global customers may be regular on your site! They may belong to different geographies and this allows the retailer to create products according to their demands. PIM has capabilities of storing data in multilingual format with descriptions, overviews, prices, and other purchase details. It provides online stores with a broader global visibility!
Enhanced SEO
Did you know that 60% of marketers say that inbound leads are their best sources of leads? Everything starts with a search on SERP's or Search Engine Result Pages. When the content is keyword-rich and optimized according to SERP's, then it is a huge deal to rank better and gain momentum with future customers. 
The retail industry with its huge product inventory needs to market well to make its presence felt. PIM elevates SEO to reach the right audience. Retail pim is the way forward…
Faster Time to Market
PIM integration for the retail business speeds the time to market with automation processes. It allows retailers to expand faster and onboard products to reach the market quickly. A fast launch attracts customers without unnecessary delay and everything happens on time for quick conversions and boost sales. 
PIM helps employee productivity within your organization
Another benefit of using PIM for retail business is its direct impact on employee productivity! Yes! You heard that right! How is this possible? With automated processes, manual labor is dismissed, and time is saved amounting to a greater and higher ROI. There is no clutter, chaos, or confusion within the organization! The engagement between teams and employees is also a great deal enhanced with such seamless, automated software coming in to transform the retail ecosystem.
In a nutshell, here is how PIM boosts sales of retailers:
Customer buying experience management 

Automation

Omnichannel selling

Faster time to market

Enhanced marketing & SEO strategies

Global visibility

Multilingual product information

Connected & controlled data

Improved employee productivity
Retail business is a widespread industry and new-age businesses are fast getting accustomed to the retail selling mechanism. If a business needs to scale up, then data management needs to be a showstopper. Bottlenecks and silos found in the retail space can be recognized early and rectified with a breakthrough solution like Product Information Management PIM. 
Navabrind has worked with a global clientele successfully delivering various PIM solutions for their retail businesses. We provide proficient end-to-end services from unique software solutions to mind-blowing integrations, support, and maintenance services. Or simply stop over to discover some of the best software developers on hire. 
Schedule a conversation with us now!
Planogram In Odoo Will Revolutionize Your Retail Business December 7, 2023 Posted by: tony Categories: Blog, Odoo No Comments It is the era of going digital for almost everything, and you thought the online ecosystem would be crawling behind? The arrangement of products in a store, especially in the retail store, demands a makeover in

Bringing Two Of The World's Most Popular eCommerce Together: Magento eBay Integration! November 9, 2023 Posted by: tony Categories: Blog, Magento No Comments Navabrind's expertise will build a brand experience like no other with unique integrations Out of all the online marketplaces in the world, one that supersedes visibility and shopping is eBay. Not many

Why PIM Is The Future Of Retail Unlocking Its Benefits November 6, 2023 Posted by: saranyababy Category: Uncategorized No Comments PIM centralizes all product data into one single location. With the huge number of SKUs and massive inventory, it is significant to optimize the product information to reach an audience 10X faster. What optimizes and