Here Are The Killer Reasons Why Akeneo PIM Beats Sales Layer PIM, anyday!
August 4, 2023
Posted by:

tony

Categories:

Akeneo PIM Page, Blog, PIM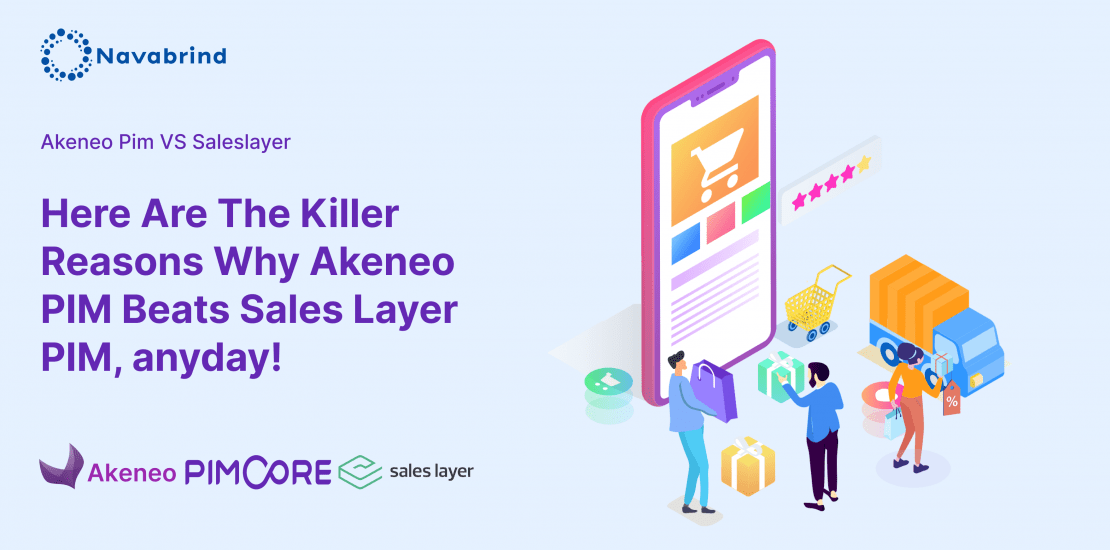 Have you ever wondered what can happen if products online appear clumsy, of poor quality, not backed with visuals, that looks more like a blind-scenario shopping time, or if they offer no proper purchase details? Would you still take a gamble to buy it? NO. We would back off the very moment it looks disorganized, distorted, and run away in disbelief! Products are the core area where your online shopping happiness lies. They give us exceptional memories of investing time online. The portal that makes the magic happen is worth the time spent. 
There is a personal connection formed with such a portal! The ecommerce world is large and within the next few years, everything we see and feel will turn digital-first! Why not jump on the bandwagon of a digital-first shopping journey? The seamless arrangement, streamlined product data visibility, and consistent availability of this product data across the many touchpoints in the ecommerce ecosystem are where the consumer's heart lies!
What can bridge this gap between product information and customers, so both come closer? A product view that will remain etched in the memory of customers? 
What bridges the gap between the consumer and the business?
Enter PIM, a Product Information Management software and things start to look up on the data management front. What PIM does is; streamline product data which business owners can upload, update, and distribute across all channels, giving no room for errors, cutting down on cumbersome spreadsheets, and getting it all automated for good! Another feather on the cap is that all this is happening from one unified location that does the job of a Magnum Opus. So smooth, so simplified and so streamlined…!
PIM is designed especially for B2B and B2C online retail businesses because in retail the inventory is large and needs alignment to bring it all together. So a PIM is where all product data is managed in one centralized location. What's managed are attributes, product descriptions, reviews, visual aesthetics, and more. If you think PIM is PDM (Product Data Management) then no, PDM is the broader terminology that covers all ecommerce data but a PIM is exclusive for handling data across inventories and sales channels that improve communication between teams and resources in a business.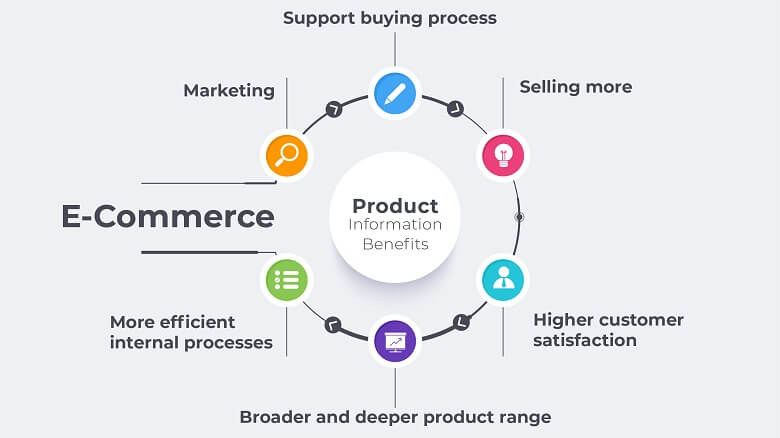 Did you know that many are speculating on an approximate $60 billion rise in the PIM market by 2027? This mind-boggling takeover by PIM is thanks to its ease and convenience it helps businesses experience that hikes their sales and leverages revenue. No doubt, a lot of companies are heavily investing in PIM as their turnkey solutions.  PIM easily becomes your customized software or can be implemented as a third-party extension, it is highly customizable and effortlessly adapts to the company's unique demands!
Now that you have a fair sense of what a PIM is, let us walk you through the two options out of many in the market! Which one should you choose? Which one would benefit your business, and transform it to boost sales in eventuality? Guiding you through two popular PIMs to help you make an informed decision to choose the better option! Akeneo PIM and Sales Layer PIM are the ones we want to shift your attention to…!
Now, this is the PIM we place our bets on! Akeneo is like the ultimate enhancement businesses need to produce riveting banding experiences in the global arena. It is used in more than 500 enterprise companies and has its presence felt across countries and implemented by stellar brands around the globe. 
Ecommerce, mobile, print, and retail points of sale, all are covered by Akeneo PIM, and being open-source software, it accelerates product management at comparatively low costs and aims at a boost in sales for all genres of businesses. 
Trust Akeneo to craft indulgent product experiences so much that customers cannot but feel compelled to shop. Also, add to it the contributing factor of being an omnichannel tool, that flawlessly distributes to diverse channels, and localizes buying, to improve brand reach and brand growth! 
With Akeneo, conversions are improved, product returns are reduced and customization reaches its zenith. It is no doubt a widely preferred PIM today…, so much that brands like Fossil, Sephora, Forever 21, Shop.com, Jabra, and more worldwide have chosen this over all other PIMS.
How will businesses benefit from Akeneo?
It is a faster, scalable PIM that provides complete ownership over product data
Managing digital assets like images, videos, and files without exiting the operations
The Rules Engine feature is a boon to have. It allows the categorization of projects based on attributes and actions
Building customized workflows is akin to Akeneo!
Uniformity is a specialized feature of this PIM. No redundancy, no wrong data entries
Integration is another remarkable feature of Akeneo. Integrating it with third-party apps and plugins is highly possible that expand the scope of better performance and boost sales
Supports – Small, Medium & Large business models
Bulk product change capabilities
Akeneo makes it a breeze to import raw data from MS Excel or CSV files and makes it highly structured according to various attributes, families, and categories. For those who find the small detailing crucial, especially in terms of visual appeal, then Akeneo is the one we recommend as its logs or cells help attach notes, images, and more.
Another feature is that the admin can be in full control of watching over and setting the levels right. What's more, the collaboration feature allows reviewing and validating of changes done to a product. If you are a product designer, then you have hands-on experience with the designs and can play along. It becomes easier for the designer to have an enriched design plan
There is so much more to explore with the Akeneo PIM and all these make it win hands down in comparison to Sales Layer PIM. With a fan base of Akeneo PIM, that spreads all over the world, you have your clear winner here
Some other features of Akeno PIM:
Akeneo Is A Revolutionary PIM!
Akeneo is a revolutionary PIM changing the whole ecommerce landscape! It is not just limited to product enrichment and product management, but the whole coming together with its User Interface-UI, User Experience – UX, and the personalization it provides, is second to none.
Known for its fast implementation, organizing, and updating automatically across multiple platforms, the Sales Layer PIM is used by some of the top brands globally. Reebok and Columbia have a Sales Layer PIM. It vouches for simplified, streamlined data handling and gives the user total ownership of product catalogs. 
The Sales Layer PIM enables complete quality checks of the product data with graphic reports. Its ability to provide visual charts and graphics makes it a riveting PIM to implement. It is easier to add, modify and update all product details and play along with a large number of attributes, categories, and families
Another remarkable feature is its digital asset management feature that allows adding and sharing of files
Besides these, there are analytical tools that provide complete reviewing of catalogs and spot the gaps
With Sales Layer PIM, it is easy to adapt to any data type or source of file
Importing with this PIM is also a time-saving task

To give you a fair take on the usability and convenience Akeneo and Sales Layer PIM offer, Sales Layer PIM comes down in ranking when compared to Akeneo PIM. 
What are the disadvantages of using Sales Layer PIM?
Managing huge catalogs gets heavy in your pockets
Search function is not as user-friendly as it should be!
When integrated with third-party integrations, loading takes time and the overall performance gets impacted
Suitable mostly for retail businesses
Akeneo PIM vs Sales Layer PIM: Which PIM should your business choose?
Akeneo has been a groundbreaking PIM in the last few years with a higher market share and global recognition coming its way when compared to Sales Layer PIM. Sources say Akeneo has a 5.32% market share and Sales Layer has a 0.38% market share in the PIM category. Overall, Akeneo proudly holds the 5th spot in the Market Share Ranking Index while Sales Layer holds the 25th spot in the same index. 
Navabrind has a comprehensive Akeneo PIM package to boost sales for your business. From implementation, migration, customization, integrations, maintenance, and support, it's all that you need to give a holistic approach to your business with our Akeneo PIM services.
With over 500 clients globally and unique solutions in our marketplace, we are here to transform businesses that drive growth! Akeneo PIM is one of our top-seller implementations and when you try us, we promise you won't be disappointed.
Get scalable and result-driven services at the Navabrind IT marketplace…!
Planogram In Odoo Will Revolutionize Your Retail Business December 7, 2023 Posted by: tony Categories: Blog, Odoo No Comments It is the era of going digital for almost everything, and you thought the online ecosystem would be crawling behind? The arrangement of products in a store, especially in the retail store, demands a makeover in

Bringing Two Of The World's Most Popular eCommerce Together: Magento eBay Integration! November 9, 2023 Posted by: tony Categories: Blog, Magento No Comments Navabrind's expertise will build a brand experience like no other with unique integrations Out of all the online marketplaces in the world, one that supersedes visibility and shopping is eBay. Not many

Why PIM Is The Future Of Retail Unlocking Its Benefits November 6, 2023 Posted by: saranyababy Category: Uncategorized No Comments PIM centralizes all product data into one single location. With the huge number of SKUs and massive inventory, it is significant to optimize the product information to reach an audience 10X faster. What optimizes and