The Era Of Digital Shelf: How PIM Implementation Enhances Productivity
July 26, 2023
Posted by:

tony

Category:

PIM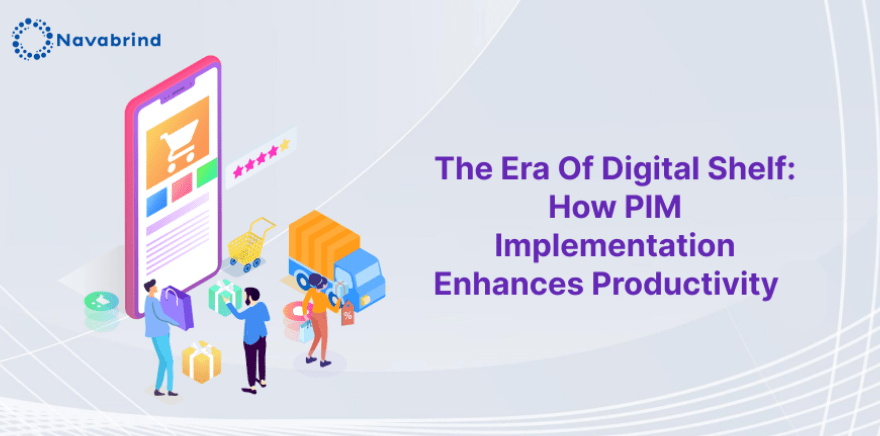 Why do you think you love the experience of shopping in a supermarket? Isn't it where all the best quality groceries are organized, categorized, aligned well, and easy to pick & choose? if you are looking for faster grocery shopping then you prefer the shelf mode for easy accessibility. Isn't it? You get it all under one roof so well presented to you. Presentation is key, and a visually attractive presentation is the key to a consumer's heart! 
Now let's compare this to an online world. 
With the ecommerce triumph, merchants are almost at a non-negotiable pace to outdo each other and make their online stores powerful and visible. You have no choice if you are an ecommerce merchant but to raise the bar!  Be highly visible or get lost in the crowd! Now which one would you want? The online world demands a neatly presented product experience that gives an enriching time to the customer. Just like racks, online stores with shelves providing products and all their details accurately and neatly available, make for simplified and delightful shopping time.
This shelf of the online shopping journey for the consumer is called the digital shelf.
The Product Detail Page or PDP is where all product information is available to the consumer. Everything related to products; the descriptions, the prices, the variants, the options, or anything that can be customizable is right there, so it becomes easier to come to conclusions and make quick purchases. 
What does a stunning PDP look like?
Visually enticing multimedia

Educative & trending content

SEO-backed content

Connected content across various platforms

Faster accessibility & navigation
Now, what happens when the above is not delivered?
… Chaotic product navigation, outdated and irrelevant content, no contemporary features, no media, dull pages, content that is not streamlined and not well-aligned… and so much more…This is a huge hindrance to the digital shelf that is the need of the new generation. 
Customers deserve a rich browsing experience. Entice them to purchase with an upgraded and enhanced product experience. Your product visibility should be at the forefront for customers to purchase more. What can bring about this change? A DIGITAL SHELF. As we stated above, a digital shelf organizes and makes the product layout visually stunning with complete product information. 
Why will your customers then not love a neat and rich product description backed by videos, infographics, and user-generated content like customer reviews, memes, and gifs? Be it customer shopping through BigCommerce stores, third-party channels like Amazon, mobile apps, or social media feeds, they need a tasteful shopping time!
Missing out on a digital shelf? Your FOMO (fear of missing gout) is now no more! Say hello to the Product Information Management PIM implementation that can give life to a digital shelf and is sure to attract customers to shop!
PIM helps disconnected content to come into one source of truth. Content that is haphazard and tracked via multiple spreadsheets is a mess in the making! So many spreadsheets, and so much manual work! Moreover, merchants cannot have full ownership of the spreadsheets or do an audit on them. So, it's mostly not tracked, thus causing it to be disorganized. 
So, how does this affect the progress of your business? 
NO Audit
NO Streamlining
NO Consistency
NO Content Sync
NO Proper Brand Messaging
Thereby, the direct impact is, NO Digital Shelf!
PIM software implementation empowers Marketing, Sales, Content Quality, and overall ecommerce!
Marketing –

To provide a high-impact marketing strategy that can create the right buzz and exude a fun vibe, a 360-degree view of products becomes mandatory. Customer data is crucial for marketing and comprehensive information on them paves the way to pitch right. With PIM, all this is possible, and your marketing efforts reach the right audience, and business scales 10X.

Sales –

Your clients demand the right data. Providing them with complete data and meeting their demands can build on the trust factor. When product information is limited, then the possibility of the sale gets limited too. Why not implement PIM to be the savior here?

Content Quality –

Another boon of a PIM is the multichannel data modeling it implies. With this feature, content can be accessed, monitored, and streamlined across various channels or touchpoints and managed alongside the different versions. Sometimes website version or it could be any retail-specific version. All this is co-related and dumped into one source of truth. Data is automated, improvised, audited, and secured in centralized storage.
Let me dive into an example… Imagine a big global brand that sells through multichannel distribution. Because they are multichannel and in partnership with retail stores, their online visibility is high and powerful.
When consumers search for them, they appear everywhere. In their niche, small and medium size businesses especially those who do not opt for multichannel selling modules will be overpowered in competition.
But if they consider PIM software implementation, then there is now a potential to stand tall amidst competitors.
Why does Digital Shelf need a PIM?
Again let's recall our example of the supermarket shelves. When everything in the store is arranged and segregated well for your convenience, when all products look presentable with the right information, this will hasten your purchase quickly. You end up making orders, won't you? Similarly, in your online store no matter which ecommerce platform it's powered on, if there is no PIM, then these shelves will be missing. And a digital shelf requires clarity and comprehensiveness which PIM gives to make better sales, faster revenues, happy customers, and build brand awareness.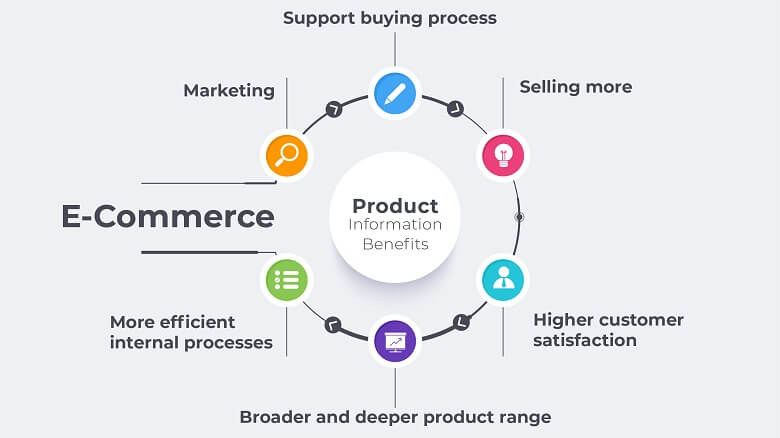 Omnichannel Selling With PIM
A contemporary digital shelf catering to modern-day requirements goes hand in hand with the omnichannel selling model. Omnichannel is selling to customers located in different places via their marketplaces, various sales channels, and reaches the maximum audience globally. Why miss out on this exclusivity that completes the digital shelf? Now PIM ensures a complete omnichannel experience giving customers the exact content so they make quick purchases.
Consumers love the high-definition look of images and videos. They elevate the product buying experience. Some customers even look for how-to videos, customer reviews with images, tutorials, great static images, and what not! PIM's Digital Asset Management (DAM) capabilities allow multimedia-enriched products. This greatly impacts the buyer's mind to make swift decisions.
Your customers hail from different places, regions, or maybe continents. If you can localize your products according to their locality, then you have a high chance of sale. This is why PIM amplifies your business' digital shelf. It provides max personalization and specifically caters to a relevant audience. This is a deal for the customers to get their niche products.
The mobile era is here to stay! If your online store can be loaded beautifully on mobile apps, then you are on the right track. The youth loves a great online shipping time done from a mobile. Most sales happen from a mobile app. And PIM software stores product data on a mobile accurately and flawlessly. 
Accurate And Relevant Product Details
Customers desire the real feel of touching their products, just like they would shop in a physical store. If your products displays all that is required for them to make informed decisions, then you have a sale! A great image, the right details, accuracy in its details, and complete information like weight, dimensions, colors, texture, or whatever the specifications may be, if everything looks real, then it's a win. And PIM gives a 360-degree view of your product details. As every sales channel has a different requirement, PIM ensures the product catalog is right for every sales platform and makes a correlation with the platform easily!
A digital shelf is all about digital assets. With PIM implementation, digital assets are full-throttle and get linked with product content seamlessly. This syndication happens from one system. The enhanced product content is optimized for different sales channels. The result is highly modernized, content-centric, digitally valuable data that is now spread to various sales channels. Isn't this what you are looking for?
There is no readymade answer to what makes customers come back to your website, it is this software that takes ownership to create high-impact digital shelves. Creating an almost touch-and-feel scenario with online shopping is now possible. 
PIM software implementation will send your customers into a frenzy with digital shelves! It is modern and sassy enough to grab the attention of your customers. Enriched, expansive, and easy shopping is what you get with PIM-infused ecommerce. 
There are so many PIM options in the market, and Navabrind's marketplace for ecommerce solutions offers various PIM software, whichever is best suited for your website. This is sure to take your ecommerce stack to the next level and create a digital shelf that will scale your business and boost sales. 
A Complete Guide To Magento Integration With Citrus Payment Gateway: What You Need To Know In 2023! September 1, 2023 Posted by: tony Categories: Magento, Payment Gateway No Comments In the digital modernization era, going cashless and diving into online payments is the need of the hour. For the payments to happen online, an online

Amazon Seller Central Account Integration with Odoo is Proven to Grow Business! August 25, 2023 Posted by: tony Categories: ERP Implementation, Odoo No Comments How important is selling on Amazon in the digital modernization era? Have you always had a penchant for keeping your business under the spotlight? Do you wish to expose your business

Odoo vs Zoho: Which Is The Better Software For Your Business? August 18, 2023 Posted by: saranyababy Category: Odoo No Comments Finding the best software to amplify your sales or spearhead business workflow is challenging! Given that there are so many choices one is spoilt for in the market currently, from CRMs to Accounting, to