Your Business Needs PIM Certified Experts Like Navabrind To Boost Sales!
August 9, 2023
Posted by:

tony

Category:

PIM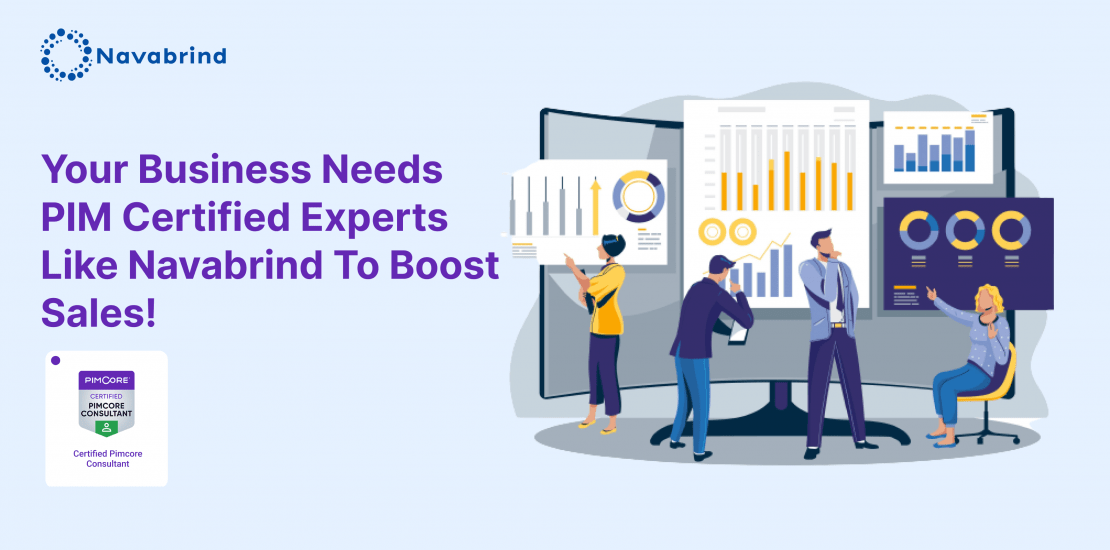 Are you on the hunt to manage and streamline product data for a more satisfactory customer journey? If your business boasts large inventory, huge catalogs that you fear may go haphazard if managed inefficiently? While there are PIMs or Product Information Management systems that are prevalent in the market, an authentic pim-certified excerpt is what it takes to be the real gem amidst the lot!
Guaranteed Customer Engagement With PIM
PIM eases product data handling with a single source of truth! This data is transported to various channels to further its selling goals. Being a central hub of product content, it improves the quality of product data, enhances team collaboration, extends into selling commerce, integrates with multi-channels, boosts sales, and leverages returns.
With PIM, the possibility of product returns is highly reduced too. The ultimate goal of providing customer-rich ecommerce, guaranteed customer satisfaction, and maximized customer engagement levels, are effortlessly met.
B2B Product Data Accuracy Maintained
One of the growing concerns of a B2B module is the inaccuracy maintained in product content. Navabrind being a pim certified expert gives 100% importance to the accuracy of the product content both in the internal and external architecture. If you are lagging behind the accuracy as a B2B owner, then it's time to switch to a genuine PIM-certified expert like us.
WHO SHOULD CHOOSE A PIM EXPERT?
Your business needs a PIM expert, if there is huge amount of product data to handle and if it's incomplete data, inefficient data, scattered and chaotic data, or not well-distributed data to the different channels, that is required to market and make sales.
Unlike the earlier times when the PIM system was utilized by only the big companies, today the scenario has changed. Small and medium-sized enterprises use PIM effectively. It is a scalable solution that grows as your business grows. Manufacturers, retailers, distributors, and sellers are the apt business owners who would require a PIM expert. Their industries have an overpowering product data handling to focus on, and with a PIM developer like us, this is a walkover!
Unlike the earlier times when the PIM system was utilized by only the big companies, today the scenario has changed. Small and medium-sized enterprises use PIM effectively. It is a scalable solution that grows as your business grows. Manufacturers, retailers, distributors, and sellers are the apt business owners who would require a PIM expert. Their industries have an overpowering product data handling to focus on, and with a PIM developer like us, this is a walkover!
When does your business need a PIM-certified expert?
Large inventory & SKUs involved

No powerful branding 

Chaotic streamlining

Inefficient targeted channel product data

Sales and marketing channels are not utilized fully

Decrease in customer satisfaction levels

Inventory retention, overstocked inventory, or overselling inventory concepts
Any PIM-certified expert looks into the three stages that is crucial for PlM-related success of your business. Implementation, Data Structuring & Security need to be followed with best practices. We will walk you through the three stages and what goes on behind the scenes of every pim-related process. Take cues:
As a PIM expert, your first mandatory step should be to ensure smooth implementation of the PIM system. The implementation process varies from one business to another depending on a lot of backdrop factors, its hosts, and the genre of the industry it belongs to. But whatever the scenario may be, some regular and commonly seen steps during the implementation need to be carried out effectively to kickstart the PIM system.
Introduction & Collaboration
To kickstart the implementation process, functional training can make the rest of the journey ahead, smooth. The need of the hour will be the coming together or the collaboration of teams to understand the solution, the features, and analyzing how well the solution aligns with the business functionalities. Getting an overall initial idea can help understand the requirement and plan the data flow, data sources, and data structure. Also getting a comprehensive view of the department and team responsible for it will be useful to onboard the plan.
The next step is to define the product data and all its attributes. Getting a hands-on view on the various data flows and structures will determine how the future of data flow will be with the PIM system. Directing product data to the many formats, structures, and taxonomy is the key here. Once done, it will build a more concrete data structure formula. At this stage, planning the localization of the product data can also contribute to effective data structuring.
This is the process where the product data has to be migrated to the PIM. Automated data migration is the better option and planning how to migrate, and then execute it, happens in this stage.
Your business needs an integration with the PIM system. If this is under your agenda, then be assured of empowered product data content, distribution, and boost in sales. Integrations done with third-party apps and plugins and choosing the best one for PIM integration depends on the requirement of your business. Once PIM is integrated, then product information will be merged beautifully between the various systems. Navabrind has a whole lot of integrations under its marketplace. Whatever services you need, we have it all under one roof, and give your business the most curated and unique solutions to enhance the PIM system. Use PIM to boost sales!
Planning The Distribution
Now that your product data is enriched, deciding where to get it highlighted to market and sell, should be your top goal. Be it on websites, mobile apps, sales, and marketing channels, products should be channelized well to be recognized and purchased.
Once the implementation is done, the next process would be to review the product data. What exactly does this mean? It means simply looking into the product data aspect, to retain the ones that are prevalent and important, and dismissing the not-so-important ones that only add to the number. A complete check of the attributes and categories can be looked into and streamlined well. All this should be done before the product data goes to the PIM system or it may affect the data quality. Once thoroughly cleansed, data then goes into the PIM system.
Complete Check Of Product Data
Taking cues from the pointers we stated above, checking data can be more pragmatic and in-depth. Before the product data merges with the Pim system, ensuring there are no errors, or redundancies in the overall information is required. A 360-degree review of the product content will create sensational product data before it merges with the PIM.
Another important part of data structuring should be assigning the right attribute. Categorizing them effectively and placing the right attributes will give an expansive view of the data to the end user. Be it in marketing, sales, accounting, or any other attributes, streamlining them under the best category will empower data content and build a strong reputation with the customers.
Now, we go on to synchronizing the product data with the pim system. This can be done with a small batch of products to begin with, and later on test and check how they perform together. The testing part is essential before running through the huge inventory. This assures a certain authenticity and gives time and space if there are corrections to be made prior.
This is where the product data can be transferred to the PIM system. This is a convenient process with no hassles, it is easier and simple to transfer data which can be done either by integrating it with an ERP like Odoo or simply through small batches or all at once from the old PIM version to the new one.
Once your data is migrated successfully into the PIM system, then channeling it to distribution is the key. Before the distribution process begins, channeling should be done to multiple channels which will benefit the marketing strategy too. Then the distribution will be the last effective step.
The final step you as a PIM expert should provide mandatorily is product data security. The PIM system not just provides a smooth workflow but also ensures that the data is secured. When you do not have PIM, then spreadsheets and manual data entry is the usual norm and these can never be secured. With PIM, all this is dismissed, there is no room for security breaches and safety for product information is elevated. Unauthorized access to the software will be a thing of the past, once PIM comes in.

Another security breach avoidance is done by PIM with its assigning roles to users. Users have different roles assigned to them like admins, super admins, marketers, guests, etc, and based on that the access is given. So this way, there is no scope of breaching product data, thus maintaining its accuracy. 
WHY CHOOSE NAVABRIND AS YOUR PIM EXPERT?
How do you choose a pim certified company that will distinguish itself from the many inauthentic ones? A true PIM service provider like Navabrind will provide you with end-to-end solutions for efficient product data management that aims at expanding sales.
With the right strategy and more than a decade of expertise in various software implementations & integrations, we assure 100% security of your product data.

It is of great importance to us to provide dedicated safety measures for your product content. 

As PIM-certified experts, a core support team that is ready to handle all your queries on PIM, is one of the key advantages of choosing us as your PIM partner.

A comprehensive product data handling right from data analysis, data structuring, configuration, migration, integrations, and more services provided is what separates us from a whole lot of competition!
A Complete Guide To Magento Integration With Citrus Payment Gateway: What You Need To Know In 2023! September 1, 2023 Posted by: tony Categories: Magento, Payment Gateway No Comments In the digital modernization era, going cashless and diving into online payments is the need of the hour. For the payments to happen online, an online

Amazon Seller Central Account Integration with Odoo is Proven to Grow Business! August 25, 2023 Posted by: tony Categories: ERP Implementation, Odoo No Comments How important is selling on Amazon in the digital modernization era? Have you always had a penchant for keeping your business under the spotlight? Do you wish to expose your business

Odoo vs Zoho: Which Is The Better Software For Your Business? August 18, 2023 Posted by: saranyababy Category: Odoo No Comments Finding the best software to amplify your sales or spearhead business workflow is challenging! Given that there are so many choices one is spoilt for in the market currently, from CRMs to Accounting, to