Sales Order Management is available in Odoo 13 Enterprise Edition. This is a crucial module for B2B enterprises as they deal with bulk orders which need to be sourced, planned, and delivered on time. Odoo B2B Order Management offers
Real-time visibility and control of orders
Up-to-the-minute tracking of inventory
Smart sourcing and fulfilment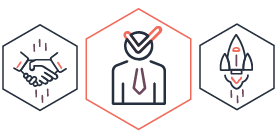 Key Features of Odoo B2B Order Management

View order number, order date, website, customer, salesperson, company allocation, units ordered, and the invoicing status of the orders.

View all the unpaid orders and follow up on these orders. This is generated from the e-commerce website.

Find customer details on the platform. Users can create new customers by using the 'create' option available.

View carts where the customer has not confirmed the order. Also, send out emails to the customer inquiring about the products in their card. Choose from email templates and enable these emails to be auto-generated.
Navabrind IT Solutions Capability
Navabrind marketplace lets you discover, test, buy, and deploy tailored solution for you business need.
Learn more about Navabrind Marketplace
We're here to help you get started with Navabrind Marketplace.
Get in touch with a solutions consultant that can share best practices and help solve specific challenges.
Navabrind allows you to share ideas, answer questions, and learn about new services and best practices.
Check out the Success Stories of Navabrind, provided by the team of experts. Want to know more?