Businesses are tapping into the tremendous potential offered by e-commerce. By integrating Sage 300 ERP and Magento e-commerce users ensure seamless front-end, back-end, and portal operations.
As orders come in through your Magento store, integration with Sage 300 ERP ensures that the information is populated in the ERP, and the inventory level is adjusted to reflect the sale. Shipping and tracking information can also be integrated between the two systems to increase the efficiency of the order fulfillment process. Benefits of a Magento-Sage 300 Integration are
Eliminate manual data entry.
Avoid costly errors as a result of re-entering data.
Reduce deployment time using turnkey integration solutions.
Add connections (EDI, CRM, etc.) anytime, anywhere.
Free up time and resources to focus on your business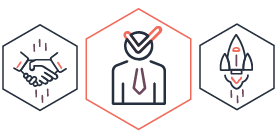 Key Features of Magento-Sage 300

Automatic transfer of Magento sales orders into Sage 300.
Automatic transfer of data such as product description and stock level, from Sage 300 to Magento.
Automatic placement of Magento sales orders with your preferred parcel service.

Automatic transfer of online payment details and transaction IDs to Sage 300.
Automatic updating of Magento with a 'complete' or 'shipped' status when an invoice or delivery is created.
Creation and distribution of PO requisitions when a Magento order depletes stock levels below agreed levels.

Trigger-based creation and distribution of real-time business alerts (email/ SMS) when specialist products are ordered.
Automatic communication of Magento or offline orders to product fulfilment partners (drop shipping).
Navabrind IT Solutions Capability
Navabrind marketplace lets you discover, test, buy, and deploy tailored solution for you business need.
Learn more about Navabrind Marketplace
We're here to help you get started with Navabrind Marketplace.
Get in touch with a solutions consultant that can share best practices and help solve specific challenges.
Navabrind allows you to share ideas, answer questions, and learn about new services and best practices.
Check out the Success Stories of Navabrind, provided by the team of experts. Want to know more?