A Complete Guide To Magento Integration With Citrus Payment Gateway: What You Need To Know In 2023!
September 1, 2023
Posted by:

tony

Categories:

Blog, Magento, Payment Gateway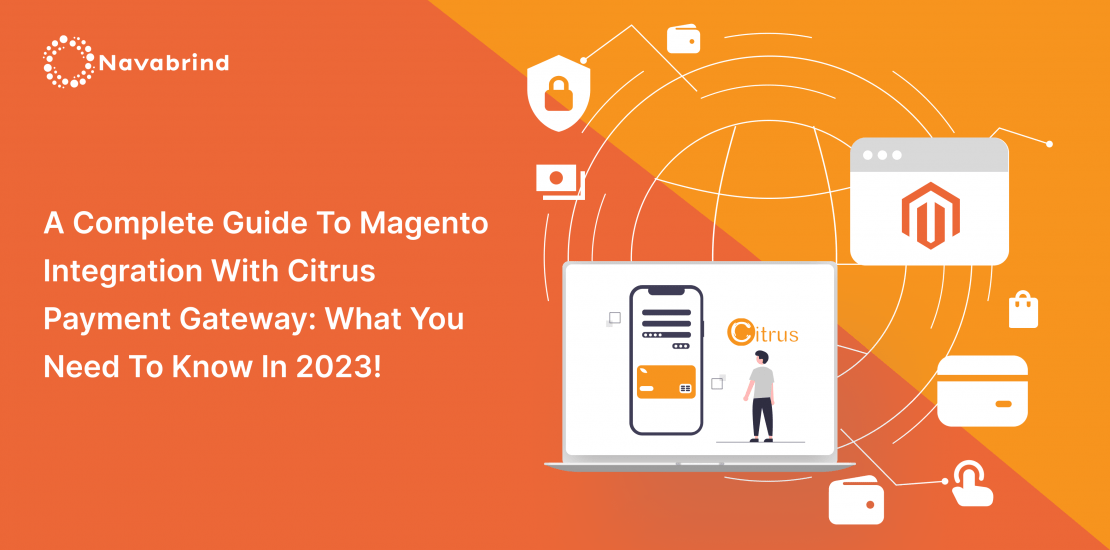 In the digital modernization era, going cashless and diving into online payments is the need of the hour. For the payments to happen online, an online payment gateway is needed, that facilitates the transfer of funds from the customer to the seller. These are secured connections that enable the process of transactions between a payment portal like a website or a mobile device, and the front end of the bank that is connected to it. 
With the online mode, the payment transferring process is automated for the payment to happen faster with just a click. The interesting fact is, though it is a third-party offering, consumers today trust online payment gateways like the Citrus Payment Gateway and opting to pay through it. Why? Let's find out!
Citrus payment gateway integrates with any ecommerce effortlessly, and if you have to pick one, then Magento marketplace partners with it beautifully to create a robust ecommerce. 
Digitalization of payments and e-wallets!
Change is the only constant, and with the cashless digital era coming into the spotlight, online payments are on unprecedented growth than ever. With cashless payments, your ecommerce is preparing for a welcome change in the online shopping landscape. By this, we mean a lot of ecommerce are integrating their services with third-party payment gateways to offer convenience and safety to their customers. Magento marketplace is now integrated with many payment gateways, but choosing the best of the options floating around can be daunting. One such online payment mode is the Citrus payment, which deserves a strong mention due to its authenticity and popularity!
What is the Citrus Payment Gateway?
Citrus is one of the fastest-growing fintech companies in India and approved by the Reserve Bank of India. Known for its groundbreaking payment innovations, it allows seamless online payments backed by an enhanced user interface, provides flexible options, and protects customers' financial transactions by fraud detection mechanisms. It is the safest and most convenient payment option that can be integrated with the Magento marketplace for a breakthrough ecommerce platform. Magento integrated with Citrus opens doors to a plethora of possibilities.
Payment can be done through a trusted Citrus account, net banking, UPI, debit, or credit card

Add-on of the Magneto marketplace

Impeccable user interface

Customizable payment pages

Empowered fraud detection measures

Provides dedicated 24/7 support team
What are the features of the Citrus Payment Gateway?
SaaS platform to handle all the challenging new-age market scenarios

Empowered with fraud detection mechanism

Supports most payment modes

Notifies merchants for transaction approval or decline. This helps merchants inform customers of the same to change their mode of payment

Encrypts payment and information during transmission

Integrates with the merchant's business account

Mobile friendly
Installation of the Citrus payment gateway – This is a simple process where the customer places the order, and once done, the seller receives a notification of the order placed. The simplicity of making a payment along with the safety measures it brings in, has made this payment mode a popular choice by business merchants.
Installation for customers
Add products to the cart

Checkout

At the time of checkout, select the Citrus payment gateway option to pay

Place the order

Make the payment via your debit card, credit card, net banking
Installation for sellers
Sellers can get access to the manager's menu page of their account section, and keep all their credentials updated including their bank details, and contact details entered in.
Features of the Magento Marketplace integration with Citrus Payment Gateway!
Multiple options to make payments are provided to the customer

Payments are credited to the seller's account 

Enables customization 

Supports multiple language translations

Admin and seller enjoy split payment amount, transferred to each seller and the admin 

Admin enjoys privileges to hold the payments of sellers & release the payment too

Admin can do refunds for the offers

Options available to select when to make refunds

Minimum and maximum order total value is highlighted
What is a Split Payment feature provided by the Magento Marketplace-Citrus Payment Gateway Integration?
One of the trailblazing features that makes the life of both the seller and the Admin easier is the Split Payment feature that this integration provides. It is similar to sharing the amount without having to pay a lump sum by yourself. How about a group payment that fixes all the financial costs and simply splits the amount between the admin who, in this case, is the store owner and the seller (vendor), hassle-free? Once the customer makes the payment, it gets transferred to the admin and the commission is deducted, and later transferred to the seller. All this happens sans fuss! 
Customers can enjoy flexibility in purchase options. Here are some of the payment options this integration provides:
Multiple payment options – Debit card, credit card, net banking

Saves card details for future payments

Saves bank details for net banking
Here are the benefits of the Citrus Payment Gateway integration with Magento Marketplace 
User Experience to vouch for!
One of the impeccable features of the Citrus payment gateway is that the user can manage transactions even when offline. Their onboarding process for customers is also something to vouch for, with a massive fan following that recommends it. User experience has been their top priority with customers adding products to carts to save them for later purchases! Magento Citrus integration produces seamless usability and the interface gets interactive, making e-payment fun.
Citrus's mission has been to bring innovation to the electronic payments ecosystem. It is the first company in India to introduce a payment facility via mobile-optimized sites. It provides a unified mobile payment experience through apps and WAP sites. With the barriers being bridged with mobile phones and apps, this is what your Magento marketplace needs to accelerate business growth. 
Stringent security measures
It is mandatory for every business owner to keep customer's credentials secure and protected. If you are thinking of a safe Magento payment gateway integration, think no more! Citrus boasts multiple levels of encryption and it is PCI-DSS compliant! 
Citrus has strict security measures that undoubtedly make it everyone's favorite. It detects fraud with tough security measures, double-checks statements, and authenticates payments with multiple levels of protection.
Better reach with customers
Here is an effective way to attract your online shoppers. When your online portal is integrated with a trusted payment gateway like Citrus, your business can entice customers all across. Most global consumers look for the reliability and credibility mark from an online portal. A reliable payment gateway opens the doors to more customers, no matter where they are located. 
Convenient electronic shopping
Citrus simplifies electronic payments and reaches a larger customer base. Its convenience factor makes it a popular choice over a physical in-store with the global consumer!
Robust confirmation process
A confirmation procedure is an integral part of the payment process. Once the customer completes the purchase, the data is sent to the merchant for payment confirmation. This way, total transparency is in place and merchants can be aware of or decide the next actionable steps. 
Why Citrus Payment Gateway For Your Magento Marketplace?
Ever thought of the opportunities, an online payment gateway can give your customer? Such commendable features and popularity spring forth, when Citrus is integrated with Magento platform. 
Integrating both provides a powerful ecommerce, brings in the credibility factor, and reaches a global customer base.
Navabrind is an expert in software implementation for Retail Businesses, B2B, Ecommerce, Finance, Manufacturing and more…! Our Magento marketplace provides a holistic customization of features, and boosts the online visibility of your online store. We have successfully integrated Paypal for Magento, and Adyen for Odoo ERP to name a few. If you are looking for a payment gateway for seamless online performance, Let's Get In Touch!
Planogram In Odoo Will Revolutionize Your Retail Business December 7, 2023 Posted by: tony Categories: Blog, Odoo No Comments It is the era of going digital for almost everything, and you thought the online ecosystem would be crawling behind? The arrangement of products in a store, especially in the retail store, demands a makeover in

Bringing Two Of The World's Most Popular eCommerce Together: Magento eBay Integration! November 9, 2023 Posted by: tony Categories: Blog, Magento No Comments Navabrind's expertise will build a brand experience like no other with unique integrations Out of all the online marketplaces in the world, one that supersedes visibility and shopping is eBay. Not many

Why PIM Is The Future Of Retail Unlocking Its Benefits November 6, 2023 Posted by: saranyababy Category: Uncategorized No Comments PIM centralizes all product data into one single location. With the huge number of SKUs and massive inventory, it is significant to optimize the product information to reach an audience 10X faster. What optimizes and