PIM vs ERP – Why PIM is not ERP?
December 28, 2022
Posted by:

tony

Categories:

Akeneo PIM Page, Blog, ERP Implementation, PIMCore Services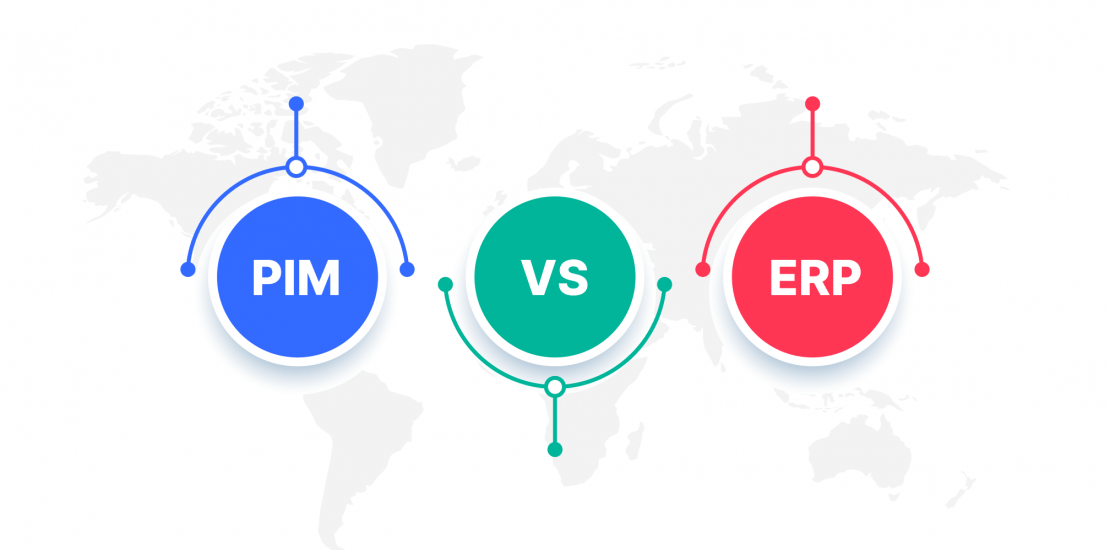 The ERP system has been around for a while now and has been recognized as the spine of most growing and large e-commerce enterprises.
With its many modules, such as Finance, Manufacturing, Warehousing, Inventory and Order Management, Human Resources, Sales, and others, the ERP has become the single source of truth to track day-to-day business and extract much-needed insights.
ERPs have transitioned from on-premise to cloud-based systems, and are the crucial tool that streamlines business, ensures deep efficiency, and enables transparency across functions.
An ERP is often customized to the many needs of the enterprise, and so is an invaluable business enabler.
The ability of the ERP to manage almost every department of an enterprise, generate the data needed for management, and its continuous availability enables management to believe that it is the single most important technological tool to run their business, and it probably is.
But when it comes to offering a drill down into product information, facilitating collaboration between sales and marketing, enabling suppliers to add or update information, and numerous other features, an ERP seems rather inadequate.
This is not to play down the importance of the ERP. For enterprises big and small, that have plans to scale, an ERP offers numerous benefits. Some of these are listed below.
Key Benefits of an ERP: Empowering Business
A single tool that offers overarching visibility into the functioning of the organization in real-time
Key source information for reporting, insights, and forecasting for top-level management.
Simplified inventory management to reduce overhead costs. This ensures accurate procurement.
Storage mechanism for customer data and enables accurate order delivery and on-time responses
Facilitates timely and accurate invoicing, and collection, and ensures more cash-on-hand
Effectively enables demand forecasting and lean inventory
While the benefits of the ERP are many, like most tools, it also has several limitations, such as the inability to convert complex data into insights. It also offers a slim opportunity for collaboration.
You will discover these limitations when your e-commerce enterprise deals with thousands of SKUs, have tens of varieties of products, offerings keep changing by the season or customer buying pattern, need to manage hundreds of product details, need to coordinate with suppliers for product information, and then market your products across several channels – online and offline.
The need to manage your increasing product data, down to the very last SKU cannot be fulfilled by an ERP but by a PIM. Also known as a product information management system, a PIM is a complex product catalog management system.
A product information management system stores all your product-related information in just one location. It is a complex repository of sorts. When you deal with hundreds or thousands of different products, expect all this information such as product descriptions, images, videos, pdf, technical specifications, and all other documents to be stored in the PIM system.
A PIM enables your sales and marketing team to easily access all product-related information and the latest version of the content.
Using accurate product information, the marketing team can enrich the content used for creating print and online ads and push them to all channels.
When teams are located in multiple geographies a PIM aids in collaboration across time zones.
Data that can be stored in your Product Information Management system
Item names and SKU numbers that enable your sales and marketing teams, suppliers, and distributors to track your inventory. It also helps potential buyers to find your products online.
If you sell your products internationally, your PIM will also store your global trade item numbers or GTINs.
Product images that you would require to create marketing collaterals across channels are also stored in a PIM.
Product information, installation details, and warranties in multiple languages can be located in a PIM.
Product titles, prices, product variants, and colors, and product taxonomy to enable sales and marketing teams to create collaterals for print and online mediums, launch campaigns in multiple languages and on multiple social media channels.
A PIM also enables your teams to track the success of collaterals and to use these successful collaterals in other campaigns.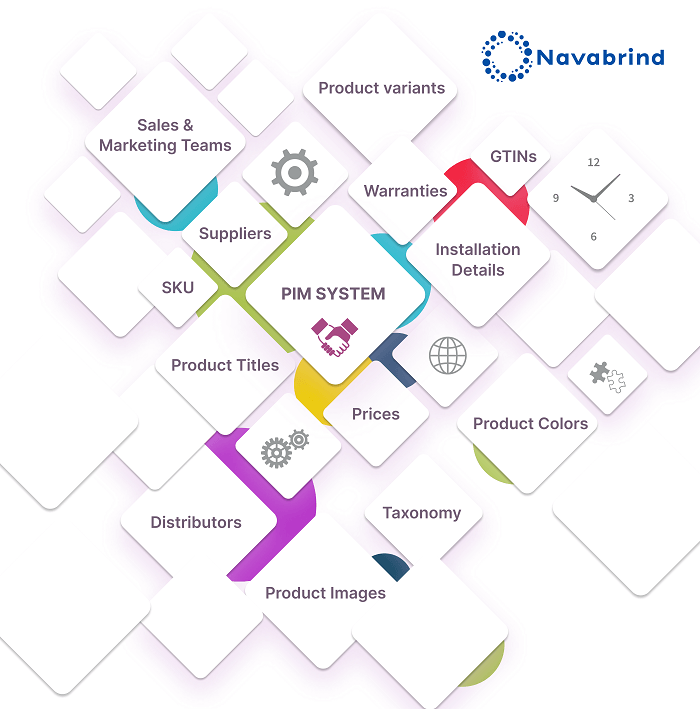 Benefits of a PIM: Faster Movement of Inventory and Smarter Sales
As sales and marketing get more sophisticated, competitive, and intelligence-driven, a PIM can ensure your enterprise wows customers with your products, every time.
A PIM offers a comprehensive repository of all product-related data.
A PIM removes the silos between the sales and the marketing teams and enables both to work collaboratively and leverage product data with equal efficiency.
Since both sales and marketing teams work with the same data, there is instant correction, a single version of the truth, and no duplication of data.
Ease of optimization of data for print and online ads
Ease of managing the quality of product information-related data
Share only accurate data internally and externally
Instant visibility into product information down to the last SKU
A PIM can also be integrated with a DAM or MDM solutions to further synergize your business processes
Need for a PIM - ERP Integration
Large and growing e-commerce enterprises deal with varieties of products and data points. They need to ensure data accuracy for every department, and constantly demand data for forecasting and decision-making. For such enterprises, it is not about PIM vs ERP but rather an integration between an ERP and a PIM.
Irrespective of whether your enterprise uses an Odoo, Oracle Netsuite, MS Dynamics, Sage, or any other ERP, you have the opportunity to harness more value from your ERP with a PIM integration.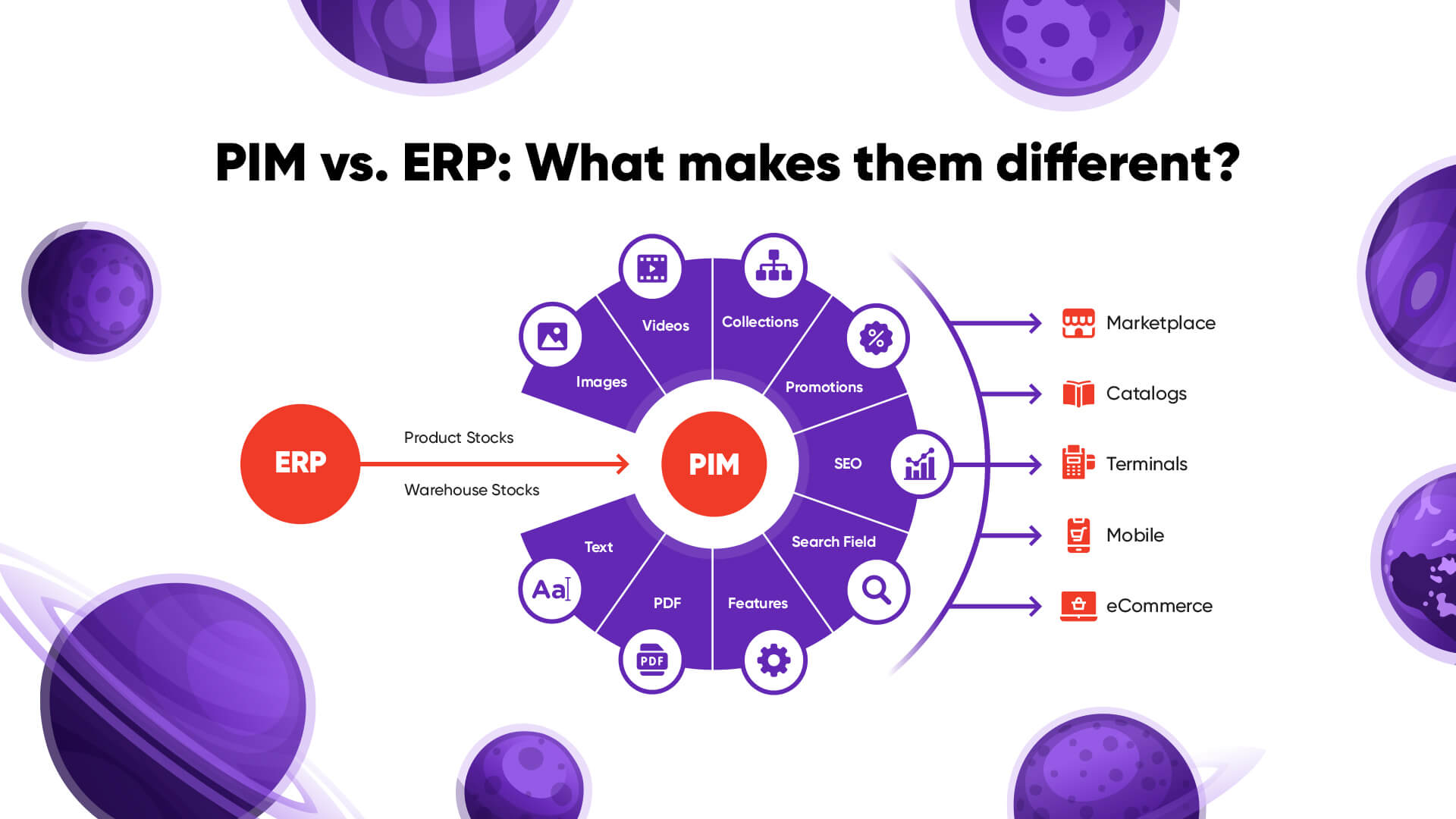 Rapid data sharing between an ERP and PIM
When the sales and marketing teams are planning a campaign, they need accurate information on product specifications, pricing, attributes, and information such as titles, descriptions, digital assets, and others. Integrating ERP and PIM systems ensures faster data transfer between the two systems and simplifies the sharing of this product information with retailers, distributors, and online channels.
Smart and effective inventory management
The inventory module in the ERP system centralizes stock-related information and ensures this information is accurate. The PIM stores a drill down of the product-related information from the ERP. The drill down is by category, attribute, taxonomy, etc. The information in the PIM is used by marketing and sales. It is this data from the PIM that is pushed out across multiple sales platforms. Thus a PIM helps an enterprise market more accurately and quickly, keeps a track of price margins, and sells on channels most responsive to the company's ads.
Pricing accuracy for sales and marketing
While the ERP manages prices at a high level, such as wholesale and category-wise. This pricing information may be scattered and not ready for the consumer's buying behavior. In a PIM, pricing information is analyzed and made accurate. Pricing is channel-wise, location-wise, or discount-based pricing.
Squeeze more value out of your ERP with a PIM Integration
If your e-commerce business is making do with an ERP when it actually needs a PIM or is using a PIM that is yet to be integrated with your ERP, it is time to squeeze more value out of your siloed systems.
Reach out to Navabrind IT Solutions and schedule a free conversion to explore the opportunities before you.
Navabrind IT Solutions is a full-stack e-commerce technology provider based in India. We have been delivering simple and complex solutions to our customers for over a decade and have experience across Retail, Engineering, Logistics, Hospitality, Fashion, Automotive, and a host of other industries.
We are deeply committed to delivering future-ready solutions within time and budget and this enables over us 80% of our business to be repeated.
Request demo to schedule a time with our experts.
Planogram In Odoo Will Revolutionize Your Retail Business December 7, 2023 Posted by: tony Categories: Blog, Odoo No Comments It is the era of going digital for almost everything, and you thought the online ecosystem would be crawling behind? The arrangement of products in a store, especially in the retail store, demands a makeover in

Bringing Two Of The World's Most Popular eCommerce Together: Magento eBay Integration! November 9, 2023 Posted by: tony Categories: Blog, Magento No Comments Navabrind's expertise will build a brand experience like no other with unique integrations Out of all the online marketplaces in the world, one that supersedes visibility and shopping is eBay. Not many

Why PIM Is The Future Of Retail Unlocking Its Benefits November 6, 2023 Posted by: saranyababy Category: Uncategorized No Comments PIM centralizes all product data into one single location. With the huge number of SKUs and massive inventory, it is significant to optimize the product information to reach an audience 10X faster. What optimizes and