When Do I Need a PWA E-Commerce Platform?
August 3, 2022
Posted by:

tony

Categories:

Blog, E-Commerce Development, PWA Services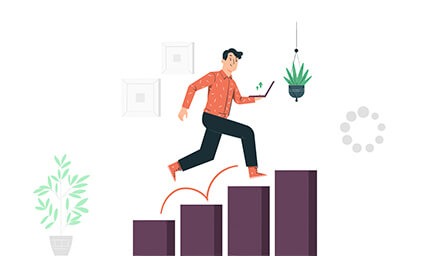 Until recently, e-commerce companies that wanted to distinguish themselves from their competitors created and launched a mobile app. The development, testing, uploading of the app to the play store, ensuring regular updates, and promoting downloads distinguished the mobile app as a separate channel to be managed and maintained. It also required a budget, and only large e-commerce companies could afford the investment needed to create and market a mobile app. Interestingly, things are set to change with PWA.
PWA or progressive web application is an upcoming technology that is being used to make e-commerce sites mobile-friendly without the investment of an app. It promises to revolutionize mobile as a sales channel without the need for an app.
Once your website is built with PWA, desktop and mobile users can access an equally seamless experience. Few mobile users would even know they are using a browser and not a mobile app. Your website would be responsive to any screen size, work offline and deliver push notifications.
Irrespective of your organization's size, the benefits of PWA are many
Allow your customers to access your site and browse your store even when the internet is sketchy or when they are offline
Offer lightning-fast page load time and increase sales
Engage in a one-time investment that is more cost-effective than building a native mobile app from scratch. No need for iOS and Android versions, or to keep updating the app on the app store.
No installation is required from customers
Access push notifications to ensure your customers are always informed on what's new on your site
If you are looking for an e-commerce technology agency to help you adopt PWA, reach out to Navabrind IT Solutions. As an e-commerce development company, we offer e-commerce website services and allied expertise across retail, logistics, manufacturing, hospitality, services, and other industries. We help businesses adopt PWA, capitalize on customization, and seamlessly integrate with third-party solutions.
A Complete Guide To Magento Integration With Citrus Payment Gateway: What You Need To Know In 2023! September 1, 2023 Posted by: tony Categories: Magento, Payment Gateway No Comments In the digital modernization era, going cashless and diving into online payments is the need of the hour. For the payments to happen online, an online

Amazon Seller Central Account Integration with Odoo is Proven to Grow Business! August 25, 2023 Posted by: tony Categories: ERP Implementation, Odoo No Comments How important is selling on Amazon in the digital modernization era? Have you always had a penchant for keeping your business under the spotlight? Do you wish to expose your business

Odoo vs Zoho: Which Is The Better Software For Your Business? August 18, 2023 Posted by: saranyababy Category: Odoo No Comments Finding the best software to amplify your sales or spearhead business workflow is challenging! Given that there are so many choices one is spoilt for in the market currently, from CRMs to Accounting, to