The Increasing Popularity of the B2B and B2C E-commerce Marketplace
September 21, 2022
Posted by:

tony

Categories:

Blog, E-Commerce Development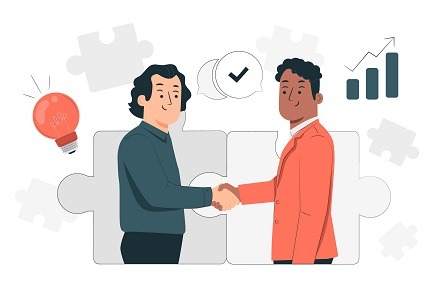 The future of retail and almost every other industry is e-commerce. New business-to-business (B2B) and business-to-consumer (B2C) marketplaces are springing up every day. With such stiff competition, no enterprise can sit back and wait for customers. Instead, they need to strategize, constantly market, observe their customer's demands, meet their customers on various channels, plan inventory, ensure prompt delivery, and the list can go on.
But there is a difference between a B2B and B2C marketplace. Knowing the difference ensures that each marketplace is built correctly to cater to its respective audience.
The difference between a B2B and a B2C marketplace is significant.
In a B2B marketplace, more than one person makes the buying decision. The business protocol requires that the enterprise request a quote, compare prices, and negotiate these prices. Because of the long buying cycle, a B2B marketplace needs to engage with the potential customer longer, communicate quickly, and be known for its reliability and quality. Managing its many sellers is a major responsibility for a B2B marketplace. Ensuring they receive their orders on time, dispatch the order quickly, deliver quality, get their payments, and more.
B2C marketplaces, on the other hand, thrive on volume sales, experience a spike in buying during offers and sales, and need to allow their consumers to create wishlists, and buy easily.
Below are some of the main features of B2B and B2C marketplaces. But these are only the top few, and an in-depth list can run into hundreds of features.
Some of the key features needed in a B2B e-commerce marketplace
Portal customization
Mobile-first design
Contract pricing and cataloguing
Bulk ordering
Quick reordering
Access controls
Shared shopping carts
Quote management
Quote management
Digital payment options
Product information management (PIM)
Advanced and sophisticated search
Order tracking
Real-time inventory management
Warehouse and logistics management
Payment options
Customer review and rating
and more
Some of the key features needed in a B2C e-commerce marketplace
Responsive design
Mobile-first design
User-friendly navigation
Product filter and comparison and sorting
Search function
Geolocation
Optimized cart
Payment options
Payment options
Security
Wishlist creation
Loyalty program
View of best-selling products or new arrivals
Personalization
Social media links
Live chat
and more
Are you toying with the idea of launching an e-commerce business? Need advice on how to launch a B2B or B2C marketplace? Need a technology partner to help you build your marketplace? Reach out to Navabrind IT Solutions.
We are an e-commerce technology partner with over a decade of experience. We have 100+ software engineers specializing in e-commerce technologies and work with every bleeding-edge e-commerce platform. We have experience across industries and consult, develop, customize, deploy, and maintain solutions for customers across the US, Europe, and Asia.
We have built B2B or B2C marketplaces from scratch and will be happy to start a conversation with you. Request a demo!
A Complete Guide To Magento Integration With Citrus Payment Gateway: What You Need To Know In 2023! September 1, 2023 Posted by: tony Categories: Magento, Payment Gateway No Comments In the digital modernization era, going cashless and diving into online payments is the need of the hour. For the payments to happen online, an online

Amazon Seller Central Account Integration with Odoo is Proven to Grow Business! August 25, 2023 Posted by: tony Categories: ERP Implementation, Odoo No Comments How important is selling on Amazon in the digital modernization era? Have you always had a penchant for keeping your business under the spotlight? Do you wish to expose your business

Odoo vs Zoho: Which Is The Better Software For Your Business? August 18, 2023 Posted by: saranyababy Category: Odoo No Comments Finding the best software to amplify your sales or spearhead business workflow is challenging! Given that there are so many choices one is spoilt for in the market currently, from CRMs to Accounting, to