Why is Product Information Important in eCommerce?
January 19, 2023
Posted by:

tony

Categories:

E-Commerce Development, PIMCore Services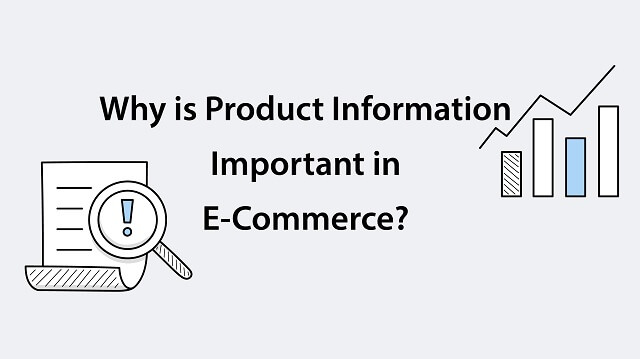 Most e-commerce companies deal with hundreds if not thousands of stock-keeping units (SKUs) and product varieties.
Ensuring this inventory is bought by the consumer as fast as possible and at the best rate possible is the existential objective of a company, including an e-commerce one.
But before a potential customer buys a product they need to know about its many features and compare it with similar products by way of size, color, weight, durability, cost, safety, and materials used.
They would also want to learn about the product's unique qualities and a whole set of other factors.
A customer would need to see the product in several variants and may then decide to buy or not.
When an enterprise deals with hundreds of different products, how can it communicate information about these effectively to consumers all over the world? Thus the importance of product information is tremendous.
What is Product Information?
Product information is the data a company maintains on each of its hundreds of unique products.
Besides a detailed text description, product information includes a complex mix of images, and videos.
This information is often seen published externally as a product detail page (PDP). This page is crucial for a customer to make a buying decision and for a company to ensure a sale, and that is why product information needs to be accurate, comprehensive, and easy to read.
A PDP is scientifically designed keeping in mind the method a customer consumes information. Using words that instill confidence, product benefits, key features, and customer reviews.
Every product being sold on the website requires a unique, interesting PDP.
And yet it is important to remember that creating product information is not a one-time activity.
New features get added to products, new products get added to the company's inventory, and old products are removed.
This means, maintaining, clearing, and adding new product information is a continuous often tedious task.
Importance of Product Information
One can hardly underscore the importance of product information when you have warehouses full of goods and competitors by the dozen. High-quality and accurate product information is vital to the following teams,
Sales — as it checks stock levels and then pitches crucial bulk orders to potential customers.
Marketing — as it accesses product information to create marketing collaterals, ads, articles, social media posts, and other pieces of content that are disseminated across first-party and third-party channels.
Distributors and resellers — who often work to targets, strive hard to maintain market share, and need to access accurate product information on the fly.
Consumers — who are deciding whether to buy your product or the one from the competitor. They need product information that urges them towards the buy button.
With several teams having to access product information and hundreds of different products for sale, imagine maintaining all of it on excel sheets, word documents, ppts files, and pdfs.
Automating the management of product information has led millions of e-commerce enterprises big, medium, and small to adopt a product information management system or PIM.
Product Information Management in E-Commerce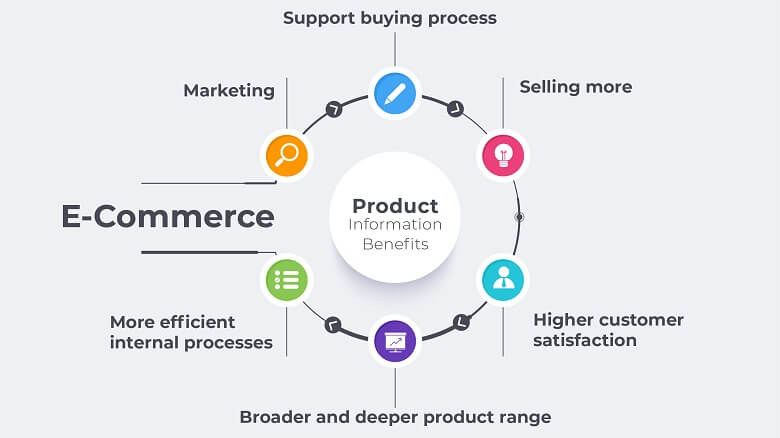 A PIM is a single repository to store all product information with accuracy and enables the creation of a product catalog with ease. A PIM also ensures that teams within and outside the company have access to a single source of product information, 24/7.
In an e-commerce scenario, your product information needs to be high-quality for two reasons.
The first is to inform and convince your customers from every part of the world to review your product information.
The second is to support your teams working round the clock and across geographies to sell more of your products.
From a customer perspective, product information needs to
Include the product name, title, and technical specifications, such as the size and dimension of the product, information about the materials used, ingredients, product warranty, and information on the various parts used in assembling the product.
Be in the local language and contextualized to the local scenarios so that the information goes further and results in a sale.
From a sales, marketing, and distribution perspective, product information needs to
Simplify the search, organization, and storage of product-related data by storing product information by category, labels, and variants.
Enable sales, marketing, customer support, and distributors to access photos, audio and video files, word documents, brochures, and other content when it is time to advertise and market your merchandise.
Enable the creation of customer profiles, SEO components, and keywords to be used in a marketing campaign.
Be organized by channels, to track the number of items made accessible on a given online channel, their price, description, discounts provided, etc.
Maintain sales data, including pricing, client references, reviews, and evaluations.
Include information on distributors and suppliers, such as their credentials and other details.
You can also read this blog post, "Benefits of PIM for the Manufacturing Industry" >>
In an e-commerce environment, it is not just about getting visibility for your inventory but also coordinating the accurate display of information on hundreds of websites sites, online marketplaces, and social media channels. Managing all this information manually is close to impossible and an expensive endeavor.
Ads on content syndication and third-party channels cost the company. Ads are often displayed in local languages and with seasonal or festival-related offers, and every enterprise needs to track ad performance.
Additionally, multiple teams tap into the same data source for product information and use it to create hundreds of different collaterals.
Nothing can work better than a comprehensive PIM that ensures end-to-end storage of product information and automation in dissemination.
Automate the export of your product information in the format required by the sales channel
Create and disseminate content that meets the channels compliance needs
Track the performance of ads across channels
Monitor ads that are performing well and optimize their use on other channels
Deliver an omnichannel experience as your customers see the same ad, language, and branding across channels
Simplify the updating and information addition into the PIM, as your data team works with just one repository
While the advantages of the eCommerce PIM software are many, there are opportunities to extract more value from it, for instance, by integrating the PIM with your front-end application such as Magento, Shopify, BigCommerce, or another system.
You can also integrate your PIM at the back end with an Odoo, Oracle NetSuite, MS Dynamics, or any other ERP.
This ensures seamless data flow across systems so that any number of people access accurate product information, greater automation, work faster, and gain deeper insights.
End-to-end automation of your product information has a direct and positive impact on sales, customer loyalty, and revenue.
Adopt an E-Commerce PIM Software with Navabrind IT Solutions
Once your e-commerce organization has decided to become 'product information-centric, the next step is to adopt the right product information management system. This involves mapping your current and future needs and finding a solution that can lockstep with your growth trajectory.
Navabrind IT Solutions is a technology partner with over a decade of expertise. It is our mission to deliver future-ready solutions so that our customers can extract maximum return on investment for years ahead.
With exposure to implementing e-commerce technology solutions in industries such as Retail, Logistics, Engineering, Hospitality, Fashion, and a host of others, we bring best practices and stringent processes to every project that we do. We also offer our customers a host of flexible service models.
Leverage the expertise of over 100 software engineers, our presence in India, the UK, and the US, and our ability to rigidly stay within time and budget.
Schedule a conversation with us now!
13 Tips and Strategies that Can Double Your Conversion Rate May 29, 2023 Posted by: tony Category: E-Commerce Development No Comments In the highly competitive world of ecommerce, driving traffic to your website is only half the battle. Converting that traffic into paying customers is the ultimate goal.  Whether you're a small online store or

Why you Need the Odoo Secondary Sales Management May 22, 2023 Posted by: tony Category: Odoo No Comments Efficiently managing secondary sales is crucial for businesses looking to maximize their revenue and stay competitive in the market. To streamline this complex process, businesses can leverage powerful software solutions like Odoo. Odoo, an all-in-one enterprise resource

Key Benefits of Integrating PIM with Your Odoo ERP May 15, 2023 Posted by: tony Categories: ERP Implementation, Odoo No Comments In today's highly competitive business world, organizations must be efficient and effective to stay ahead of their competition. One way to achieve this is by integrating different business management solutions.  In this article, we