How CPQ will Increase Business Opportunities for eCommerce Industry
November 28, 2022
Posted by:

tony

Categories:

Blog, CPQ, E-Commerce Development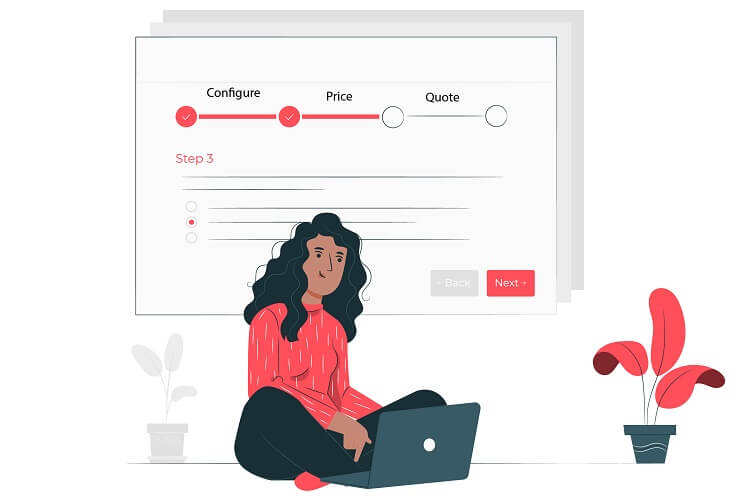 The e-commerce industry is burgeoning. Businesses and retail consumers are increasingly reviewing products, requesting quotes, and buying online for convenience and speed.
Your business needs to be prepared to capitalize on this e-commerce opportunity and respond to potential buyers quickly and accurately. Not only does a CPQ (configure, price, quote) solution significantly automate the quotation process, but simplifies the generation of quotations, hastens negotiations and follow-ups, and results in faster closure. So how does one begin to harness this powerful tool and choose the right CPQ solution for one's business?
Choosing the right CPQ solution is similar to adopting any other solution
To begin with, you need to ensure the CPQ solution,
Has all the features that your e-commerce business needs
Is intuitive, smart, mobile-friendly, and user-friendly
Facilitates communication and collaboration internally and externally
Is easy to maintain and update, and can access to technical support as and when you need
Can be integrated with your other business applications
Is affordable to maintain
Once you evaluate multiple solutions and zero in on a brand, you need to determine the level of customization required through multiple demos and ensure you are comfortable with the company you are partnering with.
Build your own CPQ solution
While CPQ solutions can be integrated with your e-commerce ERP, several e-commerce companies it preferable to build their CPQ solution. They find the processes of integrating, customization, and maintaining these integrations expensive and cumbersome.
We from Navabrind IT Solutions can help you build a highly customized CPQ solution that is hardwired into your Odoo ERP.
With over a decade of experience building e-commerce solutions, we have processes that enable us to develop customized applications that are secure and within time and budget. We spend time carefully mapping your business needs through conversations and gap analysis and build a solution that seamlessly integrates with your Odoo ERP. This means you have zero integration issues unlike those experienced from integrating with a third-party solution. No repeated upgrades and reintegration every time a new version of the software is released.
As your technology partner, we help you maintain your CPQ solution, adding features in line with your changing business needs and enabling you to generate the reports you need.
By integrating your CPQ with your Odoo ERP, you allow data flow between systems, avoid manual and double entries, and access insights faster.
Why Navabrind IT Solutions can deliver a CPQ Solution
Over a decade of experience offering world-class e-commerce solutions.
Certified Odoo partner.
We have delivered solutions to clients across the US, Europe, Asia, and Southeast Asia.
We have delivered e-commerce solutions to clients from retail, hospitality, logistics, manufacturing, and other industries.
We have a team of over 100 software developers with expertise in e-commerce software and development centers in India and the UK.
Planogram In Odoo Will Revolutionize Your Retail Business December 7, 2023 Posted by: tony Categories: Blog, Odoo No Comments It is the era of going digital for almost everything, and you thought the online ecosystem would be crawling behind? The arrangement of products in a store, especially in the retail store, demands a makeover in

Bringing Two Of The World's Most Popular eCommerce Together: Magento eBay Integration! November 9, 2023 Posted by: tony Categories: Blog, Magento No Comments Navabrind's expertise will build a brand experience like no other with unique integrations Out of all the online marketplaces in the world, one that supersedes visibility and shopping is eBay. Not many

Why PIM Is The Future Of Retail Unlocking Its Benefits November 6, 2023 Posted by: saranyababy Category: Uncategorized No Comments PIM centralizes all product data into one single location. With the huge number of SKUs and massive inventory, it is significant to optimize the product information to reach an audience 10X faster. What optimizes and