Odoo vs Zoho: Which Is The Better Software For Your Business?
August 18, 2023
Posted by:

tony

Category:

Odoo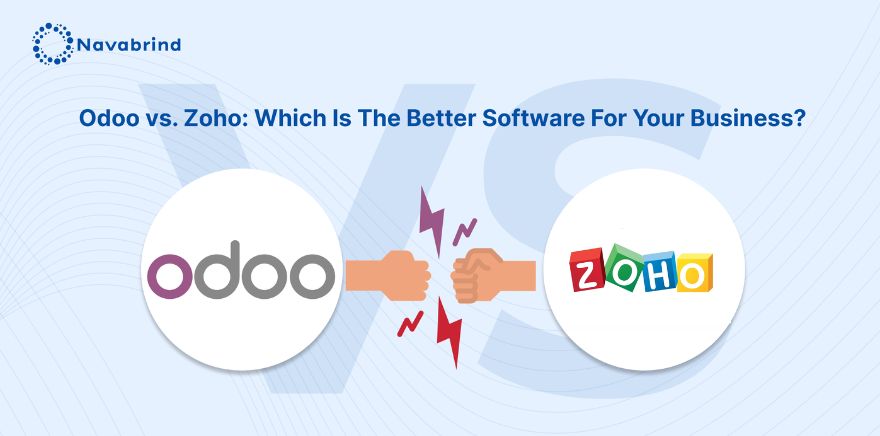 Finding the best software to amplify your sales or spearhead business workflow is challenging! Given that there are so many choices one is spoilt for in the market currently, from CRMs to Accounting, to Finance, Personalization, PIMs, and so many more, choosing a comprehensive software, end-to-end technology that covers all this is daunting! 
The big question is: Which one is the best of them all? Narrowing down to choices will depend on what exactly your business needs are, and the strategic approaches you want to implement to see a makeover. It all depends on the business, its requirements, the tech stack, the audience it wants to target, and ultimately the goal; growth and leveraging profits. Your organization needs more than just a business application suite to facilitate these and deliver. What can solve your problem? 
Let us walk you through two software Odoo and Zoho, that are preferred choices by business owners today. Both offer their uniqueness to businesses. While they may be both premium and most implemented, there is always one that has an added advantage. Isn't it? Find out which of the two would be your top choice of software by the end of the read. It's Odoo vs. Zoho
Trust this power-packed business tool that can cover all functions, integrate with other tools, skyrocket your sales, and pack a punch with so many apps and features. Odoo is that magic software that opens doors to unlimited possibilities and elevates your business position. Why do we feel Odoo is the game-changer your business needs TODAY?
… Because Odoo is not limited to being only one functionality. It is a complete ERP or Enterprise Resource Planning system with empowered modules encompassing within it. 
What are the various business modules within Odoo ERP?
Manufacturing

Human Resources

Project Management

Sales Management

Email Marketing

CRM 

Financial Management

Warehouse Management

Productivity Tools
And that's not it, Odoo Enterprise is an open-source platform which means it offers customization opportunities. Now, which business wouldn't want customization from its software? With Odoo, it is possible to customize features, making it a flexible and scalable state-of-the-art business tool.
What's more, integrations with Odoo is another benefit for businesses. It can be integrated with so many other software, making it a personalized tool when integrated. What distinguishes this tool from others in the market is that business merchants can pick and choose apps from it, customize it, and as they scale, it can be altered.  Its modular architecture is what makes it gain a competitive edge over its competitors. 
Another crowning stroke – A strong community of developers that work on its reforming, to make it relevant to present-day innovation, gives it a brownie point over others. New innovative concepts, advanced features for the future, and reinventing the software have always been its middle name.
If you are a business owner who likes the personalized touch, then Odoo will soon become your favorite hub of tools. Marketing with Odoo ERP is something we vouch for and you shouldn't miss out on this one! As we stated above, Odoo's CRM is part of its complete ERP system and with such a personalized CRM, email marketing is a real gem. Sending email copies to mass numbers of leads is a potential found right here. Most CRMs do not provide such a flexible option, but Odoo makes it doable. And with marketing comes audience segmentation, tailored approaches, and customized strategies.

There are advanced features in Odoo that facilitate improved usability when compared to other solutions.

Mobile APP                  

Multi-Language                 

API                                       

Apps Store                         

Full Web Interface
Odoo also facilities mobile integration seamlessly. In the day and age of mobile usability, having integrated commerce on a mobile device is elevating business engagement and reaching them faster. One big advantage of Odoo ERP is the integration tool that provides a unified data platform.
Zoho is an all-in-one business application suite that can be used effectively across all touchpoints of your organization. Zoho has various software ranging from CRM to project management, sales, inventory management, marketing, and more. Its CRM is often rated one of the best and a massive number of industries trust Zoho for being a complete business suite. 
With over 400+ integrations and extensions, Zoho offers a huge range of third-party integrations too.
Whether your business is looking at generating leads from multiple sources or managing and distributing them to the relevant sales team, Zoho's suite makes this a breeze.
With 30 apps in its suite to manage your business, this is a revered software that you can place your bet on!
But much to people's dismay, Zoho cannot be used for sophisticated operations. Its CRM sadly lacks support, and it cannot meet all business requirements to help organizations run their businesses.
Zoho's impeccable suite comes with everything you need for a thriving business. They also have a product suite for crafting mobile apps
You can also read this blog post, "Odoo ERP vs SAP Business One ERP: Which is best?"
Odoo Vs Zoho Feature Comparison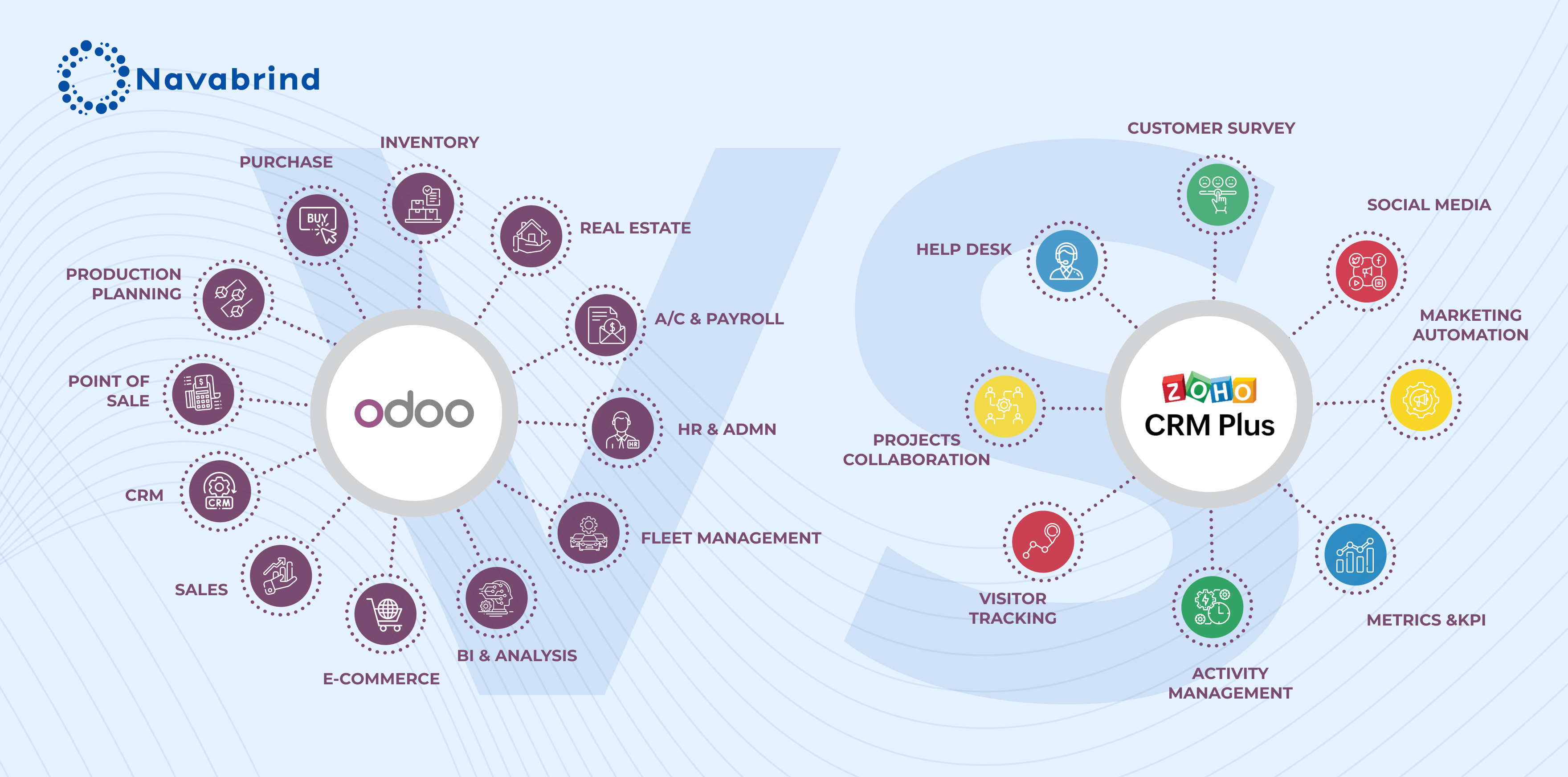 The two most crucial features any business capitalizes on to scale further, are SALES and CRM.
They probably are in a league of their own to be the deciding factors of an empowered business. 
Let us look at these two areas in Odoo and Zoho:
Odoo CRM is an enhanced version when compared to Zoho CRM. It provides lead scoring, sales quotes, lead management, and de-duplication. Zoho does not provide lead scoring and sales quote features.

Email integration is common to both tools but Odoo is comparatively a little ahead here as well. Odoo is the better one, as it has contact forms, mass mailing (as we told you above), and a website call to action too.

Sales pipeline management is exclusive to Odoo. It supports opportunity management, pipeline management, expected closing dates, log calls, scripts, and automated next actions. Does Zoho deliver this? NO.

Since these features are what places Odoo above Zoho, CRM is a powerful module of Odoo and it is only going to get robust in the near future.
Sales management and sales order is another remarkable capability of Odoo. With an advanced tool, sales become easier to accomplish and the whole process leading to it is flexible.

Some of Odoo's features are sales quotation, price listing, online payment, eSignature, inline negotiation, and multiple units of measure. Zoho on the other hand supports only quotations and inline negotiations.
SALES MANAGEMENT VERDICT = Odoo manages your sales better!
Did you know? World's top clients like Toyota, Hyundai, World Wide Fund, Santafixie, Sock Club, Scarpetta Shoes, and more… boast of Odoo as their ERP solution? Also, 1,700+ active users worldwide can't go wrong when they swear by this magnum opus of business software!
Interesting Facts On Odoo:
Odoo is not just a business suite. It manages every business function and not only a few operations

A booming community with Email, Live Support, Phone, Tickets & Training

Mind-boggling current 47.7K followers on Twitter
Final Thoughts – Why is Odoo The Best Business Tool?
Odoo IS NOT JUST A BUSINESS SUITE! Let's start with that. It is a full-blown ERP – Enterprise Resource Planning system that integrates beautifully with many other business functionalities that are needed to upscale your business. It is an all-in-one package with advanced apps and tools that enables progressive operations and markets products successfully. 
Odoo is also ahead of Zoho for the customization capabilities it delivers! Businesses can adapt to new apps from Odoo as they scale up. Best for mid-size management businesses, Odoo ERP is the way forward for modern-day businesses that are looking for premium software to boost sales and make a market mark!

And Odoo being Open Source, gets elevated in its features with new advancements making it future-proof! And this makes it an upgraded and latest choice for businesses, to make use of the innovative features, so it tackles all new rising challenges with cutting-edge architecture! Odoo has set the benchmark and is a business favorite for a very long time, and it isn't stopping any time soon….!
Navabrind is your go-to marketplace for Odoo implementation. With a decade of expertise that we pride ourselves on, we are the finishers of the race. Right from project analysis, ideation, customization, implementation, support, and delivery, we are passionate about projects from its start to finish. Not the usual software service providers in the market, our subject matter expertise has differentiated us from the rest. Our clients and the success stories we have created with them along the way, speak highly of our services that have raised their bar and provided them with growth and leveraged sales. Choose Us To Choose Success!
A Complete Guide To Magento Integration With Citrus Payment Gateway: What You Need To Know In 2023! September 1, 2023 Posted by: tony Categories: Magento, Payment Gateway No Comments In the digital modernization era, going cashless and diving into online payments is the need of the hour. For the payments to happen online, an online

Amazon Seller Central Account Integration with Odoo is Proven to Grow Business! August 25, 2023 Posted by: tony Categories: ERP Implementation, Odoo No Comments How important is selling on Amazon in the digital modernization era? Have you always had a penchant for keeping your business under the spotlight? Do you wish to expose your business

Odoo vs Zoho: Which Is The Better Software For Your Business? August 18, 2023 Posted by: saranyababy Category: Odoo No Comments Finding the best software to amplify your sales or spearhead business workflow is challenging! Given that there are so many choices one is spoilt for in the market currently, from CRMs to Accounting, to