Odoo Warehouse Management offers businesses an opportunity to
Optimize stock levels
Better manage physical space
Track orders and deliveries
Manage many warehouses with equal efficiency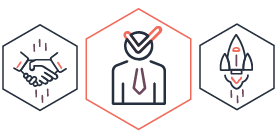 Key Features of Odoo Warehouse Management

Draft delivery orders easily and efficiently manage incoming shipment details and cycle counts (inventory counts).
Track stock movement in the warehouse and everywhere your stock goes.
Create custom barcodes to implement features like promotions.
Control processing time by automating inventory transactions.

Maintain purchase order propositions based on inventory forecasts and supplier leads.
Organize your warehouse with a smart double entry inventory system.
Easily track the expiration date of products.
Access the automatic replenishment feature.
Propose extra options, apply closing triggers, discounts, and more.
Communicate easily by designing email templates for onboarding etc.

Browse through the upstream or downstream traceability flows to get a clear view of what happened to a specific product or shipment.
Design custom dashboards to analyze the warehouse at a glance.
Convert quotations into sales orders in a click or let customers do so with an electronic signature.
Invoice customers based on time and materials, easily record contracts and track invoicing phases, renewal and upselling, and manage subscriptions with recurring contracts.
Navabrind IT Solutions Capability
Navabrind marketplace lets you discover, test, buy, and deploy tailored solution for you business need.
Learn more about Navabrind Marketplace
We're here to help you get started with Navabrind Marketplace.
Get in touch with a solutions consultant that can share best practices and help solve specific challenges.
Navabrind allows you to share ideas, answer questions, and learn about new services and best practices.
Check out the Success Stories of Navabrind, provided by the team of experts. Want to know more?