Inventory management is crucial for managing a profitable business. Odoo Warehouse module centralizes crucial tasks such as maintaining healthy stock levels automatically and location-allocation in multiple warehouse sites along with real-time inventory management, automated purchase management, routing and tracking of shipments, order management from multiple PoS, etc. The advantage of Odoo for multi-warehouse is that it makes the management and tracking of stock easy and accurate. It also improves the efficiency and productivity of a business. Using Odoo, you can manage the stock of a small or large business.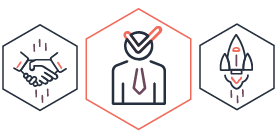 Key Features of Odoo Warehouse Management-Logistics & Supply Chain

Create multiple warehouses and conduct smooth inter-warehouse transfers.

With multiple warehouses, you can select any of the warehouses for re-supply.

Configure and create multiple locations under one warehouse. All the products pass through locations.
Navabrind IT Solutions Capability
Navabrind marketplace lets you discover, test, buy, and deploy tailored solution for you business need.
Learn more about Navabrind Marketplace
We're here to help you get started with Navabrind Marketplace.
Get in touch with a solutions consultant that can share best practices and help solve specific challenges.
Navabrind allows you to share ideas, answer questions, and learn about new services and best practices.
Check out the Success Stories of Navabrind, provided by the team of experts. Want to know more?