Odoo Retail is compatible with Odoo E-commerce. After integrating Odoo Retail and E-commerce modules, users do not need to set up separate stocks for the two apps. The integration also lets the business sell via their website and store, and run a truly multi-channel business with ease. Odoo Retail and E-commerce can also be integrated with Odoo Inventory for real-time stock updates.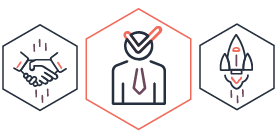 Key Features of Odoo-Retail E-Commerce Integration

With an integrated e-commerce platform, inventory and sales users can easily adjust stock.

A dedicated customer portal keeps customer data organized with order tracking and claims, allowing customers to download invoices and delivery orders and view pending shipments from a single location.

Businesses can boost sales with cross-selling and upselling opportunities on product pages, in the cart, or at checkout.

Automatically recommend product accessories or suggest products and alternatives, and provide increased exposure to all the items in stock.
Navabrind IT Solutions Capability
Navabrind marketplace lets you discover, test, buy, and deploy tailored solution for you business need.
Learn more about Navabrind Marketplace
We're here to help you get started with Navabrind Marketplace.
Get in touch with a solutions consultant that can share best practices and help solve specific challenges.
Navabrind allows you to share ideas, answer questions, and learn about new services and best practices.
Check out the Success Stories of Navabrind, provided by the team of experts. Want to know more?