Track production across any number of products and processes with the Odoo Manufacturing module.
Create manufacturing orders and pass them to different stages in the production line.
Customize manufacturing procedures using WorkCentre and other routing concepts.
Easily manage 'Scraps' during any stage of the manufacturing process.
'Unbuild' a manufactured product if needed.
Assign different level users to oversee the manufacturing process.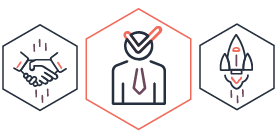 Key Features of Odoo MRP Implementation

Access business information with a single click. Enable management to monitor key manufacturing functions in real-time, such as,
Manufacturing orders (MO)
Work orders, repair orders, unbilled orders
Edit MOs
Barcode

Automate scheduling with master product schedule, minimum stock rules, and make-to-order options.
Manage planning with Gantt Chart, ListView, Calendar View, Pivotal View, and Graph View.
Leverage master product schedule for forecasting orders and view by day/ week/month.
Plan manufacturing with minimum stock from the forecasted stock and replenish the product.
Define Flexible Master Data

Set a bill of materials within another to manufacture components of a product in another Bill of Materials.
Create a new routine for work orders depending on the routing used.
Allow your products to evolve and add configurable options when creating orders.
Create phantom BoM to manufacture and sell products in kits or to build replacement parts.

Get a clear view of your plan and manufacturing to reschedule.
Access available resources and plan work orders.
Manage bill of materials, track items in stock and production time.
Use the MRP scheduler to schedule your work at each work centre, based on their OEE and capacity.

Maintain data on quality control.
View quality check details for products and review status.
Organize your work using the Kanban view of quality alerts.
Set priorities and write alert notes in the description.
Product Life Cycle Management

Track changes with the Kanban process for Engineering Change Orders (ECO)s.
Easily access differences between versions to track changes.
Track versions of products and ECOs as well as their respective documents. Merge different ECOs corresponding to the same BoM.
Store plans and worksheets directly on bills of materials and routings.

Trigger maintenance requests automatically based on KPIs.
Trigger corrective maintenance directly from the control centre panel.
Schedule maintenance operations with a calendar.

Set tablets at every work centre to organize work efficiently.
Record and register productions, scan products, or serial numbers.
Display worksheets directly on the WorkCentre with instructions for the operator.
Scrap products, create quality alerts and perform checks right from the WorkCentre.

Get a full upstream traceability report on the components used during manufacturing.
Track the cost of manufacturing orders based on the cost of components and the cost of operations.
Analyze work centres loads, productivity losses and track overall equipment effectiveness (OEE).
Navabrind IT Solutions Capability
Navabrind marketplace lets you discover, test, buy, and deploy tailored solution for you business need.
Learn more about Navabrind Marketplace
We're here to help you get started with Navabrind Marketplace.
Get in touch with a solutions consultant that can share best practices and help solve specific challenges.
Navabrind allows you to share ideas, answer questions, and learn about new services and best practices.
Check out the Success Stories of Navabrind, provided by the team of experts. Want to know more?