The tremendous benefit of Odoo is that it is not only an open-source ERP that is amenable to customization, but is highly modular as well. Users can choose which modules to adopt and when to integrate them into the rest of the ERP. For manufacturers, Odoo E-Commerce can be easily integrated with the Odoo Manufacturing module. The benefit is that the manufacturer can now plan production and make it specific to the orders and product variants requested by the customer.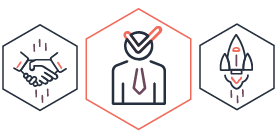 Key Features of Odoo Manufacturing Commerce

It is easy to integrate between two Odoo modules and an integration between Manufacturing and E-commerce allows the company to benefit from maximum automation.

Information seamlessly updates from the e-commerce module to the manufacturing module with no human intervention and errors.

Other departments that may also be using Odoo modules, such as HR, inventory, shipping, and accounting will also be able to view this data and plan accordingly.

The order from the e-commerce module can automatically create a manufacturing order and move through the system.

Customers can even track the progress of their orders from the customer portal.
Navabrind IT Solutions Capability
Navabrind marketplace lets you discover, test, buy, and deploy tailored solution for you business need.
Learn more about Navabrind Marketplace
We're here to help you get started with Navabrind Marketplace.
Get in touch with a solutions consultant that can share best practices and help solve specific challenges.
Navabrind allows you to share ideas, answer questions, and learn about new services and best practices.
Check out the Success Stories of Navabrind, provided by the team of experts. Want to know more?