Process costing and work orders in Odoo Manufacturing. Define labor costs, overhead cost from work centers, and material costs when the MO and the work order is completed. Odoo Manufacturing Accounting calculates both estimated costs and real costs. Estimated costs are calculated on he Bill of Material. Real costs are calculated on Manufacturing Orders based on real-time consumption and actual quantity consumed during the production of the order. The production manager can see the difference between estimated costs and real costs, and improve productivity.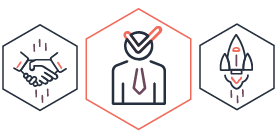 Key Features of Odoo Manufacturing Accounting

Add material, labour, and overhead cost.
Generate accounting entry.
Set product category configurations with product's inventory valuation as "Automated" and select "Account Stock Properties".

Create a bill of material.
Create manufacturing orders and add "Direct Material Cost", "Direct Labor Cost", "Manufacturing Overhead Cost".

See "Total Actual Material Cost" and "Total Actual Cost" of manufacturing order under the "Costing" tab.
Users can see the created stock journal entry for completed manufacturing orders.
Navabrind IT Solutions Capability
Navabrind marketplace lets you discover, test, buy, and deploy tailored solution for you business need.
Learn more about Navabrind Marketplace
We're here to help you get started with Navabrind Marketplace.
Get in touch with a solutions consultant that can share best practices and help solve specific challenges.
Navabrind allows you to share ideas, answer questions, and learn about new services and best practices.
Check out the Success Stories of Navabrind, provided by the team of experts. Want to know more?