Odoo Accounting is a large and complex module. It is also a key module for the success of any business. Ensuring it is correctly installed and serving the needs of your business is crucial. A consultant can help you identify and map all of your accounting needs, point out features that are already existing in the module, and advise on areas of customization. A consultant can work closely with your technology partner to ensure Odoo is implemented seamlessly. A consultant also takes into consideration your growth plans and ensures your Odoo Accounting module scales as your business grows.
What can and Odoo ERP Accounting Consultant do for you?
Business Requirement Analysis – Identify and gather business requirements.
Customized Mapping – For requirements and software solutions.
Business Requirement Document – Create a document for issues and update process flows.
Quality Assurance Review and evaluate the technical design and technical quality issues.
Program Modification Execute program modifications and customizations.
Hassle-free Integration Reduce the risk while implementing Odoo.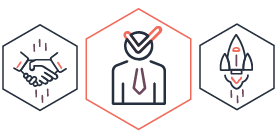 Key Features of Odoo ERP Accounting Consulting

Advance payment terms: Supports multiple payments for one invoice, cash discounts, advance invoices, and partial reconciliations.
Draft invoice propositions: Create automatically, based on sales orders, timesheets, and delivery orders.
Easy payment reconciliation: So that outstanding payments are reconciled.

Control supplier bills: Compare the information appearing on the Purchase Order, Vendor Bill, and Receipt to ensure you pay the correct bill.
Employee expenses: Track employee expenses from recording to validation and reimbursement.
Forecast expenses: Get a quick forecast of bills to be paid in the future.

Get updates automatically from the bank.
Track cash transactions with opening and closing.
If your bank is not supported, use OFX, QIF, CSV, or Coda files to import statements.

Fiscal positions (tax and account mapping)
EU intra-community distance selling
Manage withholding taxes
Manage prices for B2B (tax excluded) and B2C (tax included)
Manage cash basis taxes
VIES VAT numbers validation

Track costs of human resources with timesheets
Track costs of purchases, expenses, subcontracting

Manage invoices and payments in multiple currencies
Record exchange rates at payment

Fiscal localization packages
List of supported countries

Odoo supports Authorize.net, Ingenico, Paypal, Adyen, and other payment gateways.
Navigate easily through documents to understand every customer use case.
Enable customers to scan a QR code with their banking app and make a payment.

Track deposit tickets to ease the bank reconciliation process.
Automate payments to suppliers with SEPA and notification from Odoo to pay at the exact date.
Support payment flow with optional validation.

Smart reconciliation: Odoo matches 95% of invoices & payments automatically, and the matching tool does the balance 5% super fast.
Easy outstanding payments: Get partial and full reconciliation of accounts directly from the invoice or the bank statement.
Reconciliation Report: Audit differences between accounts and bank statements.

Multi-currency support: Get currency rate updated every day.
Multi companies: Get subsidiaries integrated into the same system.
Multiple users: Define as many users as you need with user-specific access.
Multi Journals: Organize documents into several journals.

Business Intelligence reports: Use Odoo pivot table to navigate through information, consolidations, drill-up/down, group data, filters, etc.
Customized dashboards: Generate reports for any period, and compare periods. Get dynamic calculation of fields such as YTD earning.

Navigate the information from the Profit & Loss report.
Access cash flow statement in real-time.
Access a wide range of tax computations such as price included/excluded, percentage, grid, tax on taxes, partial exemptions.
Consolidate journal reports for month-on-month updates.

Structure your accounts based on projects, contracts, departments, etc.
Distribute one accounting entry into multiple analytic accounts by using analytic tags and flexible distribution.
Get reports on your accounts with hierarchy and subtotals.

Automatic invoicing: Manage subscription and recurring revenue easily with contracts.
Renewal alerts: Send sales personnel automated alerts when contracts need to be renewed.
Customer portal: Enable customers to change their plans, order upgrades, or downgrades/unsubscribe through the customer portal.

Asset management: Track assets, depreciation boards, and generate amortization entries automatically.
Revenue recognition: Manage multi-year contracts, automate deferred revenue entries, and view updates on your recurring revenues.
Revenue dashboard: Get SaaS metrics on a single dashboard, such as MRR, churn, CAC, CAC ratio, growth forecasts, ARR, CLT, and CLTV.

Connect third-party applications with the Odoo web service API. It supports all languages, such as python, PHP, java, c#, ruby, etc.
Integrate Google spreadsheet with Odoo SaaS to create dashboards in spreadsheets
Navabrind IT Solutions Capability
Navabrind marketplace lets you discover, test, buy, and deploy tailored solution for you business need.
Learn more about Navabrind Marketplace
We're here to help you get started with Navabrind Marketplace.
Get in touch with a solutions consultant that can share best practices and help solve specific challenges.
Navabrind allows you to share ideas, answer questions, and learn about new services and best practices.
Check out the Success Stories of Navabrind, provided by the team of experts. Want to know more?