An Odoo-e-commerce integration is a great way to keep your website light while enhancing the core functionalities of both Odoo and e-commerce. With a robust integration, businesses can manage their orders, inventory, shipment, payments, and customers efficiently.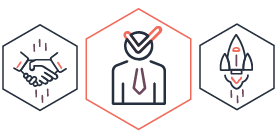 Key Features of Odoo E-Commerce Setup

Launch and manage multiple e-commerce stores with unique designs, price lists, currency, and language, when the load is being borne by Odoo at the backend.
Create different variants of a product like size, colour, shape, and other attributes.
Create product pages using Odoo's 'edit inline' approach.

Create product pages by dragging and dropping fully customizable building groups. Products can be described in a table to showcase maximum specifications.
Build appealing custom web forms and capture visitors' information easily.
Define product categories, focus on promotions, coupons, and push the best products at the top of the page to enhance sales.

Search, mail, and launch marketing automation on abandoned carts to convert them into orders.
Provide visitors with information in real-time with live chat.
Make product searches easier by setting different attributes on products like colour, size, and shape.

Enable customers to track their orders, check advanced shipping rules, and view return management policy through the customer portal.
Speed up the shipment process and track orders from Odoo by using FedEx, UPS, and DHL shipping connectors.
Accept payments through payment gateways like Paypal and Authorize.net.

Get delivery costs computed automatically using Odoo's embedded delivery method configurator.
Use Odoo's custom package template to map accounts. It embeds a set of generic preset accounts and taxes.
Highlight your most popular products based on the quantity sold. Managers can display a graph with monthly sales per product and add it to the dashboard.
Navabrind IT Solutions Capability
Navabrind marketplace lets you discover, test, buy, and deploy tailored solution for you business need.
Learn more about Navabrind Marketplace
We're here to help you get started with Navabrind Marketplace.
Get in touch with a solutions consultant that can share best practices and help solve specific challenges.
Navabrind allows you to share ideas, answer questions, and learn about new services and best practices.
Check out the Success Stories of Navabrind, provided by the team of experts. Want to know more?