In every new version of their software, Odoo improves the speed of the front-end and back-end, fixes bugs, and adds functionalities. To capitalize on the benefits one must migrate to the newer version of Odoo. This also means migrating data from the older version of Odoo to a newer one. A challenge of data migration is that of keeping the data correct data and accessible even after updating to the new version.
Data migration is a highly specialized task and the success of a new Odoo implementation depends on the successful migration of data. Navabrind IT Solutions understands the complexity of this process and guided clients across a host of industries to successful implementation.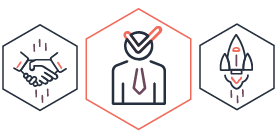 Key Features of Odoo Data Migration

Analyzing the new system, changes, and features.
Making the customizations desired.

Preparing the database to ensure it is in the format required by the new version. The upgrade process can differ based on the hosting solution being used.

Executing and ensuring content is in line with company requirements.
Navabrind IT Solutions Capability
Navabrind marketplace lets you discover, test, buy, and deploy tailored solution for you business need.
Learn more about Navabrind Marketplace
We're here to help you get started with Navabrind Marketplace.
Get in touch with a solutions consultant that can share best practices and help solve specific challenges.
Navabrind allows you to share ideas, answer questions, and learn about new services and best practices.
Check out the Success Stories of Navabrind, provided by the team of experts. Want to know more?