Before starting production, the manufacturing department will require a configuration for the product, through a Bill of Material (BOM). In it users are required to define the raw materials which will be utilized in the production, components in the product, workstations, units to be manufactured, etc.
Sometimes a product requires multiple BOMs since it can be manufactured in different ways. Similarly, different BOM are required to create different product variants.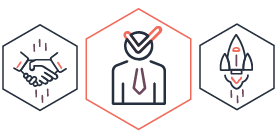 Key Features of Odoo Custom BOM

Operations and workstations can be directly added in the BOM.

The consumption of components make it flexible by adding additional options.

Access forecast reports for the components inside the BOM.

Link multiple BOMs to each product and use it to describe multiple variants of the product. Each BOM will, yet, be associated with one product only.
Navabrind IT Solutions Capability
Navabrind marketplace lets you discover, test, buy, and deploy tailored solution for you business need.
Learn more about Navabrind Marketplace
We're here to help you get started with Navabrind Marketplace.
Get in touch with a solutions consultant that can share best practices and help solve specific challenges.
Navabrind allows you to share ideas, answer questions, and learn about new services and best practices.
Check out the Success Stories of Navabrind, provided by the team of experts. Want to know more?