Odoo Accounting is a critical module that can connect to various other modules. The big advantage is that Odoo Accounting can manage departments across the enterprise and give real-time insights into the finances of the organization.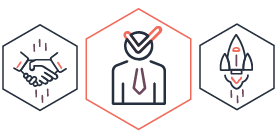 Key Features of Odoo Accounting Integration
Online Expense Management

Save time generating expense reports.
Upload all receipts directly into the expense record.
Manage expenses per team and have a clear overview of a team's expenditures.
Warehousing – Improve performance & process time – Better organize the warehouse with the smart double entry inventory system.
Less stock, no stockouts – with fully automated replenishment.
Track every stock move with Odoo's unique double-entry inventory system.

Odoo PoS is based on a smart interface that a retail company can use without difficulty.
Set up new stores quickly and easily with just an internet connection. Then use your Point of Sale everywhere, anytime.
Stay in touch with your customers and keep them coming back with loyalty programs.

Send polished quotations with Odoo Sign and online payment.
Add product descriptions, beautiful images, and additional information simply by dragging and dropping building blocks.
Convert quotations into sales orders with a single click, or let the customer sign off on it with a simple electronic signature.
Invoice customers based on time and materials, easily record contracts and track invoicing phases, maintain renewal and upselling opportunities and manage your subscriptions with Odoo's recurring contracts.
Navabrind IT Solutions Capability
Navabrind marketplace lets you discover, test, buy, and deploy tailored solution for you business need.
Learn more about Navabrind Marketplace
We're here to help you get started with Navabrind Marketplace.
Get in touch with a solutions consultant that can share best practices and help solve specific challenges.
Navabrind allows you to share ideas, answer questions, and learn about new services and best practices.
Check out the Success Stories of Navabrind, provided by the team of experts. Want to know more?