Benefits of integrating Magento with Microsoft Dynamics
Option for self-service customer reports: When Magento commerce can access data stored in Microsoft Dynamics, customers can get direct access to all interactions with the brand in one place.
Business intelligence: Access online sales and customer data from Magento through MSD and get a complete picture of business performance.
Process automation: Automate fulfilment and restocking of inventory and accelerate business processes, such as new product introductions.
Few or no errors: Enable the e-commerce store to display the latest products available and pricing information.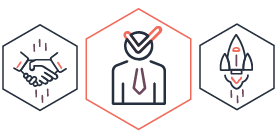 Key Features of Magento-MS Dynamics ERP

Integration between MS Dynamics and Magento supports bi-directional sync of new customer accounts, offline customer creation, account updates, guest customer accounts, additional billing, and shipping address creation.
Customer sync makes way for using Magento e-commerce store as self-service customer portals for B2B and B2C customers.
Finance and operations integration gives businesses a 360-degree view of customers and provides a unified shopping experience across channels.

Synchronize sales orders for web and guest customers, backorders, offline orders, payment and tax details, order status updates, invoice details, shipping details and shipping tracking numbers, etc.
Automate order transfer and minimize order ageing.
Enable sales and customer service teams to access business-critical information that was previously not available.

Manage product information from a single system by syncing new product creation and updates, offline product updates, and product information.

Efficiently manage inventory and avoid overselling products, regardless of the origin of sales.

Gain a competitive advantage by catering to diverse customer base with personalized prices.

Extend the Magento platform to allow B2B customers to purchase from the e-commerce store leveraging the credit limits information residing in the MS Dynamics ERP.
Navabrind IT Solutions Capability
Navabrind marketplace lets you discover, test, buy, and deploy tailored solution for you business need.
Learn more about Navabrind Marketplace
We're here to help you get started with Navabrind Marketplace.
Get in touch with a solutions consultant that can share best practices and help solve specific challenges.
Navabrind allows you to share ideas, answer questions, and learn about new services and best practices.
Check out the Success Stories of Navabrind, provided by the team of experts. Want to know more?