Magento 2 offers extreme personalization as it collects and stores purchase information of guests and registered customers.
For guest customers, useful information stored is:
Value in the shopping cart
Product quantity in the shopping cart
Products in the shopping cart based on the product attribute information
Products viewed and liked by the shopper based on product attributes
For registered customers the information that is stored in Magento 2 is:
Customer attributes and address information
Product wish list (vital for personalized offers)
Information on past orders such as shipping address, sales amount, number of orders, quantity purchased, etc.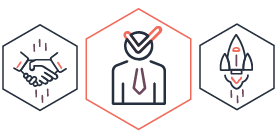 Key Features of Magento Basic B2C

Magento 2 combines 'Like' and 'Full Text' search method.
'Quick search' enables a product to be searched with just a part of the product name or the attribute.
Advanced search is present in the footer of the website.
Improved checkout for shoppers

If the customers' email is already in the database, Magento 2 prompts them to log in via their email and checkout as a guest.
Shoppers automatically know the shipping information when they provide details.
Customers need not provide their billing address if it is the same as their shipping address.
Shoppers can check product images in their order summary, the total number of products, attributes, and the amount added by the shopper to their cart.
Capability to handle thousands of products & heavy traffic

Magento handles hundreds of thousands of products and processes large numbers of orders simultaneously.
It can easily handle large inventory and offers major payment gateways.

Includes responsive design reference themes, that can be used to execute sites that can be viewed by all devices and on different screen resolutions.
Admin panel is touch-screen friendly, simplifying the management of an online store.

Magento allows merchants to craft SEO-friendly URL structures and meta tags implementation throughout the website.
The introduction of rich snippets allows merchants to define mark-up data on product pages, set up, and optimize XML sitemaps.

Benefit from the Magento PWA Studio, which is a set of developer tools that allow for the development, deployment, and maintenance of a PWA storefront on top of Magento 2.3 and above.
PWA uses modern tools and libraries to create a build system and framework that adheres to the Magento principle of extensibility.

Flexibility to build a custom front-end experience using any technology.
All touch-points, regardless of technology, use the same APIs and services.
Headless commerce ensures consistent, frictionless customer experiences across channels and digital touch-points.
Companies have the freedom to build and test new experiences without being constrained or having to upgrade their back-end.
Changes to the front-end code can be deployed independently of the back-end, allowing for Agile development.
Navabrind IT Solutions Capability
Navabrind marketplace lets you discover, test, buy, and deploy tailored solution for you business need.
Learn more about Navabrind Marketplace
We're here to help you get started with Navabrind Marketplace.
Get in touch with a solutions consultant that can share best practices and help solve specific challenges.
Navabrind allows you to share ideas, answer questions, and learn about new services and best practices.
Check out the Success Stories of Navabrind, provided by the team of experts. Want to know more?