About Our Client - Ocean & Brine
Based out of Singapore, Ocean & Brine are global leaders in the marine industry with more than 20 years of experience. They provide global supplies of marine spare parts and take orders at micro and macro levels for all segments that could possibly be in any part of the world. Our client has been responsible for quality marine spares that are of the best quality, ideal for voyages and ocean journeys. Their mission has been safety, security, and durability, and their products are sourced from globally renowned manufacturers.
Our client's marine experts asses every product, delivering only the best to their clientele. It's always been their priority to drive excellence in international marine supply. They ensure safe journeys for every onboarding client with machine parts and supplies, with a promise of making them feel prepared.
Ocean & Brine specializes in marine, genuine, and OEM spares, offering a stellar range of marine equipment. Being associated with the shipping industry for so long, it was Navabrind's absolute delight to work with such a distinguished client.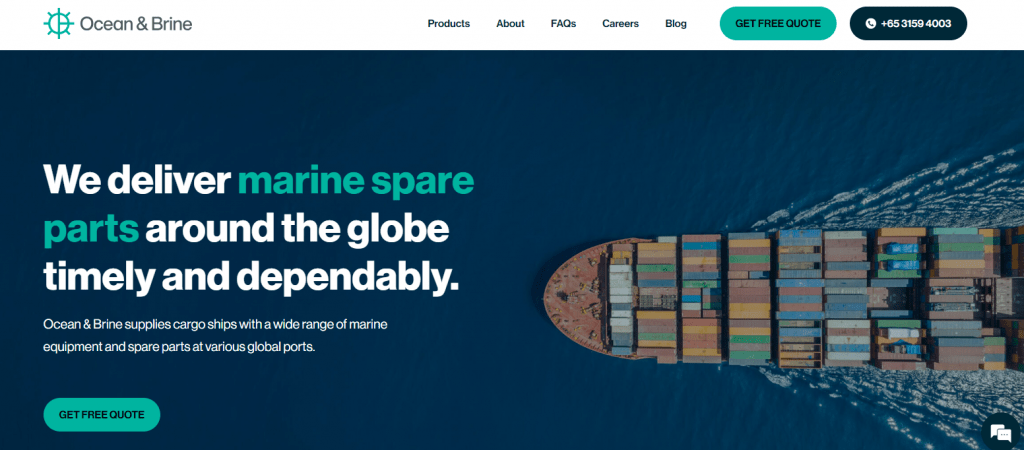 Why
did Ocean & Brine approach Navabrind IT?
Ocean & Brine approached us to revamp old existing Odoo platform. Their existing Odoo software needed to be updated, as it showed multiple bugs, and needed immediate resolution and Fixing of gaps. This was a significant road block and had them spend massive time handling data through offline Excel files.
Navabrind was quick to provide game-changing solutions and their trailblazing services elevated the platform performance and met the project's demands. We analyzed the requirements prokciently, worked on the old Odoo platform, saved time spent on manual data entry, and implemented faster business operations.
Business Challenges – Odoo ERP
For many businesses with a global presence and customers spread across continents, it becomes tough to collate information into one single platform. It was a challenge to track, coordinate and conclude all the data into one single source. This was a roadblock we faced to bring all crucial information under one single page.
The challenge was collecting information from vendors and customers into one single platform. Since it was distorted, it became difficult for the client to monitor and speed up the delivery process.
To automate most of the features which are carried out manually.
The configuration for multiple companies was set up incorrectly.
The client had utilized Excel, and it became difficult to track it.
No provision to store the required business transactional data to process their orders.
The entire platform was built only on base Odoo which did not fulfil the exact business operation needs
There were a huge number of issues with processing orders, invoice creations, connecting receipt printers, canceling orders, pickings,
and reversals.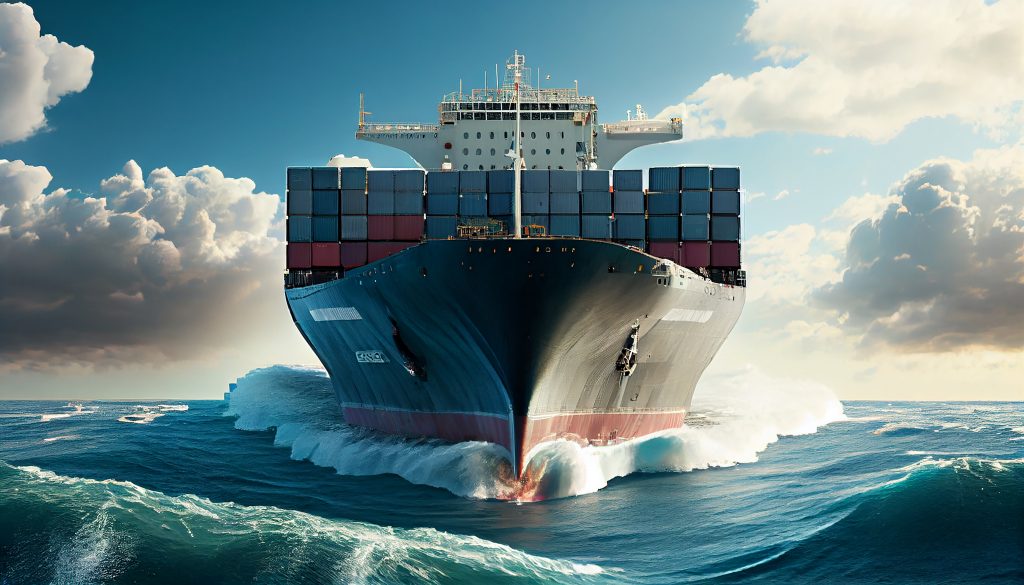 Another hindrance to smooth progression was the duplication found in orders and customer entries.
Operational gaps found in the system were not compatible with the actual business process. This made it time-consuming to record the
transactions.
The return & refund process was carried out manually & returning the products back to inventory was a major challenge every time.
Orders received from the ecommerce platform saw manual entries and data collation.
The reports collected were mostly incorrect. This was a threat to the business growth due to the wrong analytical data accumulated.
Incorrect inventories of retail location and WH location were recorded.
The installation service process had a lot of gaps that needed to be filled.
It was a constraint for the client to close the Financial Year (FY) due to the accounting issues traced. Configuration for the right
accounts was the need of the hour.
POS (Point Of Sale) systems were unstable & chaotic. Restructuring the POS architecture and aligning was a challenge.
We started tracking some key metrics of their Pain Areas.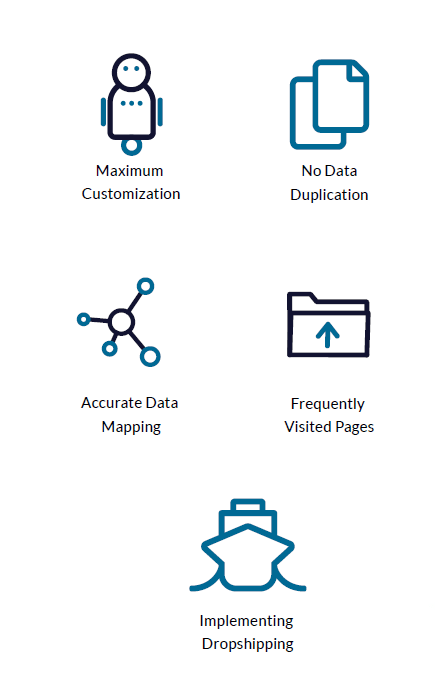 Multi-company details were effectively configured. This helped streamlined business operations to a large extent.
We automated the communication format that was done to the suppliers. Also, auto cancellation of supplier quotes was implemented upon
confirming any of the quotes.
Deriving discounts varies from customer to customer and automation of applying multiple types of discounts with automation was implemented.
Implementation of multiple price listings with multi currency management.
Provided end-to-end management of multiple payment terms & incoterms.
Ensured effective masters management like Equipments, Maker, Models, etc… with no duplication.
Successfully implemented Quotation Expiry features.
The tracking system of orders placed was having a huge gap. We brought in the tracking of the order in its exact state against the orders shipped
Implemented Custom Vendor Excel Quote Import feature which helped the client to create and confirm quotes that were missing earlier
Dropshipping was a huge miss in the earlier platform. We introduced this amazing feature that promised ease of processing.
Downloadable custom templates in Excel & PDF made the client eradicate their manual Excel file.
Created custom reports that helped analyze sales, purchase history, inquiries, and deliveries. This provided clarity of the current situation and lay a concrete plan for their business's future.
Created a lot of reports that analyzed the workflow better. Readiness Reports, Delivery Instructions Report, Delivery Notifications & Warnings, and Provisions to attach the POD (proof of delivery) on the respective orders.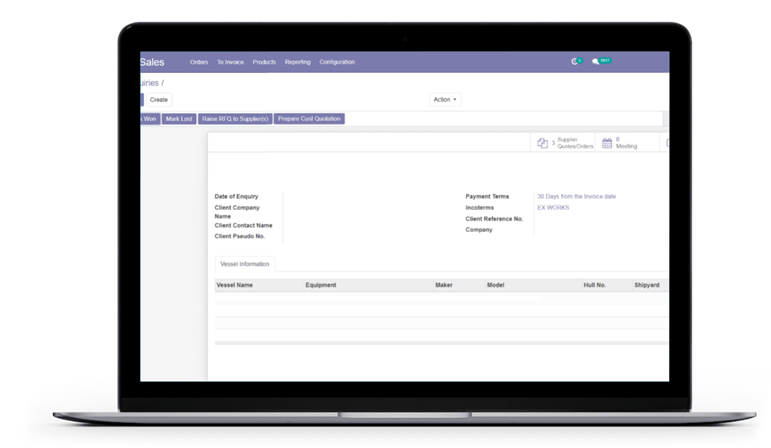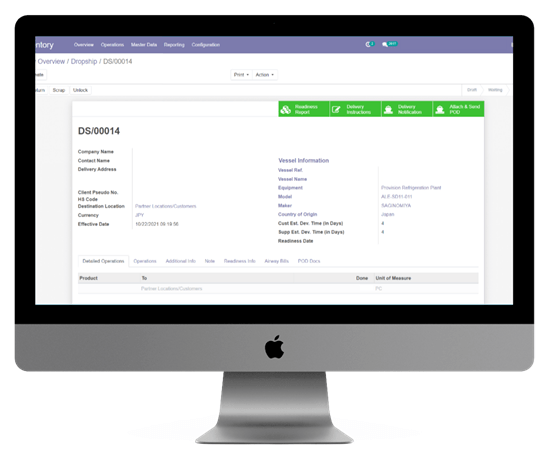 Reduced manual tasks that naturally saw human errors and manual errors being reduced too.
Streamlined operations and automated to a large extent.
Reduced time, saved manual labor costs, and boosted business revenue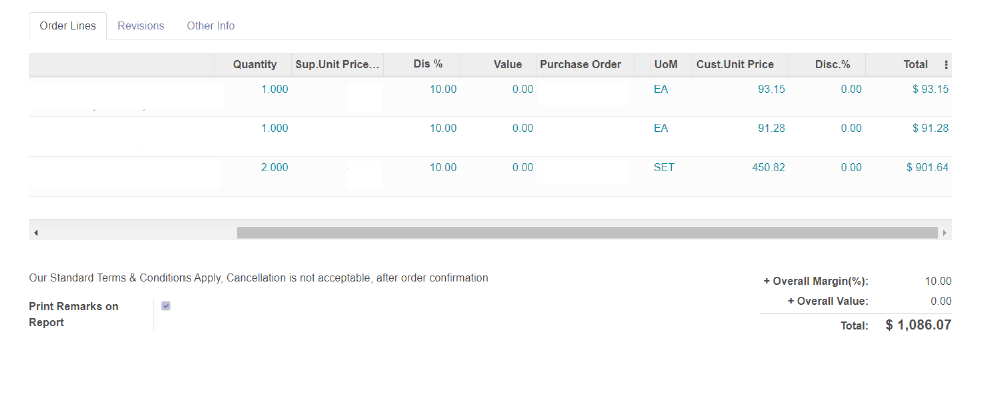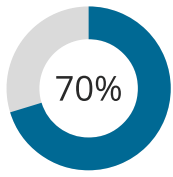 Our journey started when they approached us to streamline their functionality, but what we saw and suggested were later implemented to give them results from a 30% to 70% increase in sales. The project was unique on its own and we delved deep to not just upgrade the base Odoo functionality to a powerhouse performing platform but also automated the entire workflow. This was a game-changer that delivered high-impact results.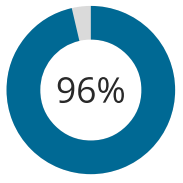 Synchronizing their product data and customization were the other two remarkable implementations that complemented their global presence. We made timely key deliverables that gave a much-needed and fast makeover to the whole project, and needless to say, our client was impressed with our services. Today, we are proud to see them scale up with result driven productivity 96% + happening all across, and delighting their customers.
Customer's Testimonial
Working with Navabrind has been an absolute pleasure for Ocean and Brine! We were highly impressed with their prompt and responsive communication, showcasing their commitment to excellent customer service. Navabrind truly cares about their clients and consistently delivers exceptional results. Their  professionalism, timely delivery, and deep understanding of our technology needs were truly remarkable. Not only did they consistently provide high-quality work, but they also offered budgetfriendly  solutions. We wholeheartedly recommend Navabrind for their outstanding support, expertise, and affordability!
Schedule a conversation with us now!